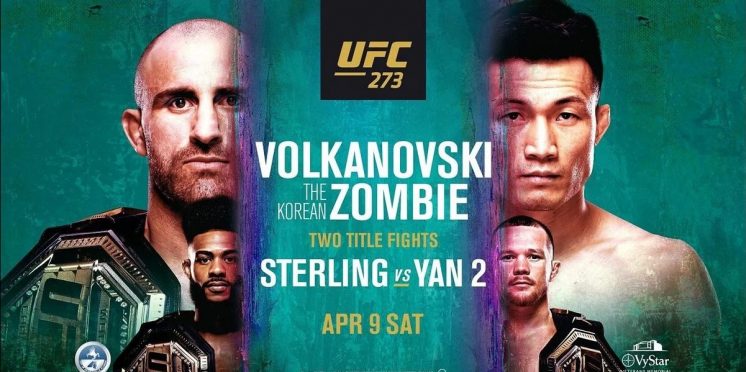 UFC 273: Preview and Predictions
After an extended break thanks to technical difficulties, ReadMMA is back in full swing and just in time for UFC 273.
Co-headlined by two title fights, UFC 273 will see a bantamweight title unification take place as rivals Aljamain Sterling and Petr Yan run back their controversial first meeting from UFC 259 while featherweight king Alexander Volkanovski will look to make his third successful title defence when he squares off against fan favourite 'The Korean Zombie' Chan Sung Jung.
If that wasn't enough, the main card also boasts a mouth-watering clash between Gilbert Burns and Khamzat Chimaev in the welterweight division while three other bouts will feature top 10 clashes in their respective weight classes.
Alexander Volkanovski (23-1) vs. Chan Sung Jung (17-6)
Chan Sung Jung certainly has the skillset to give anyone problems at featherweight but to consistently find those openings against the champion? That's a different question.
Volkanovski has made a superb habit out of being able to control the range against his opponent as well as possessing a great durability for the few times he does get caught.
Volk's diligence is perhaps his greatest skill however as his adaptability has allowed him to best everyone he has faced in the UFC while following different game plans along the way.
While Jung's power and submission threat will be just that to 'The Great', I believe that the Australian will continue his dominance at the top of 145 lbs.
Pick: Alexander Volkanovski

Aljamain Sterling (20-3) vs. Petr Yan (16-2)

A lot of people have predicted a dominant Yan victory here but I think that does a disservice to Sterling's early success in their first meeting.
While it was admittedly clear that Yan had started to peel away towards victory in their first fight, Sterling's high paced kicking game was giving Yan some trouble in the first two rounds.
Maintaining that pace for a potential five rounds however is a big ask, especially so after coming back from a big neck surgery.
Thanks in part to that taxing injury, I do think that Yan will emerge victorious here as long as he doesn't make another egregious error like last time.
Pick: Petr Yan

Gilbert Burns (20-4) vs. Khamzat Chimaev (10-0)

This is undoubtedly the biggest and toughest fight of Chimaev's career thus far but he really does look like the real deal.
He's a powerful fighter, physically and with his strikes, while his grappling is excellent.
Burns similarly matches up well with Chimaev in his skillset but I don't think he has the same aggression and can't quite match up when it comes to Chimaev's physicality.
Pick: Khamzat Chimaev

Mackenzie Dern (11-2) vs. Tecia Torres (13-5)

Torres needs to remain elusive here and try to take a page out of Marina Rodriguez's playbook.
Rodriguez would best Dern in their match-up by sticking and moving on the feet but Torres simply doesn't have the physicality or power that Rodriguez possesses.
Dern meanwhile will want to get this down to the mat and work her grappling as quickly as possible.
The longer the fight stays standing, the higher Torres' chance of winning but I'll still side with Dern finding a submission.
Pick: Mackenzie Dern

Vinc Pichel (14-2) vs. Mark Madsen (11-0)

Both are primarily wrestling heavy fighters and while Madsen has the higher pedigree having been a Olympic silver medallist and world champion, he hasn't been particularly active or impressive in his UFC run thus far.
Pichel meanwhile is a hard-working fighter who has the grind in him and I'd expect him to out work Madsen and hand him his first pro loss.
Pick: Vinc Pichel

(Last Predictions: 3/5, Total: 15/27, 56% Success Rate)
(Success Rate: 2016: 61%, '17: 60%, '18: 58%, 19′: 57%, 20′: 67%, 21′: 58′ )
---