One to Watch at UFC 271: Jeremiah Wells
Jeremiah Wells | 9-2-1 | 5'9 170 lbs. | Age 35 | Reach 75" | Switch Stance | Fighting Out of Philadelphia, Pennslyvania
Jeremiah Wells (9-2-1) shocked MMA fans when he knocked out top welterweight Warlley Alves in his UFC debut. The explosive striker will aim to double down with an eighth career finish Saturday, 2/12, at UFC 271. He'll face a debutant with sizeable hype behind him after making the move over to MMA following an accomplished kickboxing career.
Jeremiah Wells was born in 1986 in West Hazelton, Pennsylvania, a city of about 25,000 nearby "The City of Brotherly Love". He now calls Renzo Gracie Philly home for his MMA camps, coached by Daniel Gracie and training alongside UFC alum Paul Felder, Sean Brady, and Pat Sabatini. Although he has three rear-naked chokes on his record, Jeremiah is known for his powerful and athletic striking.
Wells' UFC debut opponent Warlley Alves would dominate a rising prospect prior to facing Wells, thus many pundits thought Jeremiah would have a tough time taking a victory from the Brazilian. Wells however proved all doubters wrong with a beautiful and savage right hook to ground and pound KO in round 2.
Now on Saturday, Jeremiah welcomes another hyped fighter to the octagon in the form of Mike "Blood Diamond" Mathetha. The former K-1 kickboxer is middleweight champion Israel Adesanya's training partner at famed New Zealand camp City Kickboxing. He is 3-0 with two first-round finishes so far, but Jeremiah Wells can serve him his first loss on February 12 at UFC 271: Adesanya vs. Whittaker going down at 3 PM ET.
WHO YOU GOT?
Jeremiah Wells
Mike "Blood Diamond" Mathetha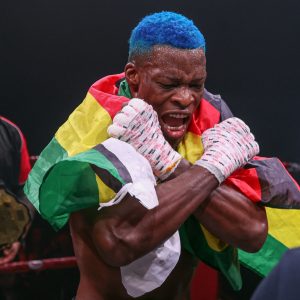 ---