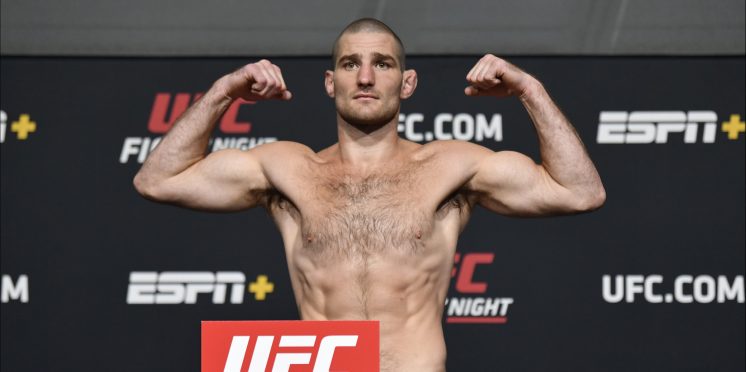 UFC Fight Night 200: Preview and Predictions
The 200th in the UFC's 'Fight Night' series is upon us and with it comes a fight card lacking in star power but one that should bring some fun fights along the way.
Headlined by a high-ranking middleweight clash between Jack Hermansson and Sean Strickland, Saturday's event can also boast another look at welterweight prospect Shavrat Rakhmonov while Julian Erosa vs. Steven Peterson should be a frenetic main card opener.

Jack Hermansson (22-6) vs. Sean Strickland (24-3)
I do think that for all of Sean Strickland's impressive performances in the middleweight division he has a ceiling but I don't believe Jack Hermansson is it.
While Hermansson is a well-rounded fighter with his grappling being his stand-out characteristic, he does tend to struggle with consistently securing takedowns and Strickland has some really solid takedown defence.
Hermansson also isn't the biggest hitter at 185 lbs, although he does possess a stiff jab, so I can't see him troubling a fighter who is constantly moving forward and engaging like Strickland.
Whether Strickland's volume and output will overwhelm Hermansson I'm not sure but I do think it will pick him up rounds and keep the momentum in his favour.

Pick: Sean Strickland

Punahele Soriano (8-1) vs. Nick Maximov (7-0)
Maximov is a Diaz brothers pupil but this is a marked step-up in competition.
Despite Soriano coming off of a loss, he's a big hitter and someone who remains game for all 15 minutes.
Potentially Maximov can see a win coming via his grappling but I think this is too much too soon, especially when it comes to striking exchanges.

Pick: Punahele Soriano
Shavkat Rakhmonov (14-0) vs. Carlston Harris (17-4)
Harris is a fighter worth keeping an eye out for going forward as he's the fun kind of wild fighter but Rakhmonov looks to be the real deal.
The Kazakh fighter is strong physically, packs power in his strikes and is a quality grappler to boot.
Harris can certainly give 'Nomad' some scares but I believe Rakhmonov will be a top 10 welterweight in the not too distant future.

Pick: Shavkat Rakhmonov

Sam Alvey (33-16-1, 1 NC) vs. Brendan Allen (17-5)
Any other fighter on the UFC roster would be released with a six-fight losing streak in the manner of Sam Alvey but he's a company man and he'll toe the line when it comes to unionization and fighter pay.
I expect Alvey to lose again here.
Pick: Brendan Allen

Tresean Gore (3-0) vs. Bryan Battle (6-1)
Gore is clearly the more athletic of the two and this bout will likely come down to whether his power and physicality can overwhelm and deter a game and active Bryan Battle.
With Gore missing out on their originally scheduled fight through a knee injury, it'll be interesting to see how that hinders his mobility against a busy opponent.
It's a tough one to pick but I'll perhaps unadvisably side with Gore to land something big early.

Pick: Tresean Gore

Julian Erosa (26-9) vs. Steven Peterson (19-9)
Both Erosa and Peterson are high output fighters so this should be a competitive bout.
With Peterson perhaps having the edge on the mat and Erosa on the feet, I think whoever can dictate where the fight takes place will be the victor.
Thanks to the unusual footwork and movement of Julian Erosa, I think he should be able to land more combinations than his opponent and so I'll side with 'Juicy J' to get his hand raised.

Pick: Julian Erosa
(Last Predictions: 2/5, Total: 6/11, 55% Success Rate)
(Success Rate: 2016: 61%, '17: 60%, '18: 58%, 19′: 57%, 20′: 67%, 21′: 58′ )
---