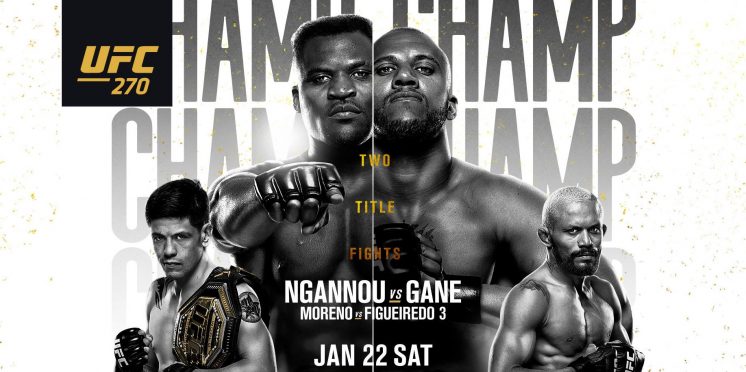 UFC 270: Preview and Predictions
The UFC's first PPV event of 2022 is upon us and with it brings two excellent title fights.
Co-headlined by a flyweight trilogy and a heavyweight unification filled with backstory and intrigue, UFC 270 is certainly a fight card that is top-heavy in its attraction.
While there are few and far between bouts worth keeping an eye out for on the undercard, the marquee names of Saturday night's main events could well be two of the best fights we see this year.

Francis Ngannou (16-3) vs. Ciryl Gane (10-0)
From former training partners to fighting over UFC gold, Francis Ngannou and Ciryl Gane have forged two parallel careers to reach the same end goal.
In the current champion Francis Ngannou, 'The Predator' has demolished all before him. With a level of power in his hands that can only be compared to the phenom of Mike Tyson in the '80s, Ngannou seemingly only has to land the faintest of clips on his opponents to shut their lights off. Thanks to his notorious power on the feet, his ground game has been seen as his Achilles heel but in his triumphant rematch with Stipe Miocic, Ngannou displayed a pretty slick sprawling game to keep himself and the fight upright.
Whether Gane can employ a takedown heavy gameplan through trips or from the outside will remain to be seen, but it is unquestionable that Gane is another fighter we've never really seen at heavyweight before albeit a different type. With phenomenal technique and athleticism wrapped under an intelligence far beyond his experience, Gane moves like a welterweight except for being nearly 100 lbs heavier.
Simply put, this fight is a fascinating clash of styles and one nigh on impossible to predict. For all of Gane's fight IQ and tactics, it only takes one slip up for Ngannou to flip a fight on its head.
We've seen plenty of fast-rising stars fumble at their first opportunity for UFC gold, and I'd certainly compare Gane to one like Georges St-Pierre, but I do think Gane is something akin to Jon Jones' ascendency at light heavyweight and if there's someone to stay vigilant for 25 minutes against Ngannou, I think it'll be 'Bon Gamin'.

Pick: Ciryl Gane

Brandon Moreno (19-5-2) vs. Deiveson Figueiredo (20-2-1)

First and foremost, Figueiredo looked much, much better getting onto the scales on Friday and that should make this is a closer bout than their second.
In their first meeting, Figueiredo threw the kitchen sink at Moreno in an attempt to score a knockout but Moreno was durable enough to eat the damage and keep walking forward. By the time their second fight rolled around, Moreno was able to get the better of the Brazilian on the mat and use his more nuanced ground game to control proceedings.
While Figueiredo will likely be able to put up more of a fight this time around, I think Moreno's adjustment in approach and skill set on the mat is the difference between these two.
Admittedly, 'Deus da Guerra' does have fight-ending power which can't rule him out but if Moreno can get his grappling game going again, he should pick up more rounds on the judges' scorecards.

Pick: Brandon Moreno

Michel Pereira (26-11, 2 NC) vs. Andre Fialho (14-3, 1 NC)

Fialho does have a bit of an unknown factor here as a short-notice opponent and his pressuring style could give the Brazilian a few problems.
For all of Pereira's famed 'wild man' approach, however, his recent showings have been more subdued and focused on not gassing himself out in the first round like he has in the past.
With his more conserved approach, Pereira's athleticism is more effective in three-round fights and I'd expect his size and power to be enough against a fighter without a full training camp behind him.

Pick: Michel Pereira

Cody Stamann (19-4-1) vs. Said Nurmagomedov (14-2)

Stamann is a quality top 10 gatekeeper at bantamweight as his well-rounded skill set allows him to adjust to his opponents in order to maximise his offence.
Nurmagomedov meanwhile is a solid striker who throws a decent output at range but one that can be tested by aggressive opponents willing to mix in takedowns.
Whether Stamann can be that man is something I'm unsure of though as he's shown himself to be more of a counter-striker rather than one on the front foot.
Takedowns should be the x-factor here but with Nurmagomedov having the edge on speed and range, I think he should be able to avoid the mat for the majority of the fight.

Pick: Said Nurmagomedov

Michael Morales (12-0) vs. Trevor Giles (14-3)

This is an odd choice to promote to the main card.
While both are deemed prospects in the UFC, they have big flaws in their games that are fairly noticeable.
For Giles, his defence is as porous as they come while Morales doesn't look the most fluid with his striking.
This could come down to the battle for takedowns from both men but I think Giles' wrestling is that little bit better than his opponent's so I'll tentatively side with 'The Problem'.

Pick: Trevor Giles

(Last Predictions: 4/6, Total: 4/6, 67% Success Rate)

(Success Rate: 2016: 61%, '17: 60%, '18: 58%, 19′: 57%, 20′: 67%, 21′: 58′ )

---