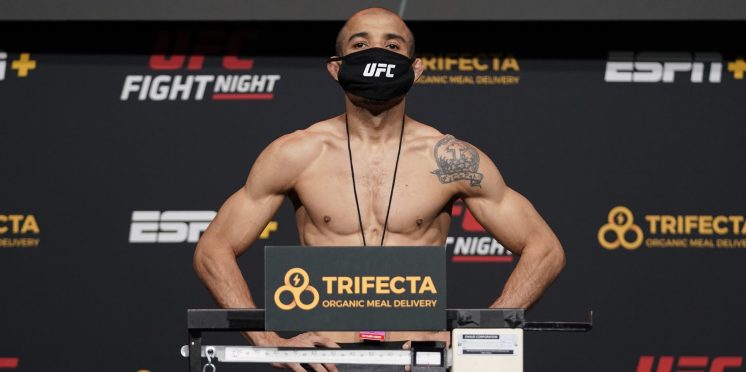 UFC on ESPN 31: Preview and Predictions
After a welcomed Thanksgiving break for the UFC, MMA's biggest promotion returns this Saturday night with a solid fight card that is headlined by one of the sports all-time greats.
Pitting the legendary Jose Aldo against the slick striker that is Rob Font, UFC on ESPN 31 will also boast one of the most anticipated fights left on the calendar in Brad Riddell vs. Rafael Fiziev.
Add in a light heavyweight clash between Jimmy Crute and Jamahal Hill and a clash of styles in Clay Guida vs. Leonardo Santos and this event looks to be an entertaining return to action for the UFC.

Rob Font (19-4) vs. Jose Aldo (30-7)
This looks to be a fight decided by the fine margins as both are as technical as they come in the bantamweight division with their striking.
Font is in possession of one of the best jabs we've seen in MMA and he uses it to perfection in establishing range and setting up his power shots behind it.
Aldo meanwhile is arguably at his best on the counter and his hand speed and bodywork could slow down his opponent over the course of 25 minutes.
I do think that a big factor regarding this fight will be the gas tank of Aldo as we've seen over the years that he has routinely and markedly slowed down in the fourth and fifth stanzas.
For Font to win, he'll most likely need to establish a foothold in the fight early and make sure that his jab is landing as often as possible.
It's an incredibly tough fight to call but in fights where Font has failed to be consistent with his favoured strike, he has struggled and I think Aldo's experience and work off of the counter will be decisive in a close contest.

Pick: Jose Aldo

Brad Riddell (10-1) vs. Rafael Fiziev (10-1)

What a treat this one looks to be.
Both are former training partners so you'd expect them to know one another fairly well and identify where their best paths to victory lie.
For Riddell, his kickboxing acumen is as solid as they come and he tends to build up steam in his fights. Fiziev on the other hand is perhaps quick out of the blocks but we saw in his last fight against the talented Bobby Green that he can slow down and become a much easier target should the fight go beyond 10 minutes.
I think Riddell's tendency to shoot for takedowns could well give him the edge and remove Fiziev's fast start from the equation but I'd expect this to be another razor-thin bout.
Maybe Fiziev's more diverse arsenal on the feet will give Riddell harder reads but I'll ever so slightly side with New Zealander due to his proclivity to try and ground his opponents.

Pick: Brad Riddell

Clay Guida (36-21) vs. Leonardo Santos (18-4-1)

Both men are getting on in age but are still remaining somewhat competitive in MMA's youngest and deepest weight class.
Guida, while slowing down since his earlier years, sustains a decent output on the feet and is active with his takedown attempts which allows him to pick up rounds on the judges scorecards. Santos meanwhile is the more technical of the two but does slow down as the fight wears on.
If Guida can maintain a high work rate and pick up an early-round he can win this fight but with Santos' power and submission threat, I think he may well deter 'The Carpenter' from any sustained offence.

Pick: Leonardo Santos

Jimmy Crute (12-2) vs. Jamahal Hill (8-1, 1 NC)

It's hard to get a grasp on where Hill stands at light heavyweight as he's yet to face any quality opposition outside of Paul Craig, a fight he lost in gruesome fashion on the mat.
While Hill has shown some decent power in his hands that could cause trouble, I think Crute has shown a lot more inside of the octagon thus far.
Despite Crute's lack of athleticism, the Australian looks to be well-rounded in his striking, wrestling and grappling.
Maybe Hill's range and power can get the job done early but I think if you're looking for a sharper and cleaner fighter, Crute should be the winner here.

Pick: Jimmy Crute

Brendan Allen (17-4) vs. Chris Curtis (27-8)

Curtis packs big power in his hands but outside of a burst of quality, I don't see him winning this fight.
Allen is a really solid prospect in the middleweight division and he's one who brings high output on the feet as well as a submission threat on the mat.
Maybe Curtis' experience will make count if this remains a striking battle for 15 minutes but I believe Allen's upsides when it comes to grappling will be the decisive factor here.

Pick: Brendan Allen

Bryan Barberena (15-8) vs. Darian Weeks (5-0)

Weeks enters this bout as a short-notice replacement and I can't see his power overcoming Barberena's famed durability.
While 'Bam Bam' has been on a downward slope recently, I think a fighter with a full camp and with his experience behind him should be beating a lesser prepared fighter.

Pick: Bryan Barberena

(Last Predictions: 3/5, Total: 120/204, 59% Success Rate)
(Success Rate: 2016: 61%, '17: 60%, '18: 58%, 19′: 57%, 20′: 67%)
---