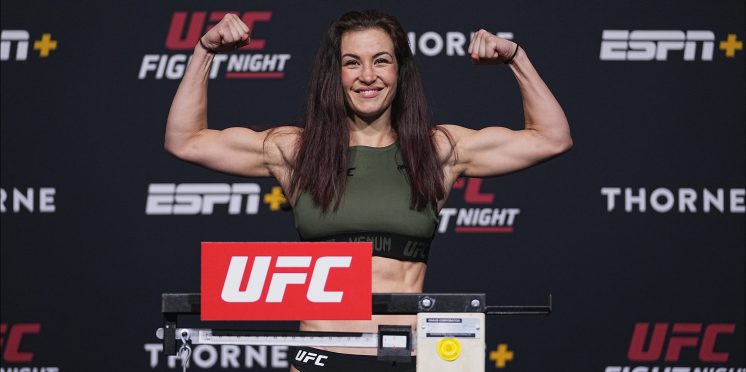 UFC Fight Night 198: Preview and Predictions
Ketlen Vieira (11-2) vs. Miesha Tate (19-7)
This is a real test of where Tate's return from retirement can take her.
While Vieira has lost two of her last three, the Brazilian is a big physical presence at bantamweight and one who knows how to use her size well in the clinch.
Unfortunately for her, Tate's strengths have always come from her own physicality and she also doesn't have problems with her gas tank like Vieira has shown in the past.
With this being a five-round fight, I think the extra rounds will only favour Tate and if she can establish control through her grappling, her better cardio should see the former champion begin to peel away on the scorecards. 

Pick: Miesha Tate

Michael Chiesa (17-5) vs. Sean Brady (14-0)
Hopefully this fight goes to the mat and we get a fun grappling contest.
Both men have quality submission grappling to their name and the scrambling ability could see the momentum quickly shift between the two competitors.
While Chiesa has certainly had those moments in the octagon, I think his experience and quality of opponents will keep him that bit ahead of Brady here.
Brady certainly can win this fight on the mat but I think it's just too much of a jump up in quality at this stage of his career.

Pick: Michael Chiesa

Joanne Wood (15-6) vs. Taila Santos (18-1)
While Wood has remained a high output striker throughout her UFC career, she has routinely struggled against the more physical and athletic fighters she has come up against and Santos fits that bill.
With big power behind her strikes as well as a solid takedown game, I think this is a stylistic nightmare for Wood to overcome.

Pick: Taila Santos

Rani Yahya (27-10-1, 1 NC) vs. Kyung Ho Kang (17-8, 1 NC)
Kang's best path to victory is to keep this standing but I doubt he can do that with his own grappling tendencies as well as a two-year absence.
On the mat, Yahya is always a joy to watch and if it hits the ground, I'd expect Yahya to control or find a submission win.
Pick: Rani Yahya

Davey Grant (11-5) vs Adrian Yanez (14-3)
This should be a really fun opener.
Both Grant and Yanez are finishers inside of the cage and this could be a back and forth affair.
On the ground, Grant should hold the advantage thanks to his grappling ability but his improvements in his stand-up shouldn't be ignored by Yanez.
Striking wise, Yanez's speed is a real problem for any fighter he comes up against and it would be wise for Grant to try and avoid any prolonged periods within Yanez's range.
It's a really tough one to pick but I'll cautiously side with Yanez's boxing to allow him to continue his ascent through the bantamweight division.

Pick: Adrian Yanez
(Last Predictions: 3/5, Total: 117/199, 59% Success Rate)
(Success Rate: 2016: 61%, '17: 60%, '18: 58%, 19′: 57%, 20′: 67%)
---