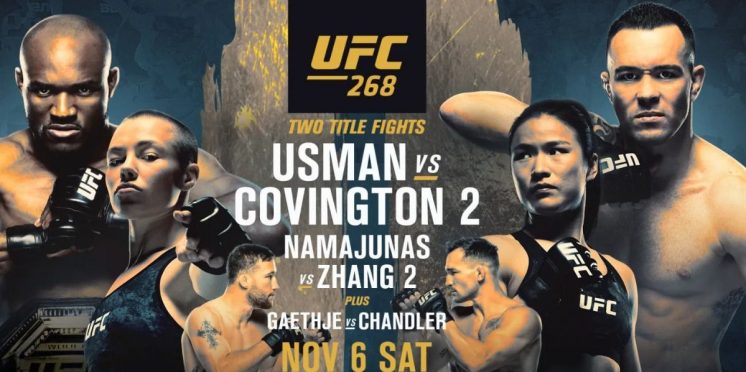 UFC 268: Preview and Predictions
Hot on the heels of a fantastic UFC 267, MMA's biggest promotion is back with another marquee event as the world-famous Madison Square Garden plays host to UFC 268.
Co-headlined by two championship fight rematches, the PPV event is stacked from the preliminary card up until the final bout of the night.
With each fight on the undercard offering plenty of intrigue, the main card will kick into another gear with the hotly anticipated Justin Gaethje vs. Michael Chandler.
Simply put, UFC 268 looks set to be one of the best fight cards of the year.

Kamaru Usman (19-1) vs. Colby Covington (16-2)

While Colby Covington has done little to decisively earn another crack at the welterweight title, 'Chaos' is perhaps the toughest match-up for Kamaru Usman inside of the octagon.
Pushing a relentless pace, Covington can certainly go toe-to-toe with the champion when it comes to output and that tempo guaranteed fireworks in their first meeting.
While perhaps a deviation from the gameplan of the first fight could see Covington do better this time around, in particular incorporating more takedown attempts to try and dictate proceedings, Usman has stayed busy inside of the octagon and improved leaps and bounds with his stand-up.
Now holding a devastating jab and becoming much more fluid and refined, I think those advancements in his skillset will see him emerge victorious once again.
Both fighters were closely matched when it came to their striking in 2019 but Usman has definitively and markedly improved while Covington has stayed sidelined.
Pick: Kamaru Usman

Rose Namajunas (10-4) vs. Weili Zhang (21-2)

While there was little to glean from their first meeting in terms of the match-up of their skills, it did show the quality of Namajunas and her ability to make reads inside of the cage.
Showcasing the fight-ending power in all of her strikes, Namajunas would also capitalize on Zhang's usage of Saenchai's hip evasion to score the head kick KO.
Hopefully this time around the fight goes longer so we can see the contest play out as stylistically it's a fascinating pairing.
Zhang will look again to bring tons of volume in her output while Namajunas' control of range and athleticism will maintain a big threat.
For the challenger to regain her title, she'll need to make this a slug fight and use her physicality to drag the fight deep but that'll be a tough ask as Namajunas has shown she can avoid those types of brawls on the feet.
Add in that immediate rematches rarely see a change in outcome and I think the champion will retain through her use of range and footwork.
Pick: Rose Namajunas

Frankie Edgar (24-9-1) vs. Marlon Vera (19-7-1)

This is a really tough one to pick.
Edgar has remained at the top end of the UFC's lighter weight classes but the wheels have started to wobble in recent times.
Vera meanwhile has shown a well-rounded skill set but he's tended to fail short when paired against those in the elite bracket.
While I doubt Edgar could dominate and frustrate Vera on the feet like Jose Aldo did, I do think his wrestling ability can allow him to establish control and pick up rounds in that fashion.
On the feet, Vera should be looking to test Edgar's durability but I'll tentatively side with Edgar's fight IQ and grappling to add another win to his resume.
Pick: Frankie Edgar

Shane Burgos (13-3) vs. Billy Quarantillo (16-3)

Quarantillo and Burgos are perhaps the most active fighters on the roster inside of the octagon and while both men look to push the pace, their approach does tend to differ.
While Burgos will look to scrap on the feet primarily, Quarantillo will mix in takedowns and pepper away with ground and pound.
It's a really interesting fight on paper and could go either way but I think Burgos' power will be decisive.
Burgos' durability will be a particular to keep an eye out for however following his last defeat.

Pick: Shane Burgos

Justin Gaethje (22-3) vs. Michael Chandler (22-6)

If this goes three rounds I'll be amazed.
Both are solid wrestlers, pack a mighty wallop in their punches and make a bad habit of getting wobbled on the feet.
Chandler may potentially have the edge when it comes to wrestling but on the feet Gaethje's change in approach has seen him become more cautious defensively while just as dangerous in his offence.
While Chandler can certainly win this bout, I think the power, timing and adjustments that Gaethje can make mid-fight will be the difference.
Pick: Justin Gaethje

(Last Predictions: 5/6, Total: 110/189, 58% Success Rate)
(Success Rate: 2016: 61%, '17: 60%, '18: 58%, 19′: 57%, 20′: 67%)
---