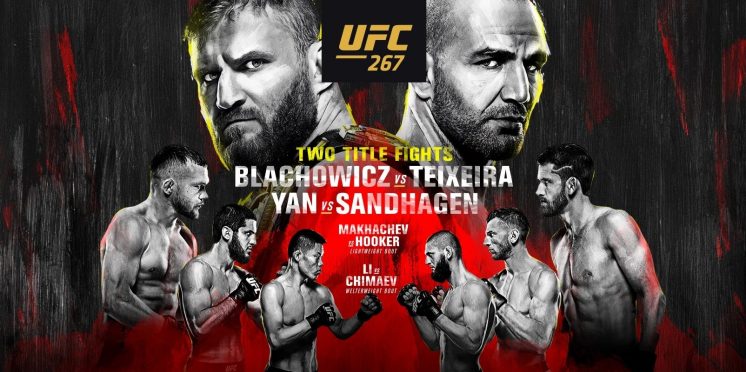 UFC 267: Preview and Predictions
Returning to 'Fight Island' in Abu Dhabi, U.A.E, UFC 267 brings an absolutely stacked card that is topped off with two championship bouts.
Co-headlined by an interim bantamweight title fight between Petr Yan and Cory Sandhagen and a light heavyweight title showdown between veterans Jan Blachowicz and Glover Teixeira, Saturday's PPV event has intrigue in every aspect.
From a preliminary card filled with potential stars and contenders to a main card that will rival any other from this year, UFC 267 is a must-watch from start to finish – especially with a European friendly start time.
Jan Blachowicz (28-8) vs. Glover Teixeira (32-7)

A lot of people are ruling this a step too far for Glover Teixeira but I think the 42-year old will continue his habit of making his contests dog fights.
For all that Blachowicz has improved and is fighting with the aura of a champion, Teixeira never knows when he's out and can drag fights into scrappy affairs where his grappling can play a big part.
On the feet, I think this is Blachowicz's fight to lose with his power and reach but if Teixeira can wade forward and get in close, this could be a close one.
The big concern I have for the Brazilian however is that for all of his impressive run, he is getting hurt a fair amount before turning the tide.
If that habit continues here, I'm not too sure he can shake off the legendary 'Polish Power'.

Pick: Jan Blachowicz

Petr Yan (15-2) vs. Cory Sandhagen (14-3)
This could be one of the fights of the year thanks to their technical prowess on the feet.
In Sandhagen you have a fighter who is more creative than his counterpart and will also have the size and reach advantage over his opponent. Yan meanwhile is perhaps more orthodox in his desire to get into the pocket but he's brutal in his combinations and can maintain a high tempo into the fifth round.
With Sandhagen's power and artistry, he can certainly bring an early end to proceedings but I think the biggest factor in this fight is Yan's grappling.
While I'd expect the majority of this bout to take place on the feet, Yan has shown himself to be strong in close and has a plethora of trips and throws at his disposal to change the dynamic of his fights.
With Sandhagen showing some struggles in the past with his defensive wrestling, I think Yan will be smart and cute enough to mix in his grappling ability and pick up close rounds on the scorecards.

Pick: Petr Yan

Islam Makhachev (20-1) vs. Dan Hooker (21-10)

With a full training camp and time to recuperate from his last outing, I might be tempted to pick Dan Hooker here but this looks to be a tall task for the Kiwi.
Thanks to his timing and the tools at his disposal, Hooker could be a tough puzzle for Makhachev to overcome – especially with his step-in knees. With just over a month since a 15-minute bout however, getting a complete game plan and the training needed to combat Makhachev's wrestling is just too much in my opinion.
He may not be as relentless as Khabib Nurmagomedov in his approach but Makhachev has a heavy top control that is incredibly hard to get out from under and I'd expect him to dictate the fight through his grappling.

Pick: Islam Makhachev

Alexander Volkov (33-9) vs. Marcin Tybura (22-6)

I think Tybura's best path to victory is through his wrestling but I can't see him keeping Volkov down.
While Volkov can be grounded, he is tough to control there and if someone as talented as Curtis Blaydes can have trouble with that task, I doubt Tybura will have success there.
On the feet, I think Volkov is excellent, especially at heavyweight, and I think his striking ability is just a level above that of Tybura.

Pick: Alexander Volkov

Li Jingliang (18-6) vs. Khamzat Chimaev (9-0)

This is by far the biggest test of Chimaev's career and with his struggles to make weight, it looks to have become that much harder.
Chimaev has shown himself to have power in his punches as well as a brilliant grappling game but Li Jingliang is a sizeable step up from his past competition.
Jingliang is a talented boxer who has fought a much tougher calibre of fighter but he has been taken down by fighter's whose grappling ability you'd put below Chimaev's.
Chimaev's struggles with COVID and his subsequent tough weight cut could be career-changing for 'Borz' but I'll tentatively keep aboard the Chimaev hype train for now.

Pick: Khamzat Chimaev

Magomed Ankalaev (15-1) vs. Volkan Oezdemir (17-5)

On the feet this could be a really close battle, especially with Oezdemir's power hanging over the contest.
While the Swiss fighter has lost four of his last six, he's remained competitive against top contenders and perhaps could have picked up a couple more wins on different days.
Ankalaev meanwhile is the much more in-form fighter with a six-fight winning streak but he's shown a tentativeness and patience which could get him in trouble further down the line.
In this contest however, I think Ankalaev will make use of his own grappling ability and pick up rounds in close.

Pick: Magomed Ankalaev

(Last Predictions: 4/6, Total: 105/183, 57% Success Rate)
(Success Rate: 2016: 61%, '17: 60%, '18: 58%, 19′: 57%, 20′: 67%)
---