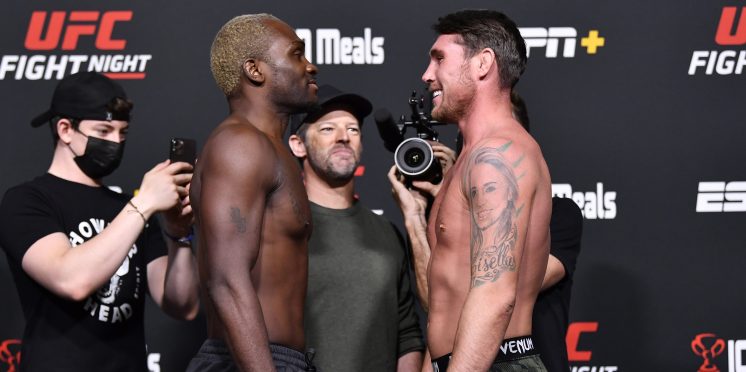 UFC Fight Night 191: Preview and Predictions
Emanating from the UFC's Performance Centre in Las Vegas after a move away from an originally planned London, England event, a UK heavy fight card is upon us this Saturday with a middleweight title eliminator in the main event.
Headlined by a clash of styles in Derek Brunson vs. Darren Till, UFC Fight Night 191 is supported by Britain's best as Tom Aspinall, Jack Shore and Paddy Pimblett take on tough opponents.
With Liverpool's Molly McCann also taking the preliminary card's showcase spot, UFC Fight Night 191 is a must-watch for the UK fanbase.

Derek Brunson (22-7) vs. Darren Till (18-3-1)

I do find it interesting that Darren Till is the favourite here as it's no secret that wrestling heavy fighters are not the best friend of UK fighters.
While admittedly Till does have decent takedown defence, Brunson is an excellent takedown artist and has grounded Olympic level talent in the past.
For Till to win this contest, he'll have to keep this fight standing but with his notoriously low output, I struggle seeing him capitalizing on Brunson's somewhat questionable gas tank over time.
Till will no doubt look to counter what can be a wild approach to striking by Brunson but with such a wrestling heavy run of form by Brunson, I can't see the American willingly engaging in the striking battle.
Maybe Brunson will come undone against another top contender as he has done in the past, but due to Till's patient-to-a-fault style, I think the smart bet is on a controlling grappling performance by Brunson.

Pick: Derek Brunson

Tom Aspinall (10-2) vs. Serghei Spivac (13-2)

Spivac comes into this bout as a short-notice replacement and while he is a solid grappler who could cause some trouble, I think Aspinall is an elite heavyweight prospect.
With a grappling background of his own, Aspinall has electric hand speed and power and was even a regular Tyson Fury sparring partner earlier on in his fighting career.
Thanks to such a well-rounded skillset, in addition to his size, I think Aspinall will continue his ascendency in the heavyweight rankings.

Pick: Tom Aspinall

Alex Morono (19-7, 1 NC) vs. David Zawada (17-6)

It's a bit of a surprise that Morono is not getting a bigger name after defeating Donald Cerrone last time out but David Zawada is certainly not an opponent to take lightly.
Both men like to fight on the front foot and are happy to eat a shot as long as they can get one off themselves.
While Zawada may be the more willing to take this fight to the mat, he is the more defensively suspect out of the two and in a fight where both men will push the pace, I fancy Morono to find an opening similar to how he defeated 'Cowboy' Cerrone.

Pick: Alex Morono

Modestas Bukauskas (11-4) vs. Khalil Rountree Jr. (8-5, 1 NC)

After Rountree's KO of Gokhan Saki in 2018, I was all-in on 'The War Horse' in a shallow light heavyweight division.
Since that marquee win however, it's been slim pickings outside of a dominant showing against the weight fluctating Eryk Anders.
While Bukauskas himself hasn't shown a lot in his UFC career, he does pack power and a small submission threat which could be enough.
Simply put, I don't trust Rountree to be consistent in any of his bouts anymore.

Pick: Modestas Bukauskas

Paddy Pimblett (16-3) vs. Luigi Vendramini (9-2)

Pimblett's had a lot of the spotlight leading up to his promotional debut but I'm not entirely sold on his potential upside at either lightweight or featherweight.
With a really solid ground game, I think Pimblett should be able to get a submission win here but he's proven to be hittable in his Cage Warriors tenure as well as a questionable gas tank in his championship bouts.
This should be a gentle entry into the UFC for 'The Baddy' but we'll see how he gets on further down the line in arguably the toughest division in MMA.

Pick: Paddy Pimblett

(Last Predictions: 2/6, Total: 81/149, 54% Success Rate)
(Success Rate: 2016: 61%, '17: 60%, '18: 58%, 19′: 57%, 20′: 67%)
---