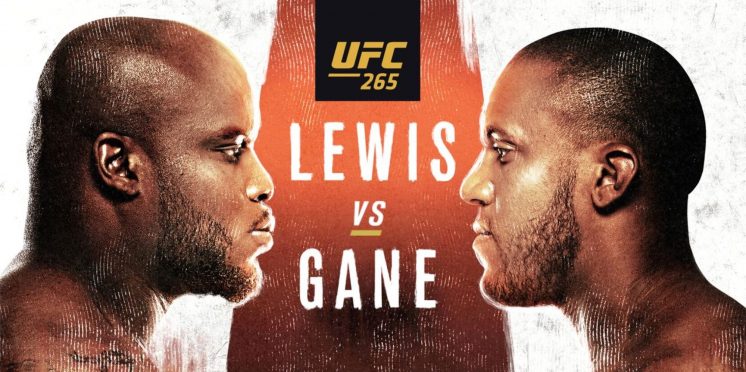 UFC 265: Preview and Predictions
While the creation of an interim heavyweight title was unnecessary and only done for promotional purposes, UFC 265 still comes with a strong fight card filled with intrigue and elite fighters.
Headlined by the unneeded but fascinating clash of styles between Derrick Lewis and Ciryl Gane, UFC 265's main card is supported by all-action fighters at the top end of their respective divisions.
With Brazilian bantamweight's Jose Aldo and Pedro Munhoz set to meet in the co-main event billing, a welterweight title eliminator will also feature while high output clashes in the strawweight and bantamweight division finish up an excellent PPV portion of the event.
In addition to a strong main attraction, the brilliant Rafael Fiziev will compete against the slick Bobby Green in the preliminary headliner while the likes of Karolina Kowalkiewicz vs. Jessica Penne and Manel Kape vs. Ode Osbourne are bouts worth keeping an eye on earlier in the night.

Derrick Lewis (25-7, 1 NC) vs. Ciryl Gane (9-0)
This could be a very tentative fight based on their approaches but for as much as Derrick Lewis is the bigger fight-ending threat, I think Ciryl Gane's intelligence and speed get the job done.
While Lewis is often painted as an unrefined slugger, his athleticism and diverse arsenal allow him to score the knockouts that he regularly achieves.
Through timing on the counter, Lewis will remain a huge danger throughout this contest but Gane is perhaps the best new talent the UFC has had at heavyweight for a long time.
Whether it be controlling the tempo or range, Gane's fight IQ is far beyond his experience and when matched with his own athleticism, the Frenchman looks destined for greatness.
Due to his work to the body, a notable weakness of Lewis' in the past, and his ability to stick to a game plan like glue, I think Gane will control the fight and potentially get a stoppage of his own should he routinely find a home for his strikes in Lewis' breadbasket.

Pick: Ciryl Gane

Jose Aldo (29-7) vs. Pedro Munhoz (19-5, 1 NC)
First and foremost, it's a shame that not all top five clashes are five-round bouts but hopefully we get there soon in the UFC.
Onto the fight itself however and it is probably an advantage to Aldo that the UFC have yet to take that suggestion on board.
Munhoz comes with heavy pressure offensively and also possesses remarkable durability for shots coming back at him.
Aldo meanwhile has always slowed the further his bouts go and Munhoz will remain a menace on the front foot.
For most fighters, having someone consistently walk you down is a nightmare but Aldo's ability on the counter is brilliant thanks to his left hook to the body and footwork.
If he's to win this fight, I think he'll need to be at his best but Munhoz is incredible hard to dissuade.
It's such a tough fight to pick as paths to victory are quite clear for either man but I'll ever so cautiously side with Munhoz to weather Aldo's power and wear him down in the second half of the fight.

Pick: Pedro Munhoz

Michael Chiesa (17-4) vs. Vicente Luque (20-7-1)
Chiesa's size and strength at welterweight make you think why he ever bothered making the draining cut to lightweight.
On the mat, Chiesa is suffocating through his pressure and top control and he's smart enough to know that's where his bread is buttered.
Luque meanwhile packs big power in his strikes and is a decent scrambler too which could make things very tricky for Chiesa.
This is a huge test for Chiesa at 170 lbs but with Luque's somewhat plodding footwork and defence, I do think Chiesa can get him to the cage and control the vast majority of the 15 minutes.

Pick: Michael Chiesa

Tecia Torres (12-5) vs. Angela Hill (13-9)

Both Torres and Hill are down for a scrap and I'd expect nothing less here.
Both keep high output on the feet but for all of Hill's improvements of late, Torres is still that little bit quicker across the mat and also has the advantage in the wrestling department.
I do think this will be close when they strike but Torres always has the ability to ground Hill and that could make all the difference on the judges' scorecards.

Pick: Tecia Torres

Song Yadong (16-5-1, 1 NC) vs. Casey Kenney (16-3-1)

I think this bout is a lot similar to the Torres – Hill fight.
Both give their opponents a lot to think about on the feet but one has the larger threat on the mat and that is Casey Kenney in this instance.
While Yadong does have decent power which could deter Kenney, I think the opportunity to initiate a clinch or takedown attempt will keep him that half-step ahead.

Pick: Casey Kenney

(Last Predictions: 1/4, Total: 73/132, 55% Success Rate)
(Success Rate: 2016: 61%, '17: 60%, '18: 58%, 19′: 57%, 20′: 67%)
---