One to Watch at UFC 265: Johnny Munoz Jr.
Johnny "Kid Kvenbo" Munoz Jr. | 10-1 | 5'9 135 lbs. | Age 28 | Reach 71" | Orthodox Stance | Fighting Out of Norco, California
Johnny Munoz Jr. (10-1) has trained literally his entire life at the same camp, CQuence Jiu Jitsu in Norco, California. It's been a second home for that long because his parents founded the BJJ school before he was born. The 28-year-old now finds himself 0-1 in the octagon after a tough test in his debut. The Black Belt will aim to get back on track and get his first octagon win at UFC 265.
"Kid Kvenbo" was born in Corona, CA in 1993. Located just a jog south of Norco, Johnny grew up and still calls the area home. He earned his Black Belt in BJJ from his Mother and Father, suggesting it wouldn't be wise to mess with the Munoz family. Johnny began amateur MMA in 2014 after competing across various BJJ organizations. While competing in pro MMA, "Kid Kvenbo" captured his biggest title in Jiu Jitsu in 2016, winning the SJJIF title in his weight class. SJJIF has similar rules to IBJJF, the difference being SJJIF is non-profit and IBJJF is.
Munoz competed with King of the Cage since his amateur fights and in 2019 a 9-0 Johnny won the belt at bantamweight. The title earned him a contract with the UFC but his first time in the octagon ended with a decision loss to Nate Maness (now 13-1). Second time out he's set on a different outcome, this time against an easier test in "The Afro Samurai" Jamey Simmons (7-3) who seeks his own first octagon win. This bout goes down Saturday, 8/7, on the prelims at UFC 265 starting at 6 PM ET.


WHO YOU GOT?
Johnny "Kid Kvenbo" Munoz Jr.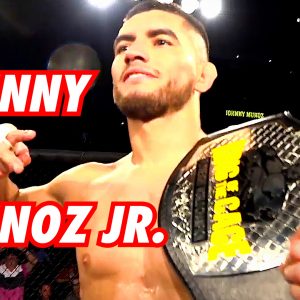 "The Afro Samurai" Jamey Simmons
---