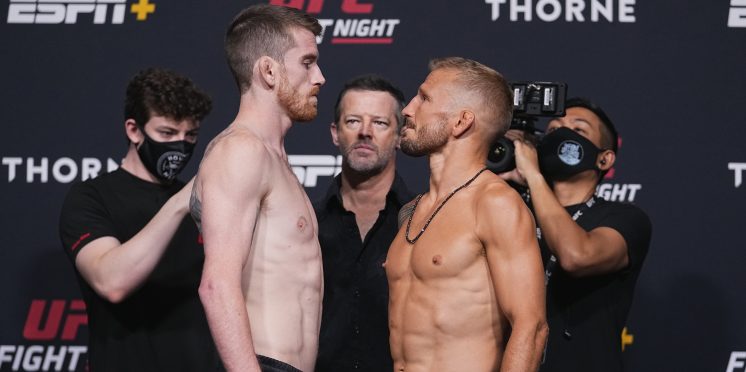 UFC on ESPN 27: Preview and Predictions
A highly-anticipated bantamweight clash headlines this Saturday's UFC fight card as Cory Sandhagen takes on a returning TJ Dillashaw.
With Dillashaw's suspension from a failed drug test over, the former champion will be looking to regain his 135 lbs crown in a much-changed division.
Elsewhere there is little in the way of major significance at UFC on ESPN 27 but the chance to see Kyler Phillips as well as main card bouts in Miranda Maverick vs. Maycee Barber and Adrian Yanez vs. Randy Costa should promise excitement.

Cory Sandhagen (14-2) vs. TJ Dillashaw (16-4)
Dillashaw's absence from competition has seen a whole new crop of top contenders emerge at 135 lbs and it will be fascinating to see how he matches up with this new generation.
On the feet, Dillashaw's slick and fluid striking is a joy to watch but I doubt with his size and power disadvantage he will want to stay in kickboxing range with Sandhagen.
Instead, a wrestling heavy gameplan will likely be the approach he takes but keeping the larger man down will be a tough ask.
Another question that surrounds this bout is whether Dillashaw's output will be able to keep pace with Sandhagen's.
While Dillashaw thrived years ago on movement and strikes thrown, Sandhagen operates on a higher clip than the former champion and does so with more natural power behind his strikes.
Due to Dillashaw's size disadvantage, I do struggle seeing him controlling this bout and with that fact combined with his ring rust, I think Sandhagen will be able to get his own impressive striking off successfully.

Pick: Cory Sandhagen

Kyler Phillips (9-1) vs. Raulian Paiva (20-3)
It's a shame not to see Kyler Phillips against another ranked bantamweight contender but a game fighter like Raulian Paiva should make this fun.
Paiva is always eager to engage with his opponents in close but a flyweight making a short notice move up will likely put him at a sizeable disadvantage.
With Phillips being the more well-rounded fighter, both in his willingness to change where the fight takes place and diversity of strikes, I think this is Phillips' fight to lose.

Pick: Kyler Phillips

Darren Elkins (25-9) vs. Darrick Minner (26-11)
Both Elkins and Minner are high-output fighters with durability and I think it'll be tough to separate the two.
While Elkins has taken a lot of damage and hasn't had the most success recently, his quality of competition has been higher than that of Minner and he is still able to remain competitive.
Minner meanwhile is fast out of the blocks and I think if he's to win this bout, he'll have to do the same here to combat Elkins experience in picking up rounds.
It's a close fight to pick but I will tentatively side with Elkins to have enough know-how to stay out of danger early and control the bout later on.

Pick: Darren Elkins

Miranda Maverick (9-2) vs. Maycee Barber (8-2)
Maverick and Barber are looking to make a statement of their potential here but I think the former's ability to grind out control through physicality will be enough to get the win here.
Barber has shown an ability to trade in the pocket and shown some impressive power in doing so but when tasked with an accomplished striker like Alexa Grasso, she really struggled at getting any offence off at all.
Maverick meanwhile is happy to apply pressure through grit and athleticism alone and then hold control either on the mat or in the clinch.
Maybe Barber's aggression will be able to catch Maverick when closing the gap but I'll side with the fighter who is better at dictating bouts.

Pick: Miranda Maverick

Adrian Yanez (13-3) vs. Randy Costa (6-1)
This looks to be the most exciting fight on the card outside of the main event.
Yanez is a talented striker with big power and he has shown an ability to be patient and collected when things aren't going exactly his way.
Costa on the other hand is a fighter who pushes his foot all the way down on the accelerator and presses the action looking for a quick finish.
Due to Costa's approach, it's tough to rule out an explosion of violence on his end but Yanez has simply shown more in his career thus far to not think he should win this bout.

Pick: Adrian Yanez
(Last Predictions: 4/5, Total: 70/123, 57% Success Rate)
(Success Rate: 2016: 61%, '17: 60%, '18: 58%, 19′: 57%, 20′: 67%)
---