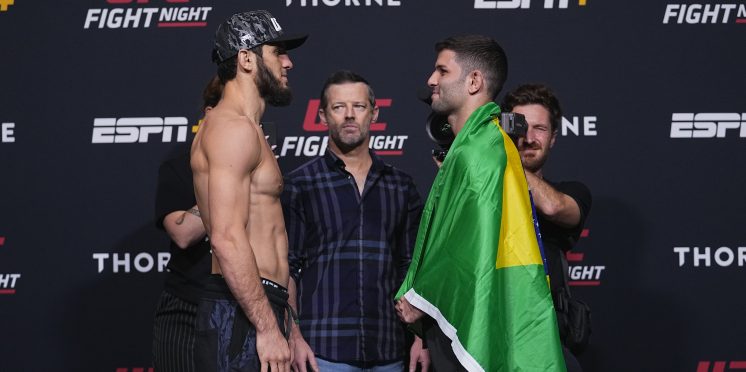 UFC on ESPN 26: Preview and Predictions
The UFC offers up another fight card this weekend as top-15 lightweight contenders Islam Makhachev and Thiago Moises headline their first events.
With Miesha Tate's return from retirement in the co-main event against the departing Marion Reneau, there is little else in the way of notable names for the casual fan.
For those with a more hardcore fervour, Mateusz Gamrot is a much watch prospect as he takes on Jeremy Stephens while Daniel Rodriguez takes on short-notice submission specialist Preston Parsons in the prelim marquee bout.

Islam Makhachev (19-1) vs. Thiago Moises (15-4)
While Thiago Moises certainly has the tools to bring about an early close to this contest thanks to his power and incredible submission skills, Islam Makhachev looks destined to be his mentor Khabib Nurmagomedov's successor.
With a differing approach to his takedowns, Makhachev uses more trips and throws than unrelenting chain wrestling, the Dagestani fighter is similar to Nurmagomedov in that he wants to ground his opponent and control the bout with heavy top pressure.
Admittedly Moises can potentially snatch up a submission, perhaps a leg lock in a scramble, but Makhachev has controlled other top-level grapplers and remained dominant without much trouble.
Pick: Islam Makhachev
Marion Reneau (9-7-1) vs. Miesha Tate (18-7)
After five years away, it's practically impossible to predict what condition Miesha Tate will be in.
While retirement will likely allow her body to recuperate from any knocks and injuries, her sharpness and ring rust will likely take a while to return.
Reneau meanwhile has remained active but unsuccessful and is planning on this bout being her final in competition.
On the feet, this can certainly be Reneau's fight to dictate but Tate's control in close can potentially tire out an older fighter in the 44-year old.
It's a tough one but I'll ever so slightly side with the grappler.
Pick: Miesha Tate
Jeremy Stephens (28-18, 1 NC) vs. Mateusz Gamrot (18-1, 1 NC)
Despite going without a win since 2018, Jeremy Stephens can still crack and remain competitive with the higher end of the UFC's roster.
With a developed jab and leg kick heavy offence, 'Lil Heathen' can definitely cause Mateusz Gamrot problems at kickboxing range.
For all of Gamrot's own qualities on the feet however, he is also a talented grappler who will chain grappling attempts together and give Stephens a lot to think about.
Due to his skillset being more refined and complete than Stephens', I think Gamrot will be able to get the victory here through output.
Pick: Mateusz Gamrot
Rodolfo Vieira (7-1) vs. Dustin Stoltzfus (13-2)
Despite Rodolfo Vieira's shocking submission loss last time out, the Brazilian is a top-tier submission fighter who should hold the advantage on the mat against pretty much everyone outside the top level.
Stoltzfus should want to keep this fight standing and drag the fight out to capitalize on Vieira's very questionable gas tank.
Doing so however is a big ask and thanks to his physicality, I do think Vieira will be able to ground his opponent and find a submission early.
Pick: Rodolfo Vieira
Gabriel Benitez (22-8) vs. Billy Quarantillo (15-3)
Quarantillo is a well-rounded fighter technically but his work rate and cardio is by far his best quality.
Benitez meanwhile is a slick striker and one that packs decent power behind his punches in particular.
For Quarantillo to win he'll have to pressure Benitez and not hang around in striking range to give Benitez a chance to connect often.
Due to Benitez's crispness on the feet however, I think he'll catch Quanrantillo at some point.
Pick: Gabriel Benitez
(Last Predictions: 4/5, Total: 66/118, 56% Success Rate)
(Success Rate: 2016: 61%, '17: 60%, '18: 58%, 19′: 57%, 20′: 67%)
---