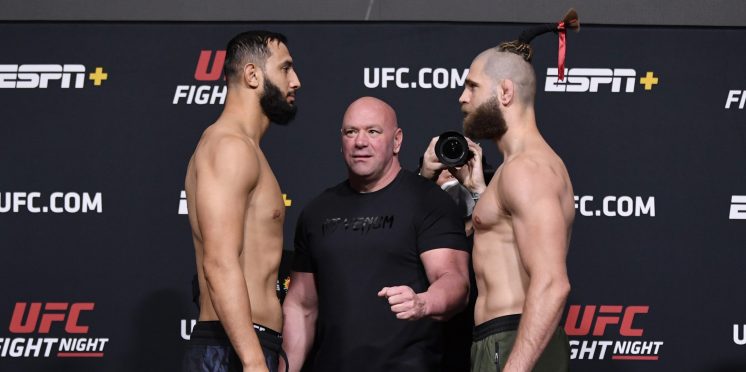 UFC on ESPN 23: Preview and Predictions
Coming hot off the heels of a sensational UFC 261, UFC on ESPN 23 will look to follow the front runner for event of the year as a light heavyweight title eliminator takes the main event spot.
Headlined by a five-round clash between Dominick Reyes and Jiri Prochazka, the supporting acts look to be entertaining match-ups on the periphery of the top 15 rankings. 

Dominick Reyes (12-2) vs. Jiri Prochazka (27-3-1)

Neither fighter is a defensive master but offensively is where the two differ most.
While Reyes is more controlled and technical in his approach, Prochazka is a proponent of the more fun 'MMA wild man' method.
With a tendency to square up and rely on his range and power in his strikes, Prochazka can definitely be got at with his disregard for what is fired back in his direction.
Reyes meanwhile will match Prochazka in terms of physicality but the Czech fighter has true fight-ending power in single strikes that I don't think Reyes has.
Much like Prochazka's fight against Volkan Oezdemir, I think 'Denisa' will absorb some strikes early on but his ability to bring an early close to proceedings will rear its head once more.

Pick: Jiri Prochazka

Giga Chikadze (12-2) vs. Cub Swanson (27-11)

This is a really good test for where Chikadze sits in the featherweight division.
While Swanson is getting on in age and experience, the WEC veteran is a tough match-up for most with his savvy and well-rounded skill set.
With the threat of takedowns and his own durability to be relied on, Swanson could easily take this fight on the scorecards and I wouldn't be surprised.
However, Chikadze is perhaps the more diverse when it comes to his strikes at kickboxing range and that could draw Swanson into a striking battle.
It's a tough fight to pick as there are some lingering questions over Chikadze's gas tank but I'll side with the younger man.

Pick: Giga Chikadze

Ion Cutelaba (15-6, 1 NC) vs. Dustin Jacoby (14-5)

I think Cutelaba could potentially be in trouble if he loses this fight thanks to his persistent pre-fight shenanigans.
Nevertheless, in the cage it tends to either be an early finish of his own or a decisive loss.
With Jacoby being a more considered striker, I think he has the potential to stick and move against a pressuring Cutelaba.
There's always the chance that the Moldovan's power is a fight ender but I'll side with the more technical Jacoby to slowly deter his opponent over the rounds.

Pick: Dustin Jacoby

Sean Strickland (22-3) vs. Krzysztof Jotko (22-4)
Krzysztof Jotko had long been the gatekeeper to the top 15 in the middleweight division but I think Sean Strickland has taken over that mantle with a move up in weight class.
He's the younger man, offers a higher pace than his counterpart and is more of a stoppage threat.
Pick: Sean Strickland

Merab Dvalishvili (12-4) vs. Cody Stamann (19-3-1)

Stamann is very well-rounded like most in the bantamweight division but the x-factor in this fight is Merab Dvalishvili's pace-setting.
With a solid pedigree of his own in wrestling, I think Stamann may be able to stuff or quickly rebound to his feet following Dvalishvili's attempts to ground the fight but 'The Machine' is truly relentless.
Outside of a few with exemplary takedown defence, I think the Georgian's output will continue to see him pick up victories.

Pick: Merab Dvalishvili

Poliana Botelho (8-3) vs. Luana Carolina (6-2)

Both Brazilian's, like the main event, are far more concerned with their offence than their defence.
Where I think the difference between the two lies, however, is the quality of opposition they have faced up to now and Botelho's kicking ability.
With those factors in her favour, I'll side with Botelho to get the nod on the judges' scorecards.

Pick: Poliana Botelho

(Last Predictions: 3/5, Total: 37/70, 53% Success Rate)
(Success Rate: 2016: 61%, '17: 60%, '18: 58%, 19′: 57%, 20′: 67%)
---