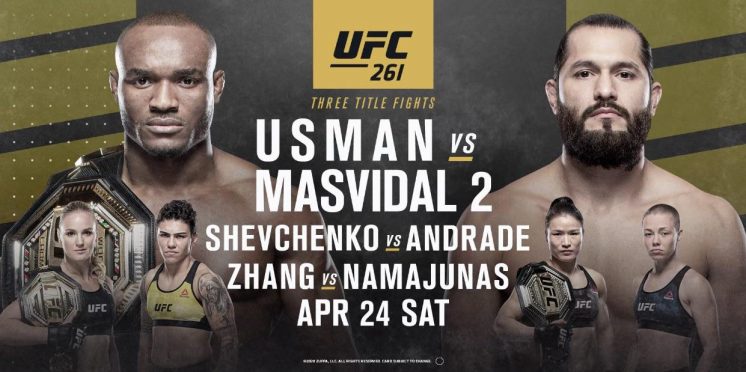 UFC 261: Preview and Predictions
For the first time since UFC 248 in March 2020, the UFC puts on an event in front of a full capacity crowd.
Putting aside the obvious health risks with such a decision, those in attendance will be treated with three exciting title fights to top the fight card.
With two of the best women's fights you can put together in chief support, UFC 261 is headlined by a welterweight rematch between Kamaru Usman and Jorge Masvidal.

Kamaru Usman (18-1) vs. Jorge Masvidal (35-14)

To be honest, this championship bout is probably the least intriguing out of the three.
We've seen it before, it was decided in dominant fashion, and intangibles are the only reasons you can think there will be any different outcome.
Whether the fan presence, which will no doubt side with 'Gamebred', will buoy Masvidal's performance is probably the biggest 'what if' that could swing this fight in his favour.
Technically, tactically and physically, though, Usman is the better fighter out of the two. The pace he sets is relentless, he packs power in every strike that he throws and his wrestling is superb.
Unless Masvidal can land a KO blow, I don't see how he wins this fight against a more complete fighter.

Pick: Kamaru Usman

Zhang Weili (21-1) vs. Rose Namajunas (9-4)

Styles make fights and this could easily be another all-time classic like Weili vs. Jedrzejczyk.
Weili will again bring tons of volume in her output but Namajunas packs deceptive power, is slick with her control of range and is also a threat if the fight hits the mat.
I think if Namajunas will get her hand raised it will be through her work early on as the fight should start to swing in Weili's favour later on thanks to her ridiculous cardio.
It's a really tough fight to pick though as Namajunas' speed in both her footwork and hands is unlike any other at strawweight.
Due to Weili's toughness and pressure though, I'll ever so slightly side with the champion in what should be a brilliant contest.

Pick: Zhang Weili

Valentina Shevchenko (20-3) vs. Jessica Andrade (21-8)

This fight very much has the feeling of the matador and bull as Andrade will harry the champion looking to close the distance for either the chance of landing hooks or takedowns.
Shevchenko will have to contend with the pressure of Andrade but her counter striking, footwork and size should give her success here.
I do think this will be a fun clash of styles but I believe Shevchenko will solve the riddle and either peel away on the scorecards or land a potential fight-ending counterblow.

Pick: Valentina Shevchenko

Uriah Hall (16-9) vs. Chris Weidman (15-5)

Uriah Hall's inconsistency and timidness is always a major red flag when it comes to predicting his fights.
Stylistically, this is also a fight that Weidman can certainly win through his wrestling but his durability remains a huge question.
Maybe this is the beginning of a late-career resurgence by Weidman but with his need to pressure his opponents to score his offence, I think Hall will be forced into throwing something and that could be all it needs to win this fight.

Pick: Uriah Hall

Anthony Smith (34-16) vs. Jim Crute (12-1)

I think both Smith and Crute are much better when looking to land some offence as opposed to worrying about their defensive responsibilities.
While I do think Smith can land some decent strikes as well as potentially score a takedown or two, Crute is the younger and more physical of the two and I think he'll rebound much better from any adversity.
Add in that Crute is the man in better form and I think he'll continue his ascension through the light heavyweight division.

Pick: Jim Crute

(Last Predictions: 1/4, Total: 34/65, 52% Success Rate)
(Success Rate: 2016: 61%, '17: 60%, '18: 58%, 19′: 57%, 20′: 67%)
---