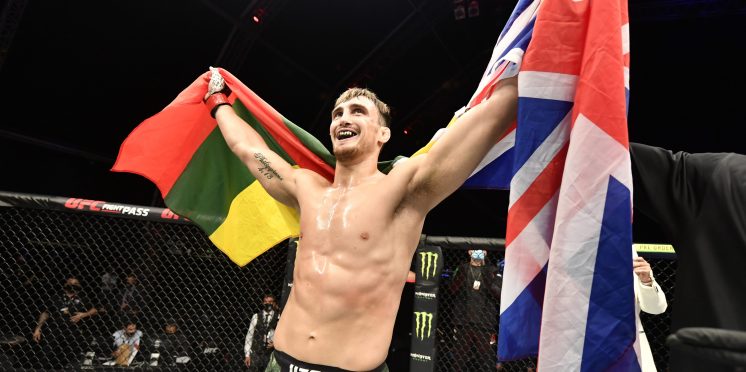 One to Watch at UFC 260: Modestas Bukauskas
Modestas "The Baltic Gladiator" Bukauskas | 11-3 | 6'3 205 lbs. | Age 27 | Reach 78" | Orthodox Stance | Fighting Out of London, England
With Modestas Bukauskas (11-3) appearing on the dating show 'Take Me Out' before his recent exploits in the UFC octagon, 'The Baltic Gladiator' gets recognized on the street equally for both gigs. However, with 10 of 11 wins coming by way of stoppage and a $50K bonus in his first fight, his MMA stardom is truly taking over. In 2020, Bukauskas debuted in the UFC and went 1-1 with a brutal TKO victory and a tough loss to a ranked contender. Now in 2021, he's eyeing to go 2-1 in the octagon at UFC 260 against more stiff competition.
Modestas Bukauskas is of Lithuanian descent, born in Klaipėda, a port city on the west coast, where the Baltic Sea meets the Danė River. He began his MMA journey with traditional martial arts before his family moved to London, England. Modestas' father started Gintas Combat in Watford and his son followed his steps into the full-fledged MMA scene. He accepted his first and only amateur fight in 2014 at age 20, emerging victorious by his signature submission rear-naked choke (3 total over 11 wins).
He's known more for his hands than his Jiu-Jitsu, which afforded him a four-fight win streak to start his pro career. He's a taller, thinner light heavyweight standing at 6'3″ but still possesses heavy power. "The Baltic Gladiator" has finished 10 of 11 victories and became the Cage Warriors champion before signing with the UFC.
After putting pen to paper, Bukauskas became the first Lithuanian to step foot in the octagon. Just one month later, a second Lithuanian Julija Stoliarenko joined Modestas in the UFC ranks. Bukauskas earned the country's first win with a brutal TKO that saw his opponent not able to stand after the first round. He earned $50,000 for the "Performance of the Night" and got a big opportunity two months later facing the #13 ranked Jimmy "The Brute" Crute (12-1). Crute was the better man that night, however, Modestas looks to turn the page in 2021 and go 2-1 in the octagon. He faces Poland's Michał Oleksiejczuk (14-4) at UFC 260 and it all goes down Saturday, 3/27, starting at 7:30 PM ET.
WHO YOU GOT?
Modestas "The Baltic Gladiator" Bukauskas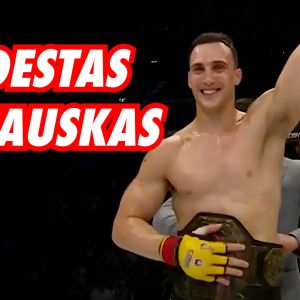 Michał "Lord" Oleksiejczuk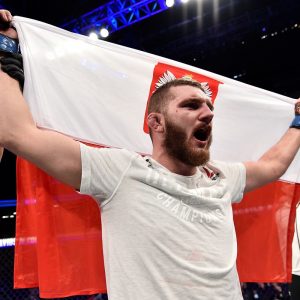 ---