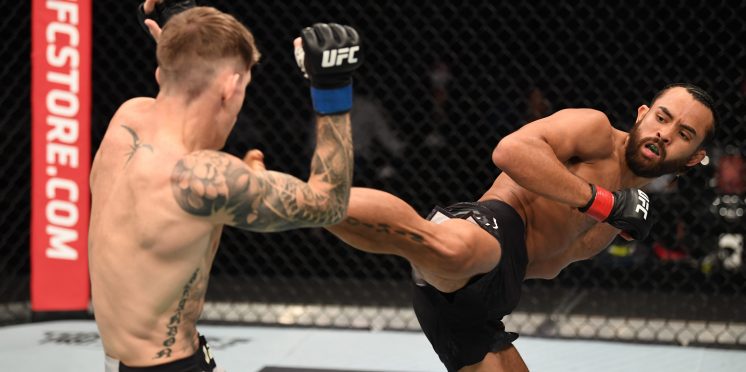 One to Watch at UFC 259: Kyler Phillips
Kyler "Matrix" Phillips | 8-1 | 5'8 135 lbs. | Age 25 | Reach 72" | Orthodox Stance | Fighting Out of Phoenix, Arizona
Kyler "Matrix" Phillips (8-1) faces the biggest bout of his career Saturday at UFC 259. The bantamweight fights a ranked contender on a gigantic pay-per-view card after recording a 2-0 start in the UFC, both earning bonuses and not to mention stopping six of his eight wins before the final bell.
Kyler Phillips was born in 1996, hailing from Torrance, California. He followed his father's footsteps to the local Gracie Academy at age three and never looked back. From there, he expanded his horizons with Tae Kwon Do, boxing, and wrestling. Phillips wrestled throughout his high school years, furthermore earning a California State Judo championship and an IBJJF gold in the blue belt division. His school wrestling career culminated into a 2013 California Sectional Championship at 138 lbs.
Kyler relocated to Surprise, Arizona where he would attend Grand Canyon University for wrestling. Before long, his heart yearned for more martial arts, leaving college wrestling and finding a new passion in the art of Nikidokai. It's a new, hybrid form developed by Hanshi Nico which combines Muay Thai, Aikido, Judo, Kobudo, and Karate. He started his MMA career in 2015 and went on a 10-fight win streak from amateur to professional before losing his chance at a UFC contract on The Ultimate Fighter 27, suffering a decision loss to the eventual winner.
Following the speed bump, Phillips began training at the acclaimed Phoenix-based gym MMA Lab. He finished a foe in highlight-reel fashion in LFA in 2019 to earn a UFC debut on short notice. $100K in two fights for "Fight of the Night" and "Performance of the Night" has Kyler living lavish now. He starts 2021 as a 135 pounder who is on the cusp of a top 15 ranking. "Matrix" can shore up his spot with a big win at UFC 259 on March 6. He battles #14 Song Yadong (16-4-1) on a stacked prelim card starting at 8 PM ET.
WHO YOU GOT?
Kyler "Matrix" Phillips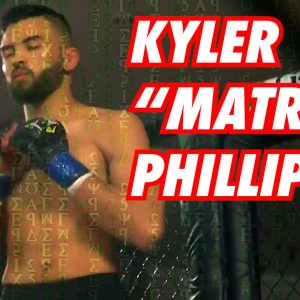 Song Yadong
---