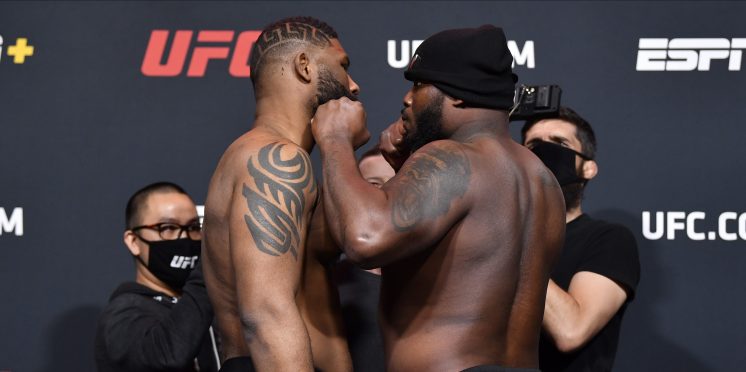 UFC Fight Night 185: Preview and Predictions
Akin to last weeks PPV event, UFC Fight Night 185 is held together by a strong headline act while it's supporting features are a little lacklustre in interest.
Fortunately, though, these cards tend to overdeliver and then some.
With a heavyweight title eliminator between Curtis Blaydes and Derrick Lewis in the main event, the rest of the main card is filled with middling prospects or veterans hoping to break out and put together an impressive streak of wins.

Curtis Blaydes (14-2, 1 NC) vs. Derrick Lewis (24-7, 1 NC)

While Derrick Lewis has had success in the past with grapplers, I think Curtis Blaydes is more of the Daniel Cormier mould than that of an Oleinik or Latifi.
Lewis will no doubt look to replicate Francis Ngannou's success against Blaydes however and make devastating use of his one-punch power.
With his uncanny ability to simply stand up from the bottom, 'The Black Beast' will hope to hit Blaydes early before Blaydes can establish a rhythm with his takedowns or maintain control.
Due to Blaydes' great gas tank, his ability to land ground and pound and top pressure, I think the signs point towards a Blaydes win.
Lewis' power is of course a massive factor here but the smart thinking is with 'Razor' here.

Pick: Curtis Blaydes

Ketlen Vieira (11-1) vs. Yana Kunitskaya (13-5, 1 NC)

While Vieira tends to try and be the aggressor in her bouts, I'd expect the Brazilian to take the back foot in this bout and react to what Kunitskaya throws at her.
With Kunitskaya possessing the faster hand speed, I think she'll look to close the distance and attempt to fall into the clinch and use her physicality to control the proceedings.
Vieira though, in my opinion, is the more polished fighter. With a solid grappling base and some decent counter boxing at her disposal, I think Vieira will provide the cleaner work over 15 minutes.

Pick: Ketlen Vieira

Charles Rosa (13-4) vs. Darrick Minner (25-11)

Both Rosa and Minner are big submission threats so hopefully this will be a fun scramble on the mat.
On the feet, Rosa is more concerned with his kicking game than anything else while Minner will blitz and seemingly try to empty his gas tank.
With such a risky strategy, I think Rosa should be able to outlast the questionable cardio of Minner.

Pick: Charles Rosa

Aleksei Oleinik (59-14-1) vs. Chris Daukaus (10-3)

Oleinik – Daukaus looks to be a classic grappler vs. striker match-up.
Daukaus has overwhelmed his opponents in his UFC victories thus dar but with Oleinik's vast experience, the Russian shouldn't see anything new to him.
While age is always a creeping factor hanging over 'The Boa Constrictor', Oleinik should be able to get Daukaus down and find a submission.

Pick: Aleksei Oleinik

Phillip Hawes (9-2) vs. Nassourdine Imavov (9-2)

Imavov looks to stay at range if possible on the feet but I don't think he has the power or athleticism to keep Phillip Hawes at bay.
I'm not the biggest believer in Hawes' potential but he does have an explosive offence and a smart ground game if needed.

Pick: Phillip Hawes

Andrei Arlovski (30-19, 2 NC) vs. Tom Aspinall (9-2)

I don't agree that Arlvoski should be the underdog here with his recent propensity to play the spoiler and the wrestling advantage he should hold here.
Aspinall to his credit is a solid grappler but Arlovski's experience and ability to stall out fights with patience have seen him pick up wins when he's expected to lose.
Where I do see this fight being won however is in Aspinall's boxing. While he holds the power expected for a heavyweight, he is willing to string his strikes together – a skill that's seldom seen at the weight class.
Pick: Tom Aspinall

(Last Predictions: 4/5, Total: 13/26, 50% Success Rate)
(Success Rate: 2016: 61%, '17: 60%, '18: 58%, 19′: 57%, 20′: 67%)
---