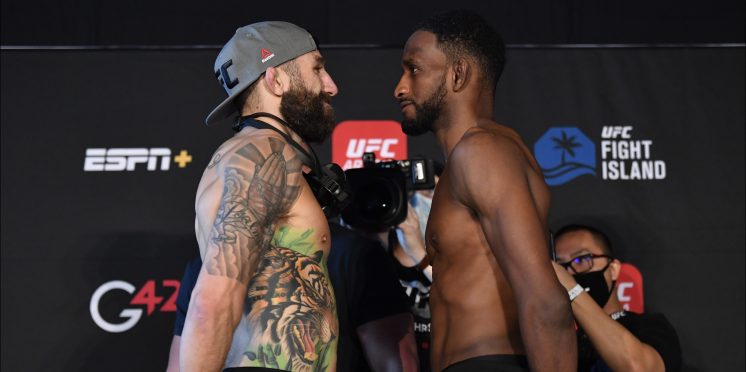 UFC on ESPN 20: Preview and Predictions
Hot on the heels of their first event of 2021, the UFC is back this Wednesday with the second of three events this week.
With a Conor McGregor – Dustin Poirier rematch set for the main course that is UFC 257 this Saturday, this mid-week offering by MMA's largest promotion will see a promising welterweight contender emerge from the middle of a title aspiring pack.
Pitting the well-rounded pair of Michael Chiesa and Neil Magny against one another in the main event, UFC on ESPN 20 is supported by a main card that looks to be filled with competitive and exciting match-ups on paper in addition to a preliminary headliner that will see the #13 ranked middleweight Omari Akhemedov take on an in-form Tom Breese.

Michael Chiesa (16-4) vs. Neil Magny (24-7)

This is a tough one to decipher because both Chiesa and Magny match up well.
Both employ a pressuring fighting style, are more than comfortable on the mat and in the clinch while rangy with their stand up.
Magny is undoubtedly the more varied when it comes to his striking and will more than likely see his best path to victory coming on the feet.
Chiesa meanwhile is expected to continue what has got him to where he is today and look to press his opponent against the cage, find takedowns and then control with top pressure and submission threats.
While Magny has looked better than ever recently, I do think that he has been taken down in the past by front foot grapplers and Chiesa is aggressive in his desire to create grappling exchanges.
Keeping Chiesa at bay for 25 minutes will be no easy feat due to Magny's lack of finishing prowess and so I think it will be a matter of time before 'Maverick' can get his opponents back to the cage and dictate the tempo.

Pick: Michael Chiesa

Warlley Alves (13-4) vs. Mounir Lazzez (10-1)

While Warlley Alves has played the spoiler a few times in the past, I'm thoroughly impressed with Mounir Lazzez.
Willingly engaging the powerful striker Abdul Razak Alhassan in his UFC debut, Lazzez proved far too technical on the feet and didn't look to lose his steam over the full 15 minutes.
Alves will likely want to avoid Lazzez's striking game and grapple with his opponent but he has shown in the past a tendency to gas out when things don't go exactly his way.
Due to his patience and technique, I think Lazzez will continue to impress at 170 lbs.

Pick: Mounir Lazzez

Ike Villanueva (16-11) vs. Vinicius Moreira (9-4)

This is such a bizarre fight to have on the main card and the loser will likely be cut from the UFC roster once it's over and done.
In what looks to be a pretty cut and dry striker vs. grappler match-up, I think Moreira has at least faced better competition than Villanueva and if it can hit the mat, the fight should tip heavily in his favour.

Pick: Vinicius Moreira

Roxanne Modafferi (25-17) vs. Viviane Araujo (9-2)

While Roxanne Modafferi's fighting style isn't the most athletic or graceful to the eye, 'The Happy Warrior' has made a career out of being functional with everything she does.
Undoubtedly, like the vast majority of her fights, Modafferi will want to get the fight to the mat and use her grappling but with Araujo's movement and athleticism, I'm not sure she'll be able to pull it off.
While Modafferi has shown time and time again in the past to never write her off, I think Araujo's speed on the feet will be the decisive factor here.

Pick: Viviane Araujo

Matt Schnell (14-5) vs. Tyson Nam (20-11-1)

I think this fight boils down to whether you trust Tyson Nam to land an accurate punch on a dubiously durable Matt Schnell.
Schnell had put together a good four-fight winning run at flyweight but in his last outing met the powerful Alexandre Pantoja and fell to a first-round KO loss – his third in the UFC.
Nam meanwhile is a big counter-puncher and can certainly test Schnell's chin if he connects.
It's a tough one to pick as you can certainly see Nam land that shot but I'll side with the busier fighter in Schnell to do enough on the judges' scorecards.

Pick: Matt Schnell

Lerone Murphy (9-0-1) vs. Douglas Silva de Andrade (26-3, 1 NC)

Murphy – De Andrade is a great opening bout to a fight card.
De Andrade has fought some really talented fighters during his UFC tenure and his quick and powerful fighting style has even seen the Brazilian best Marlon Vera inside of the octagon.
Murphy meanwhile has shown bravery and power in his last outing as the Brit was more than happy to follow Ricardo Ramos to the mat and finished him there with ground and pound.
This does look to be a more difficult fight for Murphy thanks to the Brazilian's output but he does eat a lot of strikes to land some of his own.
With Murphy's power and defence on the feet, I think 'The Miracle' can get it done.

Pick: Lerone Murphy

(Last Predictions: 2/5, Total: 2/5, 40% Success Rate)
(Success Rate: 2016: 61%, '17: 60%, '18: 58%, 19′: 57%, 20′: 67%)
---