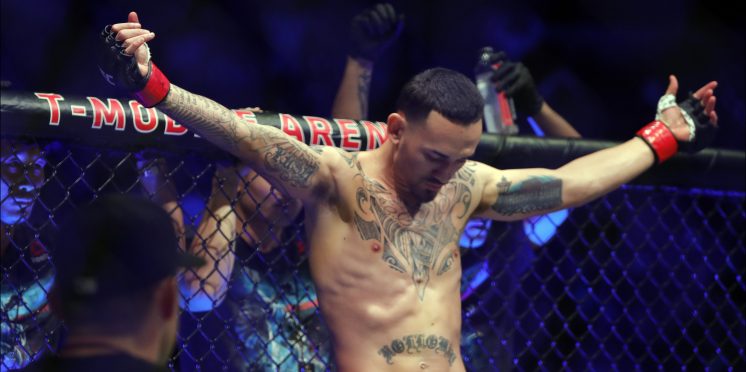 UFC on ABC 1: Preview and Predictions
Kicking off 2021 with three events in the space of a week, the UFC is set to fly out of the blocks this year as a featherweight title eliminator will headline their first event with a new broadcast partner.
In the main event of the inaugural UFC on ABC fight card, former 145 lbs king Max Holloway will meet fellow talented striker Calvin Kattar in what looks to be an excellent five-round fight.
Supporting the hotly anticipated bout will be a clash between welterweight fan favourites Carlos Condit and Matt Brown while Santiago Ponzinibbio and Joaquin Buckley will make anticipated returns to the octagon for different reasons. 

Max Holloway (21-6) vs. Calvin Kattar (22-4)
Calvin Kattar is a sublime boxer and he may well have the best one-two in the business at the moment.
Add in the power behind his hands and for as long as the fight is on the feet, 'The Boston Finisher' can certainly put his opponents away.
With that being said, however, Max Holloway has that extra experience over 25 minutes, produces more volume than his opponent and, in my opinion, has the all-important better footwork of the two.
Add in that Kattar tends to start slow and I think the idea of having to adjust to Holloway's volume and entries in the second round is a huge task.
Pick: Max Holloway
Carlos Condit (31-13) vs. Matt Brown (22-17)
This is a tough fight to pick due to the current versions these fighters are.
At their respective peaks, Carlos Condit is likely a dead cert to pick thanks to the levels he reached but now both fighters are worn down by the long grind of their careers.
Nevertheless, you'd expect both Condit and Brown to stand and trade in this bout and they certainly have clear paths to victory.
At range, Condit has the more diverse arsenal while in close Brown can make this a dog fight with his clinch work and solid Muay Thai.
It could go either way but Condit's last outing after a two-year absence did seem to rejuvenate his approach to fighting.
Pick: Carlos Condit
Santiago Ponzinibbio (27-3) vs. Li Jingliang (17-6)
It's been over two years since Santiago Ponzinibbio took to the octagon so who knows how he will look?
Fortunately for the Argentinian, Jingliang has the potential to be a generous opponent in a few ways.
Firstly, Jingliang does tend to start slow which can give Ponzinibbio some breathing room to acclimatize himself to his surroundings once again.
Secondly, 'The Leech' has struggled in the past in fights in which he cannot be the bully inside the octagon. Against fighters like Jake Matthews and Neil Magny, their physicality has hampered Jingliang's ability to control his opponent and Ponzinibbio has a similar frame to those mentioned.
A two-year absence is a hard thing to overcome but I think if Ponzinibbio can return to his powerful and high volume striking than I think he'll have the skills to best a tough opponent.
Pick: Santiago Ponzinibbio
Joaquin Buckley (12-3) vs. Alessio Di Chirico (12-5)
While Di Chirico has perhaps shown a more well-rounded skill set during their respective UFC tenures, Buckley is the far more aggressive fighter and the one who will push for the finish.
With Buckley proving to be such an explosive striker, I think that aggression and power which both his hands and kicks will be enough to best a solid fighter on a three-fight losing streak.
Pick: Joaquin Buckley
Punahele Soriano (7-0) vs. Dusko Todorovic (10-0)
Both Soriano and Todorovic look to be bright prospects at 185 lbs but I do think Todorovic is that slightly bit further along in his development.
Soriano has good, powerful hands which could easily bring an early close to this contest but Todorovic produces a ton of output and can grind down his opponents over a long period of time.
Pick: Dusko Todorovic

(Success Rate: 2016: 61%, '17: 60%, '18: 58%, 19′: 57%, 20′: 67%)
---