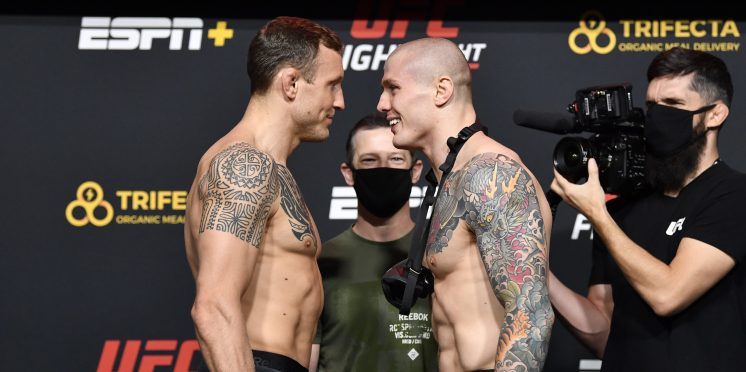 UFC on ESPN 19: Preview and Predictions
The UFC's unrelenting schedule steamrolls on for it's 21st consecutive week as UFC on ESPN 19 offers up a high-ranking middleweight main event.
Headlined by Jack Hermansson and late replacement Marvin Vettori, the rest of Saturday's card is filled with under-the-radar talent that could be making big waves in their respective weight classes in a year or two.

Jack Hermansson (21-5) vs. Marvin Vettori (15-3-1)

While Marvin Vettori looks to have some real potential in the middleweight division, I think the stylistic match-up and short-notice nature of this bout won't do him any favours.
On the feet, Vettori's southpaw stance could give Hermansson trouble as the Swedish fighter has run into problems when faced against those who can operate in the opposite stance (Ferreira & Cannonier).
Hermansson however is no slouch in his striking, both in power and output, but when it comes to grappling, I think that is where the contest will be won.
Hermansson is a much greater submission threat than Vettori, is more primed for a 25-minute fight and can play off Vettori's struggles when staving off a talented grappler.

Pick: Jack Hermansson

Ovince Saint Preux (25-14) vs. Jamahal Hill (8-0)

OSP is routinely inconsistent and has missed weight for this bout but his losses still only come against those established at 205 lbs.
Hill to his credit offers a ton of output on the feet and that could overwhelm Saint Preux who is more than happy to take his foot off of the gas.
Much like the main event, though, one fighter is the more dangerous when it comes to grappling and OSP could just remove Hill's path to victory by taking the fight to the mat.
It's a tough one to call due to OSP's varying performances but I fancy OSP to get a submission win rather than taking it to the judges'.

Pick: Ovince Saint Preux

Montana de la Rosa (11-6) vs. Taila Santos (16-1)

This should be a fun scrap.
Santos is perhaps the better athlete of the two but De La Rosa is a willing scrambler and is down to engage on the feet.
Yet again, de la Rosa has more submissions on her record but Santos has shown that she is more than capable with her grappling.
I do think this will be a three-round back-and-forth contest but Santos' last performance against Molly McCann showed what she can produce at her best and I think we'll see more of the same.

Pick: Taila Santos

Roman Dolidze (7-0) vs. John Allan (13-5, 1 NC)

Dolidze is unquestionably a big finisher at 205 lbs but has lacked any real gameplan in his fights outside of landing a fight changing moment.
Allan meanwhile has been absent due to a suspension since 2019 but has shown pressure and output as a consistent theme in his performances.
I think if this goes the distance, Allan should get his hand raised but I don't think Dolidze's explosive stylings have hit their ceiling just yet.

Pick: Roman Dolidze

Nate Landwehr (14-3) vs. Movsar Evloev (13-0)
This is a great opening bout.
Landwehr is aggressive and will want to try and draw Evloev into a scrappy brawl where his striking output will give him an advantage.
Evloev, however, is a technical, cerebral fighter and I think he'll wait for his openings rather than force them out of a pressuring Landwehr.

Pick: Movsar Evloev

(Last Predictions: 3/6, Total: 129/191, 68% Success Rate)
(Success Rate: 2016: 61%, '17: 60%, '18: 58%, 19′: 57%)
---