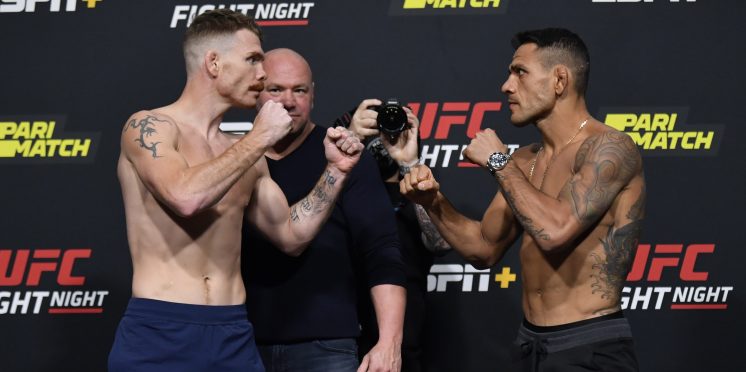 UFC Fight Night 182: Preview and Predictions
Taking the main event billing on just five days notice, Paul Felder has single-handedly saved UFC Fight Night 183 from total irrelevance.
Stepping into Islam Makhachev's shoes on short notice, 'The Irish Dragon' will welcome Rafael dos Anjos back to the lightweight division in which he won UFC gold in 2015.
Outside of the main event though, Saturday's APEX Centre event seriously lacks bouts that excite or have any major consequence.

Paul Felder (17-5) vs. Rafael dos Anjos (29-13)
While Paul Felder has tried to arrest fears over his cardio by revealing he was in training for a triathlon, taking a five-round fight on less than a weeks notice – weight cut included – is not a traditional recipe for success.
Despite the nature of Felder's main event spot, he should still hold the power advantage over Dos Anjos and that could pay dividends either in clinch situations or in striking exchanges.
'RDA' though will likely be relieved he won't be facing a takedown specialist like originally scheduled and will hope to use his own pressuring style to wear down Felder over the 25 minutes.
The Brazilian claimed the 155 lbs championship through his aggressive footwork and I'd expect him to pick up the win here through similar methods.
Felder is always game no matter what admittedly but this fight and the circumstances around it are that bit too far to favour 'The Irish Dragon'.
Pick: Rafael dos Anjos
Abdul Razak Alhassan (10-2) vs. Khaos Williams (10-1)
Alhassan has missed weight in back-to-back fights now and so this may be his last outing at the welterweight limit.
Despite that knock against Alhassan, though, he should be able to get the victory here.
While both he and Williams like to throw power early and Alhassan has a very questionable gas tank, I think he is the cleaner striker and if he wants to engage in a firefight, his hooks and aggression should be too much for Khaos Williams.
Pick: Abdul Razak Alhassan
Kay Hansen (7-3) vs. Cory McKenna (5-1)
This should be a fun fight between two prospects of the strawweight division.
While McKenna is perhaps the more well-rounded of the two, Hansen does hold that extra quality in her grappling background.
If McKenna can keep it standing, she does have a chance but I think Hansen should be able to get the fight to the mat through trips or collisions.
Pick: Kay Hansen
Eryk Anders (13-5) vs. Antonio Arroyo (9-3)
This is a toss-up as neither man is consistent and absorbs too many strikes for my liking.
While Arroyo does have a decent kicking and submission game, his cardio looks dubious and Anders has proven in the past he can find finishes late in a fight.
I think with their different stances, the body kick may well be open for Arroyo but I think Anders' takedowns can secure him two of the three rounds.
Pick: Eryk Anders
(Last Predictions: 3/4, Total: 121/177, 68% Success Rate)
(Success Rate: 2016: 61%, '17: 60%, '18: 58%, 19′: 57%)
---