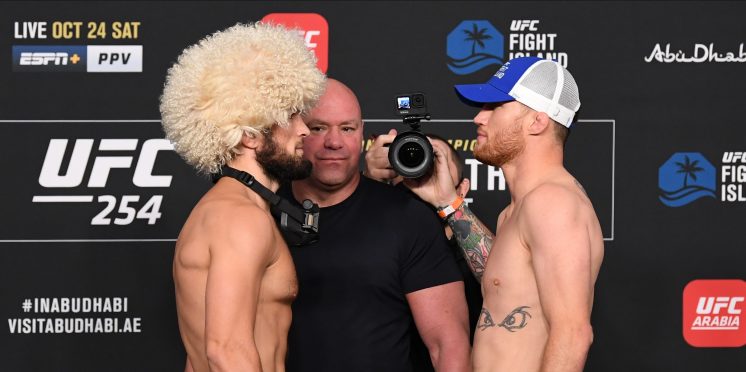 UFC 254: Preview and Predictions
2020's Fight Island experiment comes to an end this Saturday with a monumental lightweight title unification bout as the grand finale.
Pitting the undefeated Khabib Nurmagomedov against arguably the most exciting fighter in MMA history, Justin Gaethje, UFC 254 will also boast a middleweight title eliminator in its co-main event.
With a preliminary card that can also boast Nathaniel Wood vs. Casey Kenney and Stefan Struve vs. Tai Tuivasa, UFC 254 has all the potential to be a fantastic farewell to the Flash Forum.
Khabib Nurmagomedov (28-0) vs. Justin Gaethje (22-2)
On paper, Justin Gaethje certainly has the skillset to best Khabib Nurmagomodov.
He's become more patient while still possessing ruthless power in his hands and leg kicks and he is quick to pop back up to his feet when taken down. Arguably, the Gaethje who fought Tony Ferguson is one of the best lightweight performances in history.
The problem though is that Khabib Nurmagomedov's control and unrelenting takedown threat is otherworldy.
While the playbook on how he achieves those takedowns is plain for all to see (low singles, pressure to the cage and leg lockdowns), stopping him is something that 28 men have failed in.
Gaethje will no doubt look to keep this as close to the centre of the octagon for the duration of the fight and use his power and own physicality but I think once Gaethje is down, Nurmagomedov will be able to keep him pinned down and capitalise on any attempts to return upright.
Pick: Khabib Nurmagomedov
Robert Whittaker (21-5) vs. Jared Cannonier (13-4)
Cannonier is a massive physical threat at middleweight and he may well be the hardest hitter at 185 lbs.
'The Killa Gorilla' will no doubt be buoyed by question marks over Whittaker's durability as he has been dropped in his last three fights but he'll have to either get the fight into a boxing distance or counter as Whittaker comes forward.
Simply though, Whittaker has more paths to victory.
He's capable at playing the patient game as seen in his fight against 'Jacare' Souza and he can take the fight down to the mat when needed as he did against Darren Till.
It's a gamble as Cannonier certainly has the power to end any fight but I think Whittaker is too experienced and mobile in this match-up.
Pick: Robert Whittaker
Alexander Volkov (31-8) vs. Walt Harris (13-8, 1 NC)
Harris hits like a truck at heavyweight but like a lot of fighters from about the #8 ranking and down, his skill set isn't well-rounded in the slightest.
We've seen Harris get taken down and kept there and Alexander Volkov is fairly handy on the mat.
Maybe an early blitz will get Volkov out of there quickly like Harris can at his best but I think Volkov's size, output and takedown ability should see him get his hand raised.
Pick: Alexander Volkov
Jacob Malkoun (4-0) vs. Phillip Hawes (8-2)
Malkoun looks to be a steady striker and works primarily with Robert Whittaker but Hawes is the deserving favourite here.
Hawes is an explosive fighter with decent wrestling to boot and I struggle to see Malkoun keeping Hawes off of him for long enough.
Pick: Phillip Hawes
Lauren Murphy (13-4) vs. Liliya Shakirova (8-1)
Shakirova comes into this bout as a late replacement and while she's shown to be an explosive kind of fighter outside of the UFC, I struggle to see her using any physical tools successfully against Lauren Murphy.
Murphy produces solid output, is happy to work in the clinch and I think that's how she will earn the victory here.
Pick: Lauren Murphy
Magomed Ankalaev (13-1) vs. Ion Cutelaba (15-5, 1 NC)
Fourth times the charm for this bout, right? RIGHT?!
Hopefully, these two just stand and trade as they did in their first bout and provide the masses with some edge of the seat phonebooth fighting.
While Cutelaba's protestations have earned him an immediate rematch, Ankalaev was still landing the crisper strikes than his aggressive opposition.
Whether it be a wild scrap again or Ankalaev deciding for a safer route to victory, I think the Russian is simply the better of the two.
Pick: Magomed Ankalaev
(Last Predictions: 2/5, Total: 109/162, 67% Success Rate)
(Success Rate: 2016: 61%, '17: 60%, '18: 58%, 19′: 57%)
---