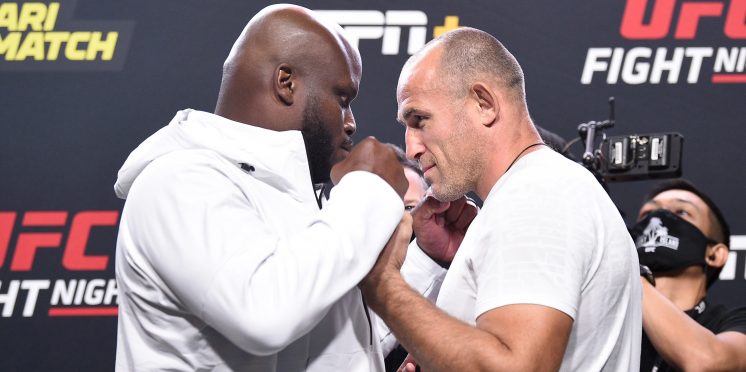 UFC Fight Night 174: Preview and Predictions
The UFC continues their stay at the Apex Centre this Saturday night as two heavyweights look to break into the title picture.
Pitting the heavy-hitting Derrick Lewis against submission supremo Aleksei Oleinik in the main event, UFC Fight Night 174 is supported by former middleweight champion Chris Weidman vs. Omari Akhmedov and a host of exciting bouts like Beneil Dariush vs. Scott Holtzman, Gavin Tucker vs. Justin Jaynes and Tim Means vs. Laureano Staropoli.
Derrick Lewis (23-7, 1 NC) vs. Aleksei Oleinik (59-13-1)

This really looks to be a heavyweight lottery fight.
Both men have big power, Lewis admittedly more, and they can both be stopped by the punishment that heavyweights can dish out.
Maybe Oleinik can take Lewis down and work his grappling magic but with the Russian's age, I'm not sure he can take a punch from Lewis and keep coming forward.

Pick: Derrick Lewis

Omari Akhmedov (20-4-1) vs. Chris Weidman (14-5)

This fight is really interesting due to Chris Weidman's recent outings.
While Weidman's form and questionable durability (five KO losses in his last six) indicates a fighter who should hang up the gloves, those fights have come against truly elite competition.
Weidman's quality of opponent is also startling as Akhmedov is the first fighter outside of the top 10 he has faced since 2011.
I think this bout will truly be the barometer of whether Weidman is finished as a fighter though as technically, Weidman is the better striker and the better wrestler.
Akhemedov does come into this bout with confidence but I'll side with Weidman to show he still has the skills, albeit not at the level he once was.

Pick: Chris Weidman

Maki Pitolo (13-5) vs. Darren Stewart (11-5, 1 NC)

Pitolo operates at a much higher pace than Stewart and his boxing is also perhaps slicker than his counterpart.
Pitolo however does have a tendency to throw away the good work he is doing in favour of aggression and against a physical fighter like Stewart, he could conceivably be stuck in the clinch or walk onto a powerful strike.
It's a tough one to pick but I'll side with Pitolo's output to be decisive.

Pick: Maki Pitolo

Yana Kunitskaya (12-5, 1 NC) vs. Julija Stoliarenko (9-3-1)

Stoliarenko is a strong grappler with a penchant for armbars (eight of her nine wins by that submission), but outside of her last outing for Invicta, the Lithuanian hasn't shown all that much against decent opposition.
Kunitskaya meanwhile isn't the most talented of fighters but she can hold her own on the mat and I think her experience will allow her to stay out of Stoliarenko's preferred wheelhouse.

Pick: Yana Kunitskaya

Beneil Dariush (18-4-1) vs. Scott Holtzman (14-3)

Holtzman can crack despite his resume and with Dariush showing signs of waning durability, a stand-up battle could well play into 'Hot Sauce's' hands.
Dariush does have a good jab which could well keep Holtzman at bay but his best path to victory would be to take the fight to the mat.
There, Dariush has the biggest discrepancy in skill with his opponent and so I'll pick Dariush to use his smarts and out grapple an always game Holtzman.

Pick: Beneil Dariush

(Last Predictions: 1/4, Total: 74/108, 69% Success Rate)
(Success Rate: 2016: 61%, '17: 60%, '18: 58%, 19′: 57%)
---