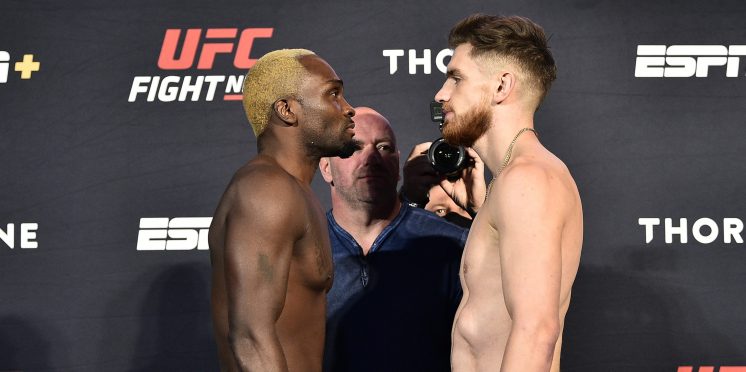 UFC Fight Night 173: Preview and Predictions
The UFC returns stateside this Saturday night as the Apex Centre in Las Vegas offers a different setting than that of Abu Dhabi's 'Fight Island'.
Headlined by a high-ranking middleweight clash, UFC Fight Night 173 sees rising prospect Edmen Shahbazyan take on veteran Derek Brunson in a three-round affair while the co-main event will see a flyweight title eliminator take place between Joanne Calderwood and Jennifer Maia.
Derek Brunson (20-7) vs. Edmen Shahbazyan (11-0)
Over five-rounds, we may have learned more about Edmen Shahbazyan but due to the short-natured way in which this bout was made the main event, it remains a 15-minute bout.
For as much as Brunson is made out as a middling gatekeeper at 185 lbs, Brunson is a tough fighter to best and only the elite have defeated him in the UFC.
With stopping power in his hands and a strong wrestling game, Brunson is more than capable of grinding out wins in unspectacular fashion and we haven't seen a lot of Shahbazyan's wrestling, especially against someone at the Brunson's level.
On the feet however, Shahbazyan looks the real deal and he can capitalise on Brunson's defensive frailties. With crisp accuracy in his strikes and a slick 1-2 in particular, Shahbazyan calmness on the feet isn't befitting of a fighter so young.
It's a tough one to call due to Shahbazyan's relative inexperience, but what we've seen so far has been excellent and I back him to find holes in Brunson's defence.
Pick: Edmen Shahbazyan
Joanne Calderwood (14-4) vs. Jennifer Maia (17-6-1)
It's a big gamble from Calderwood to give up what looked to be a guaranteed title shot but I think it's one that will pay off.
Calderwood throws more strikes than Maia, lands more meaningful blows than Maia and even secures more takedowns per fight than her counterpart.
While admittedly Calderwood has struggled for consistency in her UFC tenure, I do think the signs point towards 'Dr. Kneevil' getting the win here.
Pick: Joanne Calderwood
Vicente Luque (18-7-1) vs. Randy Brown (12-3)
Brown's range will be the major factor in this fight and whether Luque can get inside to deliver his punishing strikes.
Should they fall into the clinch, I think it'll be a real competitive fight as both men are underrated with their grappling with Luque perhaps the greater submission threat.
This should promise to be an exciting fight though but I do think Luque's aggression and power will allow him to break past Brown's jab.
Pick: Vicente Luque
Lando Vannata (11-4-2) vs. Bobby Green (25-10-1)
Vannata in his last outing displayed a more composed and controlled performance against Yancy Medieros and a fight with Bobby Green will test whether that's an approach he will stick with.
Green will look to box with Vannata and outwork him but if Vannata can not fall into that trap and dictate the tempo, I think his more diverse arsenal of strikes will be decisive.
Pick: Lando Vannata
Ed Herman (24-14, 1 NC) vs. Gerald Meerschaert (31-13)
Both Herman and Meerschaert are evenly matched and like to make fights into a grind.
It's a bit of a coin toss thanks to the fact they mirror each other so well but I'll side with the younger man in Meerschaert to provide the cleaner work.
Pick: Gerald Meerschaert
Kevin Holland (17-5) vs. Trevin Giles (12-2)
Giles has the power to end this fight but I think Holland has more strings to his bow and that will be enough.
Holland is the more active on the feet, and while that may come at a cost defensively, I think it could allow for potential trips and takedowns which should frustrate Giles.
Pick: Kevin Holland
(Last Predictions: 4/7, Total: 73/104, 70% Success Rate)
(Success Rate: 2016: 61%, '17: 60%, '18: 58%, 19′: 57%)
---