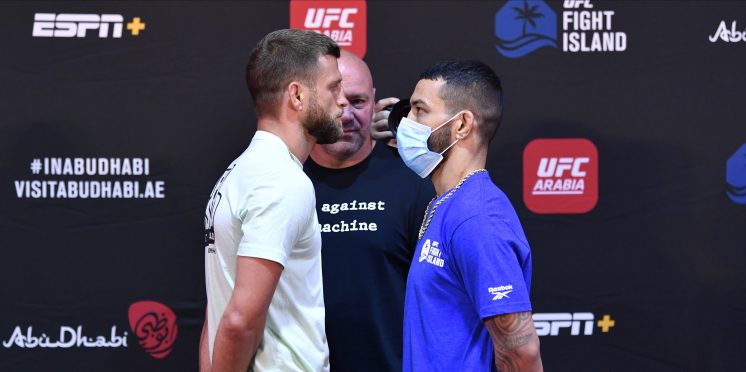 UFC on ESPN 13: Preview and Predictions
Hot on the heels of Saturday's UFC 251, the second 'Fight Island' event is swiftly upon us as UFC on ESPN 13 emanates from Yas Island, Abu Dhabi.
Headlined by a featherweight scrap between high-ranking contenders Calvin Kattar and Dan Ige, this Wednesday's event also boasts some exciting fighters.
From the return of Abdul Razak Alhassan to the undefeated Jack Shore on the preliminary card, UFC on ESPN 13 looks to give an opportunity for some rising stars to make their name.

Calvin Kattar (21-4) vs. Dan Ige (14-2)

Outside of a scramble in which he can snatch up a submission, I struggle to see Dan Ige winning this bout.
For all of his forward pressure and aggression on the feet, Calvin Kattar's striking is arguably some of the best in MMA today.
Operating behind a slick, punishing jab, Kattar's boxing is quick and powerful and with great distance management, I think Kattar will be able to land heavy blows as Ige looks to close the gaps.

Pick: Calvin Kattar

Tim Elliott (15-11-1) vs. Ryan Benoit (10-6)

I don't really know why this fight has been afforded co-main event status over Rivera – Stamann but here we are.
Neither Elliott or Benoit are on good runs at the moment but Elliott has been fighting at a higher level of opponent than Benoit.
While Elliott sticks with his high paced stylings, a complete contrast to Benoit, he does tend to tire himself out which could create openings later on for Benoit.
This could easily go either way but I'll side with Elliott's greater urgency to make the difference.

Pick: Tim Elliott

Jimmie Rivera (22-4) vs. Cody Stamann (19-2-1)

This looks to be a bit of a mirror match here as both are solid well-rounders – albeit they tend to differ on their approaches.
While Rivera looks to strike more than Stamann who favours his wrestling, both fighters are tough to beat as they are strong in all departments.
Due to Rivera's takedown defence though, I think Rivera will be able to keep the majority of the fight on the feet and make use of his more powerful striking. 

Pick: Jimmie Rivera

Molly McCann (10-2) vs. Taila Santos (15-1)

Santos looks to be a decent prospect but McCann's output and smothering style will be hard to shake off.
Maybe Santos' athleticism will allow her to have the better movement and control where the fight takes place but I think McCann's grinding approach will allow the Scouser to stifle the Brazilian over three rounds.

Pick: Molly McCann

Abdul Razak Alhassan (10-1) vs. Mounir Lazzez (9-1)

Lazzez will have to take this fight deep to drastically improve his chances of winning but I doubt the debutant will be able to do that.
Alhassan hits like a truck and with him looking to make up for lost time, I think he'll add to his knockout highlight reel.

Pick: Abdul Razak Alhassan

(Last Predictions: 5/5, Total: 63/87, 72% Success Rate)
(Success Rate: 2016: 61%, '17: 60%, '18: 58%, 19′: 57%)
---