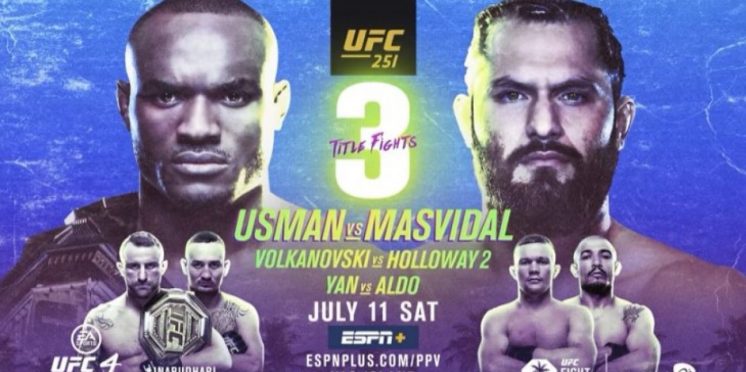 UFC 251: Preview and Predictions
After months of hype from the UFC, 'Fight Island' is finally here.
While it may not be the isolated paradise it was once thought of – it is, in fact, one of Abu Dhabi's top leisure and tourist attractions – Yas Island will play host to four events until the end of July, kicking off with a monstrous card in UFC 251.
Headlined by the hotly anticipated, yet short-natured, Kamaru Usman vs. Jorge Masvidal, UFC 251 will also boast two more blockbuster title fights.
With a featherweight title rematch between Alexander Volkanovski and Max Holloway and a battle over the vacant bantamweight championship between Petr Yan and Jose Aldo set in chief support, UFC 251 is looking likely to be one of the events of 2020.

Kamaru Usman (16-1) vs. Jorge Masvidal (35-13)
This fight looks set to be a quality scrap.
While the short-natured way in which this fight was put together should normally give major cause for concern, Masvidal has seemingly prepared for this fight throughout negotiations and done so with quality wrestlers as training partners.
On the feet, Usman is certainly no slouch and his massively impressive cardio allows him to produce decent power at a high output. Masvidal however is certainly the crisper striker both when on the front foot and on the counter. In the clinch, Masvidal is also the better at getting off meaningful blows but the champion truly shines when in close through control.
A major factor heading into this fight is how well Masvidal will be able to get his punishing kicks away. 'Gamebred's' revival as a major contender has coincided with his excellent body kicks but with the threat of the takedown strong against Usman, he'll have to be perfect with them.
It's a tough fight to pick because Masvidal has good takedown defence and may well be able to get the better of Usman with powerful combinations and kicks but the champion's ability to control and chain wrestle, especially when pressing against the cage, makes me think that unless Masvidal can get him out inside two rounds, Usman will retain in a growing and improving performance.
Pick: Kamaru Usman
Alexander Volkanovski (21-1) vs. Max Holloway (21-5)
Immediate rematches simply do not go well for the challenger in title fights.
Since the first of its kind in the UFC, no fighter has been able to reclaim the title in an immediate rematch and with Holloway struggling for meaningful training during the pandemic, this fight looks set to be a big ask.
In their first meeting, Volkanovski countered well, matched Holloway's output and reduced the then champion's footwork with smart leg kicks.
Going into the rematch, I'm really struggling to see how Holloway can make major adjustments to how his striking is put together without being inside of the gym with his coaches.
Thanks to his speed and power, I think Volkanovski will be able to match Holloway on the feet and give the Hawaiian trouble yet again with his management of distance.
Pick: Alexander Volkanovski
Petr Yan (14-1) vs. Jose Aldo (28-6)
This is a fascinating fight.
Aldo has all the experience you can ask for in title fights and his power may well be a serious stumbling block for Yan to overcome.
Yan however looks to have a marked advantage in his cardio and produces an output which can cause his opponents to drown.
Much like the main event, I think the longer the fight goes, the more it skews towards Yan's wheelhouse.
While Aldo may well catch Yan in the pocket thanks to his speed and power, I think he should be able to pick up the later rounds through his accuracy and volume.
Pick: Petr Yan
Jessica Andrade (20-7) vs. Rose Namajunas (8-4)
While Andrade won their first meeting in devastating fashion, I doubt lightning will strike twice in this match-up.
On the feet, Namajunas' combinations, silky footwork and use of range really troubled Andrade prior to a slam KO.
While Andrade does look to be the most physically imposing strawweight outside of champion Weili Zhang, I think Namajunas will be able to get the better of the Brazilian.
Pick: Rose Namajunas
Amanda Ribas (9-1) vs. Paige VanZant (8-4)
VanZant is tough and solid enough on the mat and feet but Ribas has simply shown more inside the octagon recently.
With a strong technical base, Ribas lands more than VanZant, has the better defence and is a better takedown artist than her opponent.
Pick: Amanda Ribas
(Last Predictions: 4/6, Total: 58/82, 71% Success Rate)
(Success Rate: 2016: 61%, '17: 60%, '18: 58%, 19′: 57%)
---