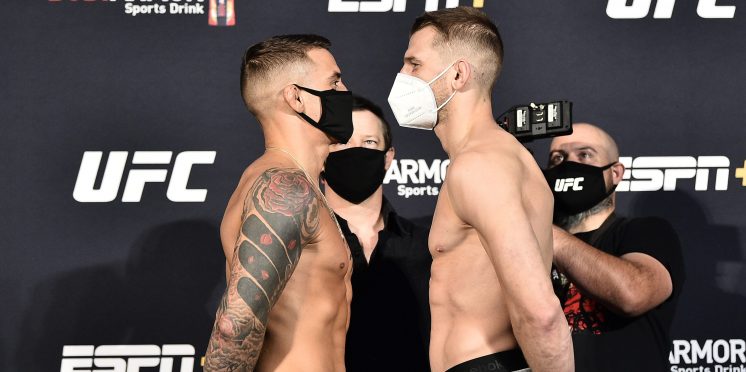 UFC on ESPN 12: Preview and Predictions
A five-week run of UFC events comes to an end this Saturday night with a blockbuster main event.
Pitting two of the lightweight division's best against one another, former interim champion Dustin Poirier steps back into the octagon for the first time since a loss to Khabib Nurmagomedov as 'The Diamond' takes on the dangerous Dan Hooker.
Elsewhere at UFC on ESPN 12, the rest of the card struggles to have fights with real consequence but there are certain bouts which raise the intrigue like Luis Pena vs. Khama Worthy and Sean Woodson vs. Julian Erosa.

Dustin Poirier (25-6, 1 NC) vs. Dan Hooker (20-8)
How Dustin Poirier deals with the low kicks of Dan Hooker will be a serious factor for how this fight plays out.
Offensively, Hooker may be the more diverse thanks to the more in-depth use of his striking arsenal but when tied to defensive tactics, Poirier has proven himself to be the better overall striker.
Operating behind shoulder rolls, Poirier will avoid shots to his head and allow himself to fire back when it comes to his boxing, all the while holding a stiff kick to the body in his back pocket.
With that Philly Shell-esque stance though, Poirier can be kicked and Hooker's calf kicks can provide real damage and limit movement.
Add in the opportunity for shots to the body when it comes to step-in knees or kicks of his own and Hooker has a real chance at pulling off the upset here.
With that being said, Hooker's defence leaves a lot to be desired. He was badly beaten by Edson Barboza and his war with Paul Felder saw him eat a lot of strikes.
With such a porous defence and Poirier's impressive output, I think 'The Diamond' will make more of his offence at a higher rate.
Pick: Dustin Poirier
Mike Perry (13-6) vs. Mickey Gall (6-2)
Mike Perry has proven himself to be a durable and competent fighter, despite his meme-status, but his decision to have his girlfriend be his lone corner is incomprehensibly stupid here.
Fortunately for him though, I can't see how stylistically Mickey Gall can win this fight outside of a scramble on the mat.
Perry is a better, bigger hitter on the feet and has good enough takedown defence to thwart Gall's attempts to ground him.
Pick: Mike Perry
Brendan Allen (14-3) vs. Kyle Daukaus (9-0)
Daukaus looks to be a physical fighter but the short notice nature of him taking this fight might go against him.
On the mat, this looks to be a fun fight as both are a real submission threat but with Allen having a more substantial training camp, I think his aggression may tire out Daukaus the further the fight goes.
Pick: Brendan Allen
Gian Villante (17-11) vs. Maurice Greene (8-4)
I'm not entirely sold on Villante's move to the heavyweight division and his conditioning needs serious improvement if he's to make any dent in his new weight class.
While he may be able to plod his way to victory, I think Greene's size will pay dividends whether it be a stoppage or by deterring Villante's own attacks.
Pick: Maurice Greene
Philipe Lins (14-4) vs. Tanner Boser (17-6-1)
Neither Lins nor Boser have impressed in their lone UFC bouts but Lins does have the better pedigree thanks to his successful stint in PFL.
While Boser could frustrate at distance and with his durability, I think Lins' power will make more of an impression on the fight and the scorecards.
Pick: Philipe Lins
Sean Woodson (7-0) vs. Julian Erosa (23-8)
Erosa can be a tricky fighter on his day thanks to his movement and grappling game but Woodson looks to be a real prospect to take notice of.
His offence against a durable Kyle Bochniak was excellent and at 6″2′, Woodson's size for featherweight is remarkable.
With great use of his range and good movement to boot, I think Woodson will be the cleaner fighter in what should be a fun fight.
Pick: Sean Woodson
(Last Predictions: 4/5, Total: 54/76, 71% Success Rate)
(Success Rate: 2016: 61%, '17: 60%, '18: 58%, 19′: 57%)
---