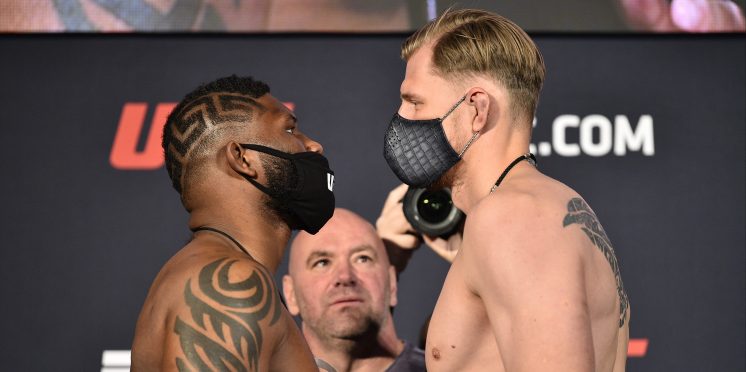 UFC on ESPN 11: Preview and Predictions
For the fourth consecutive week out of a planned five, the UFC puts on another event at their APEX Centre this Saturday night.
Headlined by a heavyweight title eliminator, UFC on ESPN 11 features a strong card of what looks to be competitive match-ups.
From an important flyweight bout in Roxanne Modafferi vs. Lauren Murphy on the preliminary card all the way up to an exciting featherweight co-main event, UFC on ESPN 11 should be an excellent watch from top to bottom.

Curtis Blaydes (13-2, 1 NC) vs. Alexander Volkov (31-7)
This fight looks set to be a classic wrestler vs. striker match-up, supported by the fact that Curtis Blaydes has made his intentions publicly known.
For Volkov to win, he'll have to produce a high output on the feet and more than likely rely on his durability because Blaydes is no slouch when it comes to power of his own.
Unfortunately for the rangy Russian, his takedown defence was bested by Fabricio Werdum, a worse wrestler than Blaydes, and Blaydes won't let up with top control.
It's a big ask for Volkov to overcome a poor stylistic match-up, and for that reason, I'll side with Blaydes to dictate the fight and not let up with punishing ground and pound.
Pick: Curtis Blaydes
Josh Emmett (15-2) vs. Shane Burgos (13-1)
Burgos is the more diverse on the feet here and he operates at a pace that is hard to replicate coupled with an aggressive style.
Emmett meanwhile is perhaps the more well rounded as a fighter thanks to a greater takedown threat but the big X-factor in his game is his one-punch KO power.
To his credit, Emmett isn't just slinging haymakers like knockout artists of the past, he mixes up his punches to the body and isn't adverse to throwing peppering shots when the time is right.
We haven't seen Emmett against someone who will consistently back him up and there have been fights where he struggles defensively. Against someone who gets hit as often as Shane Burgos though, I fancy him to land a real punishing blow and perhaps get the stoppage victory.
Pick: Josh Emmett
Raquel Pennington (10-8) vs. Marion Reneau (9-5-1)
Neither Pennington or Reneau produce much output so this could be a fairly tepid bout.
Reneau looks to be the better athlete but Pennington is perhaps that bit sharper when it comes to boxing and will look for the takedown when the opportunity arises.
Pick: Raquel Pennington
Belal Muhammad (16-3) vs. Lyman Good (21-5, 1 NC)
Much like the co-main event, this bout pits output against power.
Muhammad has shown himself to outwork his opponents whether it be on the feet or in grappling exchanges while Good is a hulking presence at 170 lbs and looks to throw big strikes.
It's a tough fight to call in what looks to be an interesting bout but I think Muhammad is the more likely to make adjustments and seek what could be all-important takedowns.
Pick: Belal Muhammad
Jim Miller (31-14, 1 NC) vs. Roosevelt Roberts (10-1)
Jim Miller will have to use his veteran savvy to best Roberts here and his skillset could well pull it off.
Roberts is a talented grappler whether it be in the clinch or on the mat but Miller has shown time and time again he is a major submission threat.
On the feet, Miller has a good counter game and packs a decent wallop.
This looks set to be a real test for a rising prospect in Roberts but I think with his longer reach he should be able to smartly score some points on the feet.
Pick: Roosevelt Roberts
(Last Predictions: 4/5, Total: 50/71, 70% Success Rate)
(Success Rate: 2016: 61%, '17: 60%, '18: 58%, 19′: 57%)
---