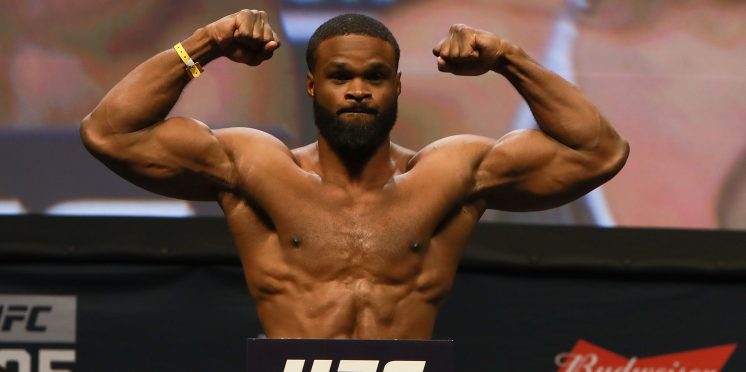 UFC on ESPN 9: Preview and Predictions
The UFC broadcasts from home territory this Saturday night with their first, of what looks to be many, events in their Las Vegas Apex Centre.
Headlined by the return of former welterweight champion Tyron Woodley against rising star Gilbert Burns, UFC on ESPN 8 struggles to provide star power outside of its main event as a plethora of potential stars fill out the rest of card.

Tyron Woodley (19-4-1) vs. Gilbert Burns (18-3)

This fight will seemingly be decided by who can dictate the pace of proceedings.
With Woodley stripped of his 170 lbs title by Kamaru Usman's strength and output, it'll be upon his training partner Burns to replicate that game plan in his first five-round fight under the UFC banner.
Woodley meanwhile will want to make amends of his disappointing performance and either use his wrestling base to nullify Burns; output while being mindful of a talented grappler, or simply throw more with his ever-dangerous speed and power in boxing range.
This fight does have the hallmarks of a potential upset but Woodley's experience at the elite level and no doubt a desire to put a poor performance behind him make me side with the former champion.

Pick: Tyron Woodley

Blagoy Ivanov (18-3, 1 NC) vs. Augusto Sakai (14-1-1)

Ivanov is a durable heavyweight and has shown really good timing on his counters which could cause problems for Sakai.
The Japanese-Brazilian similarly has also proven his durability during his UFC career but is more willing to throw his hands in combinations.
This could be a dull grinding affair if Ivanov gets his hands on Sakai, and that's a real possibility in a smaller cage, but Sakai's form and more diverse striking arsenal should be able to rack up enough rounds.

Pick: Augusto Sakai

Billy Quarantillo (13-2) vs. Spike Carlyle (9-1)

Carlyle seems to be a raw fighter in terms of technique but his power and unpredictability are a dangerous combination.
Quarantillo, on the other hand, may be more refined as a scrappy wrestler but Carlyle's power and aggression should outweigh his opponents desire to grind him out.

Pick: Spike Carlyle

Roosevelt Roberts (9-1) vs. Brok Weaver (15-4)

Roberts is really amped for this fight due to Weaver's unsavoury past and to be honest, he looks a level above Weaver at this stage.
Roberts has shown a technical savvy that Weaver does not possess, is solid in the clinch and has a rangy frame to boot.
Weaver meanwhile is the more aggressive of the two which could cause unwanted clashes for Roberts.
Nevertheless, with Roberts operating at a better quality level he should get the job done.

Pick: Roosevelt Roberts

Mackenzie Dern (7-1) vs. Hannah Cifers (10-4)
Cifers struggled against Angela Hill on the mat in her last outing and with the prospect of hitting the ground against a more talented grappler in Mackenzie Dern, this fight doesn't give much confidence for Cifers chances.

Pick: Mackenzie Dern

(Last Predictions: 2/5, Total: 38/56, 68% Success Rate)
(Success Rate: 2016: 61%, '17: 60%, '18: 58%, 19′: 57%)
---