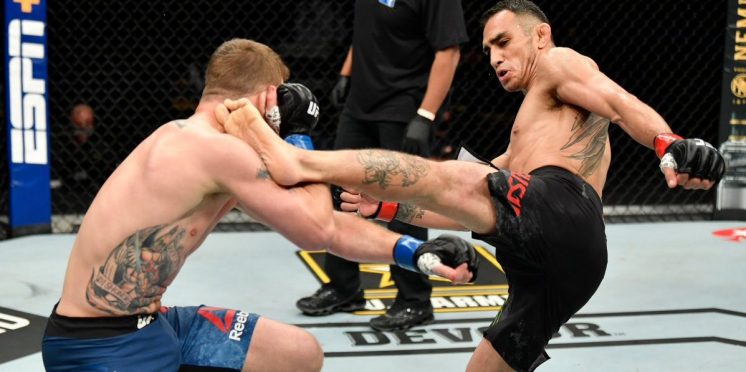 How Justin Gaethje defeated Tony Ferguson
A great turn of events occurred at UFC 249 when Justin Gaethje ended Tony Ferguson's 12-fight win streak in amazing fashion via TKO. Here is how 'The Highlight' beat 'El Cucuy'.
Gatehje put on an amazing performance against Ferguson and a factor in his victory was his rolling under Ferguson's punches and striking over the top. 'El Cucuy' is known for throwing a high volume of punches in very unorthodox manners and due to his unpredictability, opponents usually get hit by them. Gaethje however was able to duck under the oncoming punches and would then counter with a powerful straight right. This was very unsettling for Tony as he was not able to properly set his flow.
Ferguson fights with his hands low and his chin high which leaves him exposed for strikes but a reliance on head movement and a good chin allows him to operate this way. While he usually takes a lot of punches himself, his great cardio and unrelenting will sees Ferguson wade through the damage and come out victorious. Due to Gaethje's very powerful strikes, arguably the hardest Tony has been hit, the damage and cuts caused by the blows troubled him greatly and was probably the worst state we have seen him.
Cardio was also a big question going into this fight because Gaethje had never gone five rounds in his career and we did not know how he would hold up against a fighter like Tony Ferguson who barely ever shows signs of fatigue. Given 'The Highlight's' style is hard to maintain for five full rounds, the early running of the fight saw Gaethje miss some of these power punches as he was overreaching causing him to tire. With the wise Trevor Wittman in Justin's corner saying: "Take 10% off your shots! You're trying to kill him. Pop him with good clean shots", this allowed Gaethje to break down Ferguson for the remainder of the fight and not waste energy.
Another possible factor in Justin's victory may have been the fact that there were no fans in the stadium to egg each of the fighters on. Justin is a known crowd pleaser and his eagerness to please the crowd has caused him some trouble in the past. This was shown in his unwillingness to wrestle with Dustin Poirier (UFC on Fox: Poirier vs. Gaethje) to secure control with Poirier eventually stunning Gatehje and eventually secure a TKO win. Since this fight, however, Justin has learnt from this and has become more calculated in his fighting approach. This was shown when Justin fought Edson Barboza and when he had Barboza rocked he did not rush in, he picked his shots and put Barboza away.
who wins khabib or justin
Khabib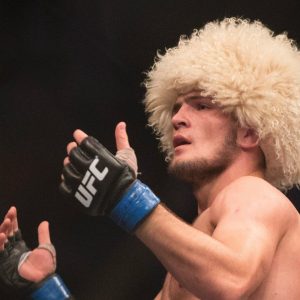 justin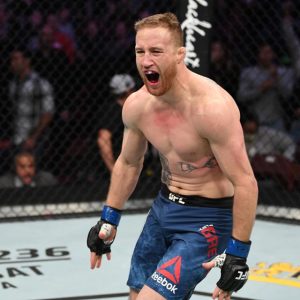 ---