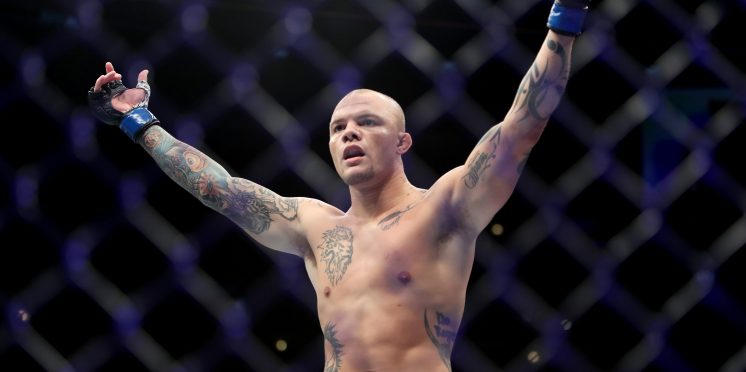 UFC Fight Night 171: Preview and Predictions
After returning to schedule this past Saturday, the UFC will keep on rolling this Wednesday night with another offering of fights.
Headlined by a light heavyweight title eliminator between former title challengers, Anthony Smith and Glover Teixeira will square off for a proposed five rounds in Jacksonville, Florida.
Supported by a few stand out fights like Alexander Hernandez vs. Drew Dober and Ricky Simon vs. Ray Borg, UFC Fight Night 171 looks set to produce some fun fights, albeit ones without immediate consequence higher up their respective rankings.

Anthony Smith (33-14) vs. Glover Teixeira (30-7)
Glover Teixeira certainly has the tools to trouble Anthony Smith but I'm not entirely sold on the idea of him finding a finish or controlling enough of the fight to get the 'W'.
While Teixeira has a strong grappling game and some tidy boxing, his more recent performances have all had moments of trouble for which he has had to overcome.
In an opponent as dangerous as Smith however, I'm not sure he'll be able to rebound if he is clipped or winds up on bottom.
With a better gas tank and a powerful striking game that can work at range or in the clinch, I think Smith will be able to find a finish here.
Pick: Anthony Smith
Ben Rothwell (37-12) vs. Ovince Saint Preux (24-13)
OSP makes the move up to heavyweight here and his skillset could certainly ruffle the feathers of those in his new weight class.
With a tricky southpaw styling, brutal kicks and a sneaky submission game, Saint Preux's athleticism could count for a lot in a division filled with plodding footwork.
Where he could come unstuck however is that fighters like Ben Rothwell are more than comfortable wearing down their opponents on the cage and using their frame and durability to their advantage.
Maybe Rothwell's experience at heavyweight will be able to minimise the risk here, but Saint Preux has the ability to make use of his speed on the feet and that could be decisive.
Pick: Ovince Saint Preux
Alexander Hernandez (11-2) vs. Drew Dober (22-9, 1 NC)
Hernandez has impressive speed and wrestling in the lightweight division but his loss to Donald Cerrone has seemingly put him off course.
Entering the UFC with aggression and power, Hernandez's loss to Cerrone saw him struggle from the get-go and his subsequent performance against Francisco Trinaldo saw him look gun shy and fortunate to get his hand raised.
If he operates with that same apprehension here, Dober certainly can make him pay.
With big power in his punches and a durable chin, Dober has showcased decent volume to go along with his power.
It's a tough fight to pick and it should be a fun one while it lasts, but I think Dober will be able to land a big strike at some point and control the bout on the feet.
Pick: Drew Dober
Ricky Simon (15-3) vs. Ray Borg (13-4)
Both Simon and Borg operate at a fast pace but Simon's larger frame at bantamweight makes me side with him here.
While Borg has great grappling and his scrambles could see him wind up on top routinely, Simon's power and deep cardio could wear down the former flyweight as the fight progresses.
Pick: Ricky Simon
Karl Roberson (9-2) vs. Marvin Vettori (14-3-1)
Roberson missed weight for this bout which could play into his endurance but this looks like he'll have to be on point to pick up the win here.
Vettori looks the more physically imposing and his toughness and aggression is hard to overcome.
Roberson does have a decent counter striking game to his credit but Vettori's physicality makes me think he can grind out a win.
Pick: Marvin Vettori
(Last Predictions: 5/5, Total: 34/47, 72% Success Rate)
(Success Rate: 2016: 61%, '17: 60%, '18: 58%, 19′: 57%)
---