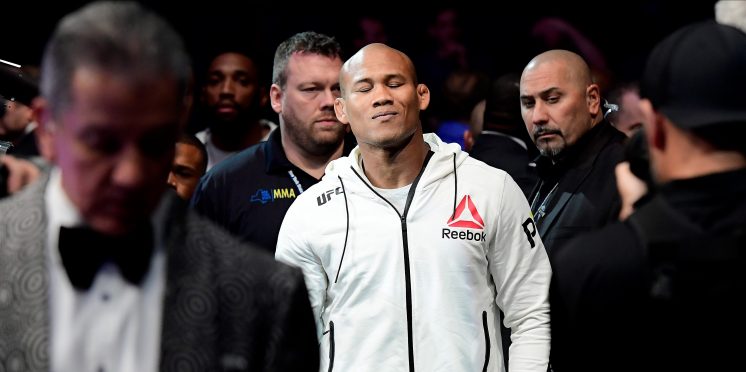 Ronaldo 'Jacare' Souza and two cornermen test positive for COVID-19
Ronaldo 'Jacare' Souza has tested positive for COVID-19 and as a result been ruled out of UFC 249.
Souza had been expected to compete against Uriah Hall this Saturday night in Jacksonville, Florida but the Brazilian has now been sent away to self-isolate along with two cornermen who have also tested positive for the virus.
UFC 249 is currently still expected to go ahead despite the positive result.
"UFC's medical team examined Souza and his two cornermen and found them to be currently asymptomatic, or not exhibiting the common symptoms of COVID-19," the promotion said in a statement.
"As per UFC's health and safety protocols, all three men have left the host hotel and will be self-isolating off-premises, where UFC's medical team will monitor their conditions remotely and will provide assistance with any necessary treatment."
Souza, who drove to Jacksonville on Wednesday from his home in Florida, informed UFC officials upon his arrival about a family member who might have been infected with the coronavirus. According to the UFC, Souza was then tested and monitored before making the 185 lbs weight limit Friday morning.
The 40-year old would participate in a distanced staredown with Hall, wearing a mask and gloves, but was seen fist-bumping UFC president Dana White before receiving his positive results.
The UFC claim that all of the 23 other athletes scheduled to compete at UFC 249 have tested negative for the virus.
"We administered 1,200 tests this week, on 300 people," UFC president Dana White said. "It's not unexpected one person would test positive. The system works. And what's good about this, is now we know Jacare tested positive, he's doing what he needs to do and we're in a position to help him if he needs it."
---