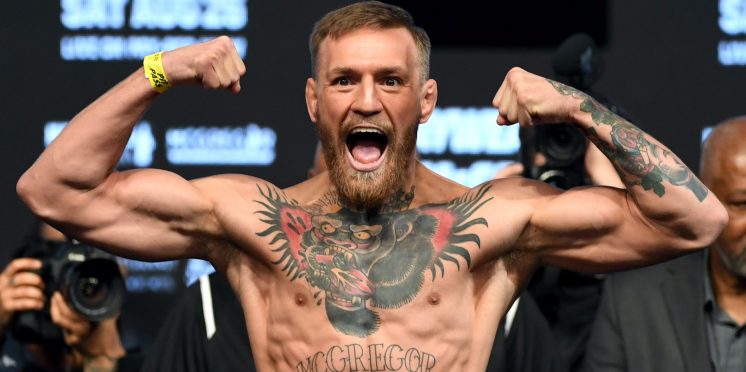 Conor McGregor – Who should he fight next?
The most popular fighter in combat sports stated at the beginning of this year that he was going to take part in an MMA season, competing at least 3 times. After his destruction of Donald Cerrone in January, McGregor has not been seen since but he is definitely not short of options.
Justin Gaethje
The only real option for McGregor right now seems to be Justin Gaethje. He is the only lightweight contender without either a loss in his last 3 fights or with a fight currently booked. But how would a fight between Gaethje and McGregor go?
Many believe that the former 'Champ Champ' is avoiding Gaethje with many fighters, as well as manager Ali Abdelaziz, being very vocal with their opinions. I however have a different view and believe that McGregor would make easy work of Gaethje.
As much hype as he brings, McGregor is a world-class mixed martial artist with his actual talents being devalued.
Gaethje's success usually derives from dragging his opponent into a war, something that will be difficult to do with McGregor's movement. I believe that if they were to fight, Gaethje would continue to absorb shots as he usually does and eventually McGregor would land and end the fight late into the second round.
McGregor's greatest asset is the power in his hands, especially his left. Gaethje finds himself hurt in every one of his fights and when someone as dangerous as McGregor has you hurt, you very rarely recover. Gaethje's wrestling could be a deciding factor in this fight however I believe he would be able to deal with these reasonably enough. If McGregor was able to stuff a few of Khabib's takedowns, Gaethje's should not be too much of a problem.
Nate Diaz
Nate Diaz is arguably McGregor's greatest opponent. Diaz is a fan favourite for a reason, he loves to stand and trade and you need a baseball bat disguised as a shin to put him to sleep. A fight between him a McGregor will always be fun due to the clash of their styles but right now it just doesn't make sense. Nate Diaz is coming off a loss, and if McGregor wants to validate himself as the lightweight number 1 contender, beating the #9 ranked welterweight shouldn't aid him much. Unless however, McGregor is looking to leapfrog the welterweight division and by beating Diaz could earn himself a title shot.
Khabib Nurmagomedov
As a fan of McGregor, I don't want this fight to take place. I believe McGregor needs to refine his skills with a few tune ups as he has only competed twice since 2016. As well, he has simply not earned a lightweight title fight and I believe one more win would truly solidify his chance at gold once again. Realistically though, 'The Notorious One' calls the shots and I am sure Dana will give him the lightweight shot in hope that he wins.
Jorge Masvidal
Now this one would be a mega-fight. Masvidal is one of the only modern-era superstars who has created himself. Current MMA stars such as Diaz and Khabib were always popular but were catapulted into stardom after their bouts with 'Mystic Mac'. Masvidal, however, did this himself after 3 supersonic wins, not to mention the quickest and one of the most brutal KO's ever. Masvidal is reportedly due to fight Usman next and I am sure Dana has been keeping his fingers crossed for that outcome of this fight. With McGregor continuously flirting with the idea of the welterweight belt, one of the only competitive fights he could take at WW is Masvidal. Similar height, similar styles and Masvidal isn't going to employ wrestling or grappling, it would be a straight stand up fight.
If Masvidal wins, could it set up the first x2 Champ Champ and the first 3 time UFC World Champion? Who knows?
---