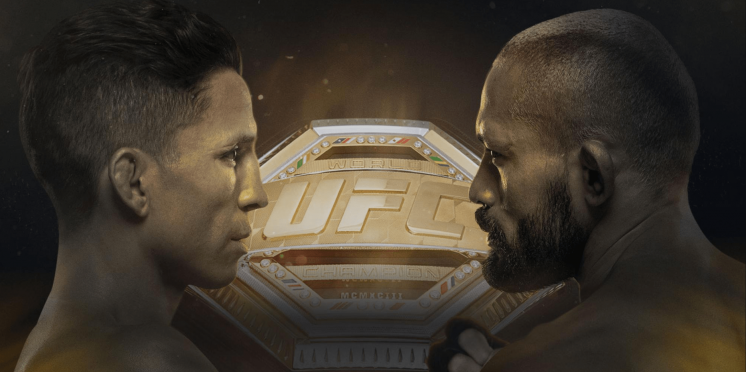 UFC Fight Night 169: Preview and Predictions
Emanating from Norfolk, Virginia, the latest bizarre chapter of the UFC's flyweight division will be written as its championship is up for grabs… but only for one man.
Following the missed weigh-in attempt of Deiveson Figueiredo, the now-vacated flyweight title will only be eligible for Joseph Benavidez to win in the main event of UFC Fight Night 169.
In addition to the headline act, this Saturday's fight card looks set to proclaim a new women's featherweight number one contender between Felicia Spencer and Megan Anderson who compete in separate fights.
Outside of those two narratives, UFC Fight Night 169 looks to be one of the weakest UFC events on paper in recent history.

Joseph Benavidez (28-5) vs. Deiveson Figueiredo (17-1)
Looking to win a UFC title on his third attempt, Joseph Benavidez will have to be at his best to avoid the strengths of Deiveson Figueiredo.
Fortunately for 'Joey B' he is well-rounded in his offence with a varied takedown game, all the while packing good power at the flyweight limit.
With a switch-hitting game, Benavidez can offer a host of angles to strike from although he will have to be cautious of counters as he has a tendency to overcommit when attempting to close the distance to strike.
Figueiredo meanwhile will be buoyed by this defensive faux pas as the Brazilian has good timing on his shots and is aggressive with his punishing elbows and powerful hooks.
For the sake of the flyweight division, you'd hope Benavidez will get the win here to clear up the future of the division but a stoppage by Figueiredo wouldn't be a shocking outcome.
Due to his questionable gas tank however, I'll side with Benavidez to use his wrestling, scrambling and grappling to drag the Brazilian into deep waters.
Pick: Joseph Benavidez
Felicia Spencer (7-1) vs. Zarah Fairn (6-3)
This fight looks like one that's Felicia Spencer's to lose.
Fairn did not look great in her UFC debut while Spencer has shown a lot more in her two promotional outings.
With a better grappling game and the physicality to match it, Spencer should be able to take Fairn down fairly easy and find a finish.
Pick: Felicia Spencer
Ion Cutelaba (15-4, 1 NC) vs. Magomed Ankalaev (12-1)
Cutelaba may be the most aggressive fighter in the UFC today and with it comes its strengths and weaknesses.
With 14 of his 15 wins coming via stoppage, 13 of which in the first round, 'The Hulk' comes out of the gates quick at the expense of his gas tank later on.
Ankalaev meanwhile is a disciplined fighter and one who is well-rounded.
Ultimately this fight boils down to whether you think Ankalaev can withstand the early barrage that Cutelaba will throw at him.
It's a tough call as Ankalaev has shown himself to be quite durable but I'll side with the crazy Moldovan.
Pick: Ion Cutelaba
Megan Anderson (9-4) vs. Norma Dumont (4-0)
Dumont is a career bantamweight making the move up in weight class here and that physical disadvantage against Anderson is a big thing to overcome.
While Anderson has shown to not have the best takedown defence, her losses have come against similarly framed fighters.
I wouldn't be surprised if Dumont has some success in this fight but Anderson's physicality should be too much for the promotional debutant.
Pick: Megan Anderson
Grant Dawson (14-1) vs. Darrick Minner (24-10)
Minner is a late notice replacement here and that will likely be a harsh factor for his output.
Minner has shown himself to be a high volume striker while Dawson has a high takedown average and a good grappling game to accompany it.
If Minner had a full camp, I'd be tempted to side with him due to Dawson's porous defence but I think the safe bet is Dawson's grappling to take precedent.
Pick: Grant Dawson
(Last Predictions: 4/6, Total: 19/27, 70% Success Rate)
(Success Rate: 2016: 61%, '17: 60%, '18: 58%, 19′: 57%)
---