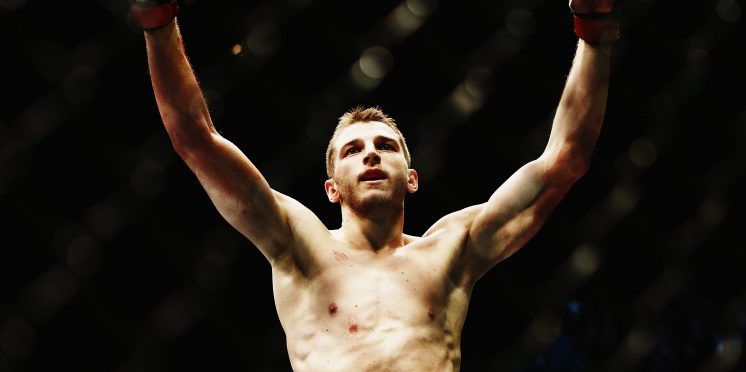 UFC Fight Night 168: Preview and Predictions
The UFC heads to the antipodes for the first time in 2020 this Saturday night as UFC Fight Night 168 emanates from Auckland, New Zealand.
Headlined by a high-ranking lightweight clash between New Zealand's own Dan Hooker and 'The Irish Dragon' Paul Felder, UFC: Auckland looks set to offer up some exciting match-ups, albeit between fighters under the more mainstream radar.
With preliminary card fights like Kai Kara-France vs. Tyson Nam and Jake Matthews vs. Emil Weber Meek while Brad Riddell vs. Magomed Mustafaev sits on the main card, UFC Fight Night 168 could offer some of the best fights we've seen so far this year.

Paul Felder (17-4) vs. Dan Hooker (19-8)
This fight looks set to be an absolute must-watch.
Both Felder and Hooker are excellent, powerful strikers and their grappling abilities match-up well to boot.
Their approach to their stand-up is most likely where they differ most however, as Hooker is more than comfortable fighting on the back and front foot whereas Felder will look to dictate the pace and range in where the fight takes place.
For Felder to win this bout, he'll need to take the fight to 'The Hangman' and remove his rangy counter abilities. Looking out for the knees of Hooker will also be a problem to overcome when inside but with powerful kicks to the calfs, Felder could make it easier for himself to reduce his movement.
I think this fight will be decided by who can control the range over five rounds thanks to their respective durability but I'm not so sure Felder can keep up his explosive strikes over 25 minutes without eating damaging shots that will tire him out for the later rounds.
Pick: Dan Hooker
Jim Crute (10-1) vs. Michal Oleksiejczuk (14-3, 1 NC)
Both Crute and Oleksiejczuk have fight ending power but Crute does seem to have the better grappling ability to Oleksiejczuk's better overall striking ability.
Neither fighter has managed to put together all of the pieces of their game just yet but the potential is there in both men to climb the ranks in a shallow division.
With their respective weaknesses this fight could go either way but with Crute having the fans behind him and myself tending to side with grappling advantages, I'll go with Crute to find the win on the mat.
Pick: Jim Crute
Karolina Kowalkiewicz (12-5) vs. Yan Xiaonan (11-1, 1 NC)
This is a big fight for Kowalkiewicz to prove she can still compete at the highest level.
After dropping losses to Jessica Andrade, Michelle Waterson and Alexa Grasso, the game plan to beat the Pole has been replicated as fighter after fighter has avoided Kowalkiwicz's clinch and hit from range.
Yan meanwhile has shown to employ a high output striking game and to keep moving.
There is a worry that Yan will fall into the clinch or tire out in later rounds but I think she has enough to capitalise on an out-of-form Kowalkiewicz.
Pick: Yan Xiaonan
Ben Sosoli (7-2, 2 NC) vs. Marcos Rogerio De Lima (16-6-1)
Sosoli has shown to be durable with some decent speed to his name at heavyweight but I don't think he matches up well with De Lima.
De Lima is a big unit and he is a technical fighter which should cause fits for Sosoli.
With the clear advantage in his grappling, I think the Brazilian will take Sosoli down and keep him there.

Pick: Marcos Rogerio De Lima
Brad Riddell (7-1) vs. Magomed Mustafaev (14-3)
Riddell is the more technical fighter thanks to his kickboxing background but Mustafaev is a physical brute with explosive power.
Riddell will have to stick and move and be much more defensively savvy than he was in his UFC debut but I doubt he can go three rounds without giving opportunites away, either on the feet or through takedowns.
Either way, this fight should be a treat.
Pick: Magomed Mustafaev
Kevin Aguilar (17-2) vs. Zubaira Tukhugov (18-4-1)
Tukhugov is a good takedown artist but I doubt he can keep Kevin Aguilar down on the mat.
Tukhugov has also shown to have a questionable gas tank despite his low output while Aguilar is a decent counter striker although unspectacular in his methods.
Pick: Kevin Aguilar
(Last Predictions: 4/6, Total: 15/21, 71% Success Rate)
(Success Rate: 2016: 61%, '17: 60%, '18: 58%, 19′: 57%)
---