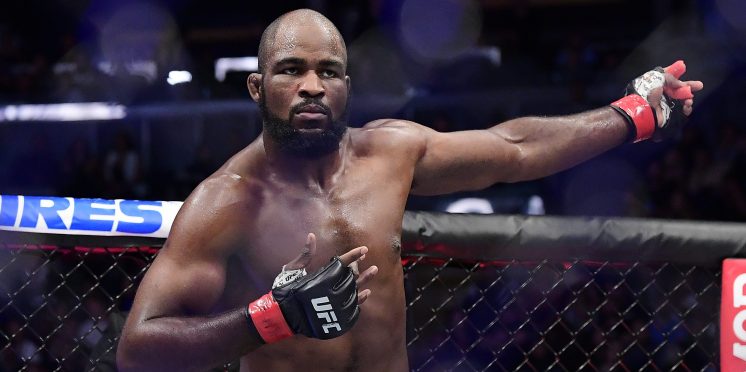 UFC Fight Night 167: Preview and Predictions
One week removed from a UFC light heavyweight title fight and the promotion's next contender could be decided in UFC Fight Night 167's main event.
Headlined by the second clash between Corey Anderson and Jan Blachowicz, both men will be hoping to make enough of an impact to cement their position as the next challenger for Jon Jones' 205 lbs championship.
With little else of real consequence on the main card, the preliminary portion of the event does boast two stand-out contests in John Dodson vs. Nathaniel Wood and Jim Miller vs. Scott Holtzman.
Corey Anderson (13-4) vs. Jan Blachowicz (25-8)
Both fighters are seemingly better than ever at the moment and for that reason it's a tough fight to pick.
In Blachowicz you have a fighter who has developed an excellent jab and someone who has worked hard to develop a once concerning gas tank.
Anderson meanwhile has always maintained a high level of output but has made tweaks to his control over fights whether it be in the clinch or through defensive movement.
One potential factor to look out for is how Anderson's durability will hold up against a sizeable hitter in Blachowicz but I feel Anderson's pre-existing strengths in his wrestling and grappling will get him the nod here.
With a strong top game and controlling clinch game, particularly against the cage, I think Anderson will be able to wear away at Blachowicz and make this an uneventful affair.
Pick: Corey Anderson
Diego Sanchez (29-12) vs. Michel Pereira (23-10, 2 NC)
Sanchez vs. Pereira has the makings for either a crazy stoppage in Pereira's favour or for Sanchez to capitalise on a pitiful gas tank and outwork him on the mat.
The smart money should be on someone with the experience of Sanchez to keep the fight in his wheelhouse but I'm a sucker for Pereira's flippy antics.
Pick: Michel Pereira
Montana De La Rosa (10-5) vs. Mara Romero Borella (12-6, 2 NC)
Borella should have the physical advantages in this fight but I'd favour De La Rosa's better wrestling and grappling to get the job done.
Neither fighter offers much in terms of output on the feet but De La Rosa is much more active in shooting for takedowns and completing them.
Pick: Montana De La Rosa
Brok Weaver (14-4) vs. Kazula Vargas (11-3)
Vargas is the more polished of the two fighters but Weaver offers a blood-and-thunder approach which is hard for people to overcome.
Vargas will have to stick and move and deter Weaver's pressure but I can't see that happening for three rounds.
Pick: Brok Weaver
Rogerio Bontorin (16-1, 1 NC) vs. Ray Borg (12-4)
This fight looks set to be a classic striker vs. grappler battle.
Bontorin will want to keep this bout upright but I'm not sure whether he will be able to cope with Borg's pressure.
A big question mark surrounding this fight is both fighters weight cut as Bontorin talked of fasting this entire week while Borg did his usual feat of missing weight completely.
It's a tough one to pick but I'll normally side with the grappler to make the bigger impact on a fight.
Pick: Ray Borg
Lando Vannata (10-4-2) vs. Yancy Medeiros (15-6, 1 NC)
Both Vannata and Medeiros have a neglectful disregard for defence, both absorb more strikes than they land, so you'd favour a stoppage in this fight.
Looking at their durability and Medeiros simply doesn't wear damage that well anymore.
If he can land big early, Medeiros could well cause a TKO but I'd favour Vannata's greater variety of strikes and better durabilty to give him the edge.
Pick: Lando Vannata
(Last Predictions: 3/5, Total: 11/15, 73% Success Rate)
(Success Rate: 2016: 61%, '17: 60%, '18: 58%, 19′: 57%)
---