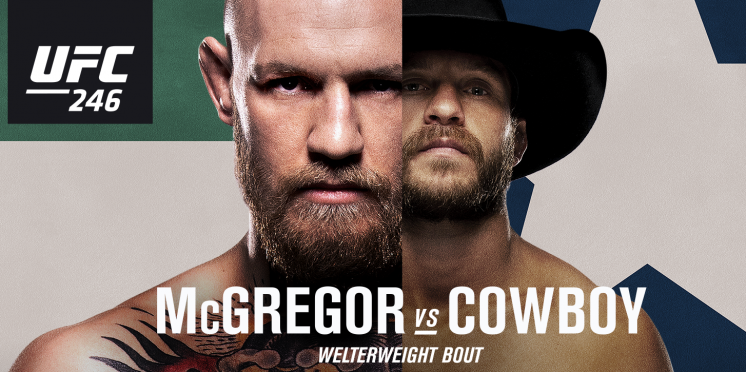 UFC 246: Preview and Predictions
The UFC marks its first event of a new decade this Saturday night and with it brings the sports biggest ever star.
Looking for a return to winning ways after a big loss to rival Khabib Nurmagomedov, Conor McGregor will headline UFC 246 in the fight capital of the world, Las Vegas, and will do so against long-time fan favourite Donald 'Cowboy' Cerrone.
With the welterweight bout accompanied by a main card that is lacklustre in intriguing fights outside of former champion Anthony Pettis taking on Diego Ferreira, the more exciting and meaningful contests can be found on the preliminary card in the form of Tim Elliott vs. Askar Askarov, Andre Fili vs. Sodiq Yusuff, Drew Dober vs. Nasrat Haqparast and a veteran vs. prospect bout in Roxanne Modafferi vs. Maycee Barber.
Conor McGregor (21-4) vs. Donald Cerrone (36-13, 1 NC)
At the level that Conor McGregor competes at, Donald Cerrone is probably the highest level of tune-up fight that is available for 'The Notorious One'.
While it's clear that there are ways for Cerrone to win this bout (grappling or a disciplined kicking game), McGregor's skill set is probably the worst conceivable match-up for 'Cowboy'.
A fast-starter vs. a slow one; a pressure-fighter vs. someone who struggles on the back-foot; a body striker vs. a fighter who is continually hurt to the body and a monstrous southpaw puncher vs. a fighter who has lost four of his last six losses via TKO.
Despite McGregor's assertions that he wants to rack up rounds to shake off a perceived ring rust, I think the opportunities that naturally arise through the Irishman's fighting style will allow him to get the job done early in convincing fashion.
Pick: Conor McGregor
Holly Holm (12-5) vs. Raquel Pennington (10-7)
Their first fight wasn't a particularly interesting bout and to be brutally honest, I doubt this will be either.
While both fighters will have made improvements since 2015, only Holm can point to a marked increase in rounding out their skill set.
For Pennington to win, she'll have to keep this fight within close quarters and either use some dirty boxing in the clinch or operate at a more recognisable boxing range. Holm meanwhile has the advantage at kickboxing distance although her output is so low that it's rarely enough to completely dictate a fight.
Nevertheless, Holm has started to use her physical strengths more and more recently and smart takedowns at opportune times allow her to rack up rounds.
With Pennington likely to apply the forward pressure, I think Holm will be able to time a takedown and keep top position.
Pick: Holly Holm
Alexei Oleinik (57-13-1) vs. Maurice Greene (8-3)
Oleinik has looked as vulnerable as ever recently and that's perfectly understandable for a 42-year old with more Ezekiel choke wins than his opponent has pro fights.
With Oleinik's waning durability, it could easily be a quick nights work for a big hitter like Greene but technically the fight should play into 'The Boa Constrictor's' hands.
As Greene backs up in straight lines, I think Oleinik can fall into grappling range and from there do his magic.
Pick: Alexei Oleinik
Brian Kelleher (19-10) vs. Ode Osbourne (8-2, 1 NC)
Kelleher is rarely in a bad fight due to his overwhelming aggression but with it comes at a cost as he often neglects of his defensive duties.
Osbourne however will be taking a big leap up in quality here as Kelleher has faced quality opponents throughout his UFC tenure. Osbourne has made a habit of capitalising when opportunities arise, particularly on the mat.
It's a tough call to pick this fight as Kelleher is well-rounded offensively and a year out from punishment may rejuvenate his ability to take a shot but Osbourne packs decent power himself and has some sneaky submissions to his game.
Pick: Ode Osbourne
Anthony Pettis (22-9) vs. Diego Ferreira (16-2)
Stylistically, Ferreira has all the tools to trouble Pettis but this is the biggest test of his career thus far.
In his last fight against Mairbek Taisumov, Ferreira showed great pressure and volume on the feet and that has routinely undone Pettis over the years. With solid jabs and combinations behind them, Ferreira looks a nightmare on paper for 'Showtime'.
Pettis however can never be counted out. With excellent creativity, both on the feet and on the mat, Pettis is a natural finisher in the cage and he's done so at the elite level for years and years.
I wouldn't be surprised whichever way this fight falls but with Ferreira looking so good in his last outing, I think his front-foot striking style will cause enough problems for Pettis.
Pick: Diego Ferreira
(Success Rate: 2016: 61%, '17: 60%, '18: 58%, 19′: 57%)
---