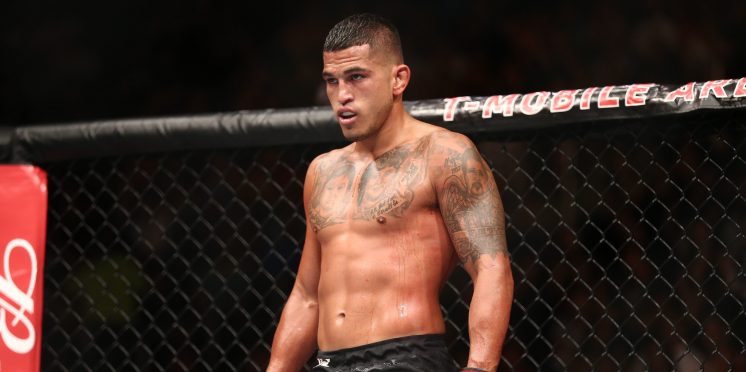 Anthony Pettis planning to sue USADA for part in injury
Anthony Pettis has revealed that he will sue the UFC's drug-testing partner USADA after sustaining an injury while providing a urine sample.
Speaking on Ariel Helwani's MMA Show on Monday, the former UFC and WEC lightweight champion stated that ahead of his UFC 241 bout against Nate Diaz, Pettis suffered a laceration on his hand hours before the fight while putting the top back on his urine sample.
"I did the first drug test and it was too diluted because when you re-hydrate there's too much water in you so I had to do a second drug test," Pettis said. "So it was like an hour and a half before the fight when I had to go again so I got the USADA guy to go get this done.
"I did the test and I'm closing the first bottle up with a twist cap. So I'm twisting the cap, I put it inside of a plastic bag and I see blood. I look at my hand and I've gashed my thumb on the USADA drug test.
"I call the UFC doctor in, I'm telling USADA what's going on. UFC doc comes in and he's like "You need stitches so we can do two things: we can stitch you and you'll probably bleed in the fight or we can glue you shut and it'll hold for the fight and you won't bleed."
Pettis would then go on to say that while his head coach Duke Roufus did not want his fighter to compete following the injury, 'Showtime' opted with glueing his thumb in order to compete despite a compromised warm-up.
As a result of Pettis' eventual unanimous decision loss to Diaz that night, Pettis has now taken the decision to sue USADA and per his manager, Abe Kawa via ESPN, will now name "USADA, the UFC and the manufacturer of the bottle that Anthony cut himself on" as part of their imminent lawsuit.
---