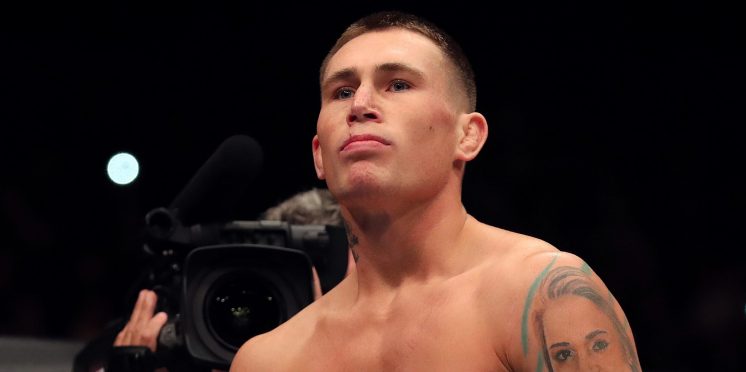 Darren Till admits to pre-fight fears: 'I was thinking of an injury to fake'
After recording a much-needed win in his middleweight debut, Darren Till has admitted to feeling 'terrified' before taking to the Octagon on Saturday night.
Till (18-2-1) ended a two-fight losing streak at UFC 244 as he recorded a split decision win against Kelvin Gastelum in the co-main event. 'The Gorilla's' win over the #4 ranked middleweight contender, however, came moments after the 26-year old contemplated faking an injury in order not to compete.
"Before [Tyron] Woodley, there was no guy that could beat me and then two losses like that, it just took a lot away from me, inside of me," Till said at his post-fight press conference. "I didn't say it, but I fought some hard demons and then obviously stuff like getting arrested and you lose sponsors, it's like a f*****g whirlwind and it's good and it's bad. I tell ya, I was trying to fake an injury before walking out, I was thinking of an injury to fake because I just simply did not want to get in there. And this is probably things fighters don't talk about, but you know me, I'm honest and that's just where I was at. Now I'm here, confidence is back, like f**k all these middleweights, I'm coming for everyone. It's back."
The Liverpudlian would go on to expound upon his fears with fighting and stated that the same feeling will be found in every fighter prior to competition.
"Every fight, no matter what any fighter will ever tell you, they will be scared," Till continued. "If they tell you they're not, it's a blatant lie. But this fight I wasn't scared, I was terrified. I wasn't shaken. I just didn't want to go. The magnitude of the event, everything, I was doubting, I was thinking of ways to get out of the fight. This was only today and I'm just so scared.
"And then at the faceoff, I'm like, 'Darren, come on, pull yourself together. Now we're going to win this fight the way we planned. We're not gonna let him touch ya, and you're gonna win it.'
"I knew it was going to be hard to knock him out, I know I've got the power but I know he's a tough cookie and that's just how it is. Fighters might not say it, but I'll always say it, whether it's good or bad, I've been criticized in the past or whatever, but that's where I was at today as soon as I woke up."
---