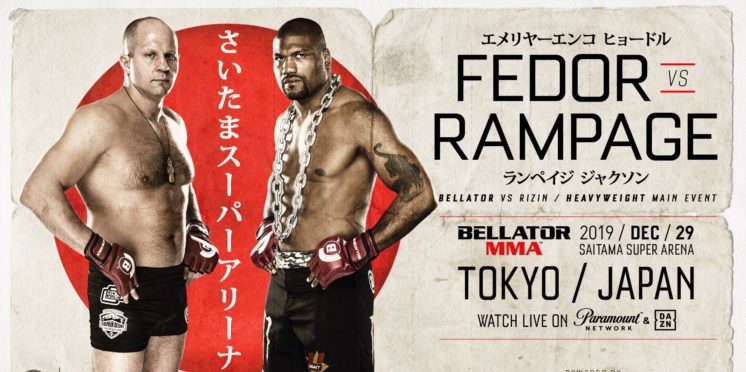 Fedor Emelianenko vs. Rampage Jackson set for Bellator – Rizin main event
Announcing their Japanese debut show in co-promotion with RIZIN, Bellator's end of year show will be headlined by two PRIDE legends.
Breaking the news at a press conference in Japan, Bellator president Scott Coker revealed that heavyweight legend Fedor Emelianenko will take on Quinton 'Rampage' Jackson at the Saitama Super Arena on December 29th.
"For Bellator's debut in Japan, we wanted to bring a massive event and fighters that the Japanese fans really connect with," Coker said in an accompanying press release. "Given the vast history of martial arts and MMA in Japan, and especially at Saitama Super Arena, this will be a very special show that no one will want to miss. This will, unquestionably, be a monumental event for Bellator and I am looking forward to the moment that Fedor and 'Rampage' walk out to a crowd that has known them since their careers began.
"I would also like to thank RIZIN for their help in making this event a possibility and we look forward to working together in the near future to showcase the best talent each organization has to offer."
Emelianenko (38-6, 1 NC) put together a legendary undefeated streak in Japan under the PRIDE banner, amassing a 14-0-1 record for the promotion. 'The Last Emperor' would hold the promotion's heavyweight title from 2003 until the promotion's closure in 2007 defeating the likes of Antonio Rodrigo Nogueira, Mark Hunt and Mirko Cro Cop.
Jackson (38-13) meanwhile would be one of PRIDE's biggest foreign stars as he finished runner-up in the promotion's 2003 middleweight grand prix. 'Rampage' would also be a part of classic bouts in Japanese MMA fighting the likes of Wanderlei Silva, Mauricio 'Shogun' Rua and Ricardo Arona.
In addition to announcing the headline act, Coker would also divulge that the event would feature three separate Bellator vs. Rizin bouts.
---