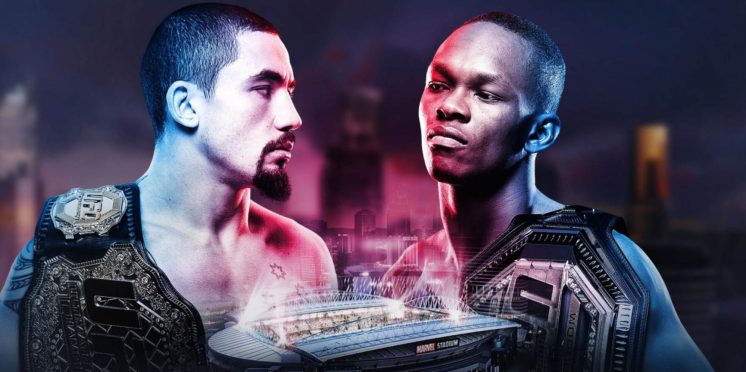 UFC 243: Preview and Predictions
While UFC 243 certainly isn't a good card in terms of quality in-depth, the headline act of Saturday's PPV event may well be the best we see this year.
In a hotly anticipated middleweight title unification bout, Australia's Robert Whittaker will take on New Zealand's Israel Adesanya in a fight that looks to be the biggest in Anzac combat sports history.
With an expected record-breaking crowd for the sport of MMA, the five-round contest is realistically only strongly supported by the co-main event where lightweight contenders Al Iaquinta and Dan Hooker will face off.

Robert Whittaker (20-4) vs. Israel Adesanya (17-0)

Outside of Khabib Nurmagomedov vs. Tony Ferguson, this fight is arguably the best fight you can put on in MMA today and it's personally my most anticipated fight of the year.
Both Whittaker and Adesanya are phenomenal strikers in their own right and they share a lot of the same strengths with slight differences in their approaches.
In terms of similarities, both operate behind feints although Adesanya may be the best we've seen in terms of using it for all of his attacks. Both fighters are also strong kickers and do their best work from sneaky set-ups. Thanks to Adesanya's extensive kickboxing pedigree, he can happily target anywhere from high to low and disguise his intentions through a question mark kick if he so chooses. Whittaker meanwhile will use obliques kicks when targetting the legs and has routinely found a home for a high kick after a combination with his hands – a set-up that Kelvin Gastelum visibly hurt Adesanya with in his last outing.
The gameplans for this fight will also bring a lot of intrigue. Adesanya has showcased an ability to produce a high amount of output with a high level of quality. If this fight is to be a stand-up battle, Adesanya will want to be the aggressor and dictate the tempo. Using his long frame, 'The Last Stylebender wants to remain at distance, frame-off when in close and counter as he turns the corners.
Whittaker meanwhile has the tools to make this a gritty fight and take away his opponents strengths. With oblique kicks, awkward elbow strikes and truly excellent wrestling, Whittaker has the clearest advantage in this fight when it comes to close quarters.
I think this fight will be incredibly close and it won't be the only time we see these two fight but I'm edging towards Whittaker in this bout. With 'The Reaper' holding a more well-rounded skill set, I think he has more ways to win this fight and that could prove decisive in securing rounds.

Pick: Robert Whittaker

Al Iaquinta (14-5-1) vs. Dan Hooker (18-8)

While both fighters are decent grapplers in their own right, you'd expect this fight to remain on the feet.
In Iaquinta, you have someone who will primarily box and is comfortable both on the front foot and off the counter. Hooker meanwhile is more diverse in his arsenal with solid kicks and knees coming behind his punches.
Where this fight will be won and lost however is how each man reacts to the physicality of the other. Hooker is clearly the bigger, longer fighter here and Iaquinta has struggled when stuck behind an opponents jab and kicks. Iaquinta, however, is as tough as they come and if he is pressuring, Hooker could struggle to make use of his range.
It's a tough one to pick but I think Hooker operating behind feints, a pumping jab and low kicks will allow him to remain accurate and punishing over three rounds.

Pick: Dan Hooker

Tai Tuivasa (10-2) vs. Serghei Spivac (9-1)
Tuivasa looks to be in the best condition of his UFC career so far and this also looks to be somewhat of a set-up fight for the Australian to shine.
While Spivac holds a decent record as a finisher, both in terms of strikes and submissions, the young Moldovan fighter did not react well to a flurry of strikes when facing Walt Harris.
I'd expect Tuivasa to get this fight into the pocket and display his power from there.

Pick: Tai Tuivasa

Luke Jumeau (13-4) vs. Dhiego Lima (14-7)

For Jumeau to win, you'd think he'll have to test Lima's dubious chin but I'm not sure he produces the output or speed of strike needed to do so.
Lima has shown improvements in his current two-fight winning streak and with a more composed and intelligent approach, I think Lima can keep the dangerous situations to a minimum and get the win.

Pick: Dhiego Lima

Justin Tafa (3-0) vs. Yorgan de Castro (5-0)

Tafa vs. De Castro is perhaps the ultimate in heavyweight lottery picking as both pack silly power that can switch the lights off at any moment.
While De Castro does have a slight experience advantage and has shown potentially a more calm demeanour in his fights, Tafa throws more in bunches and if they're going to throw hands in close, someone who throws in combinations will have more chances to connect.

Pick: Justin Tafa

(Last Predictions: 1/6, Total: 100/168, 60% Success Rate)
(2016: 61%, '17: 60%, '18: 58% Success Rate)
---