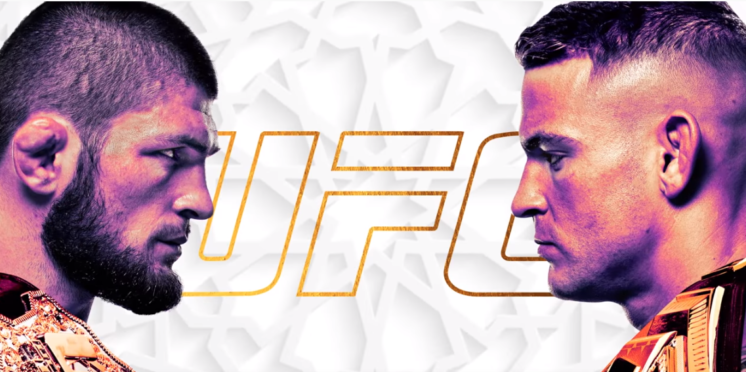 UFC 242: Preview and Predictions
The UFC heads back to Abu Dhabi for the first time in five years this Saturday and with it brings a monumental lightweight title unification bout.
Headlined by the hotly anticipated five-round affair between Khabib Nurmagomedov and Dustin Poirier, two of the greatest lightweight fighters in history will clash during their primes in a fascinating battle between styles.
Elsewhere at UFC 242, the co-main event will boast a rematch of one of 2015's fights of the year as Edson Barboza and Paul Felder meet for the second time; Islam Makhachev will have his grappling tested against ADCC winner Davi Ramos and the preliminary card will be headlined by a potential flyweight title eliminator between Joanne Calderwood and Andrea Lee.

Khabib Nurmagomedov (27-0) vs. Dustin Poirier (25-5, 1 NC)
I feel that if Khabib Nurmagomedov is ever going to lose to a currently active lightweight fighter, it'll be to either Tony Ferguson or Dustin Poirier.
In the interim champion Poirier, you have someone with arguably the best boxing in MMA today, both offensively and defensively.
Operating through the rarely seen Philly shell defence, Poirier is best placed to deflect strikes coming his way either through his lead elbow or tight left hand on his chin. From there, Poirier will fire out a piston-like jab, often doubling or tripling up on the punch, and hammering in hooks from behind. 'The Diamond' will also throw a quick body kick when in the open while his speed and power on the counter can put out most.
Nurmagomedov meanwhile is a heavy top grappler and once he's there, it's rare his opponent will get back up. While there isn't much to write home about when it comes to his striking (he does possess a decent jab of his own), the lack of fluidity between his striking and grappling really doesn't matter due to his unrelenting control.
From chaining takedown attempts together, Nurmagomedov almost entirely operates against the cage in order to down his opponents. From there, sneaky trips and throws will see him retain top position with electric ground and pound not far behind in overwhelming quantities.
This fight will essentially boil down to a battle of space as the champion will want to negate that space while the interim champion wants the room to breathe.
While the footwork of Poirier and the approach of Nurmagomedov's takedowns will be key to this fight, I think with little known about how both Poirier can handle continued takedown attempts or sustained periods on his back, I'll have to tentatively side with 'The Eagle' keeping his unbeaten streak alive.
Pick: Khabib Nurmagomedov
Edson Barboza (20-7) vs. Paul Felder (16-4)
With 21 fights under his belt for the UFC, it's seemingly now or never for Edson Barboza to break out of his gatekeeper role in the lightweight division.
While he's always held some of the best and quickest kicks in MMA history, his Achilles heel has remained someone walking him down and not allowing the Brazilian the time and space to get his kicks off.
Felder has shown in the past that he can close distance and work from the clinch but he's rarely displayed the aggression that's needed to walk down someone the quality of Barboza.
While Felder has no doubt grown as a fighter since their first meeting, I struggle to see where he can best Barboza for sustainable periods of a three-round fight.
Pick: Edson Barboza
Islam Makhachev (17-1) vs. Davi Ramos (10-2)
We can only hope that this isn't a classic case of two grapplers negating one another and engaging in a low-quality kickboxing bout.
Makhachev has remained a quality heavy top grappler like Nurmagomedov throughout his UFC tenure but for whatever reason has never got the same opportunities to climb the ladder at lightweight.
Ramos meanwhile has seemingly had a more steep climb since joining the UFC as it's rare that someone whose stand-out win is Nick Hein would be paired with the likes of Islam Makhachev.
Nevertheless, Ramos is a talented jiu-jitsu player and will keep Makhachev on full alert should the fight hit the mat. Whether it does however, I'd expect Makhachev to be diligent enough to not put himself in anywhere resembling a dangerous situation and if it were a stand-up battle, the Russian has more tools to his arsenal.
Pick: Islam Makhachev
Curtis Blaydes (11-2, 1 NC) vs. Shamil Abdurakhimov (20-4)
Abdurakhimov has knockout power and with Blaydes having a potentially dodgy chin (his only losses have come to Ngannou admittedly), that seems to be his best and the lone path to victory.
When it comes to takedowns, Blaydes may be the best pure wrestler in the division outside of Cormier and Abdurakhimov has never been the best at staving off wrestlers.
While it's the heavyweight division and there remains the lottery of a knockout blow, I think Blaydes' wrestling acumen will be too much for 'Abrek' to overcome.
Pick: Curtis Blaydes
Mairbek Taisumov (27-5) vs. Diego Ferreira (15-2)
Diego Ferreira did not look in good shape on the scales while weighing in and that's never a good sign when facing someone as big a hitter as Mairbek Taisumov.
To compound on his frailties, Ferreira is also a little bit wild in his stand-up and while he is a decent grappler who could work towards a submission against Taisumov, I think Taisumov's ability on the counter will see him catch Ferreira at some point on the feet.
Pick: Mairbek Taisumov
(Last Predictions: 3/5, Total: 92/148, 62% Success Rate)
(2016: 61%, '17: 60%, '18: 58% Success Rate)
---