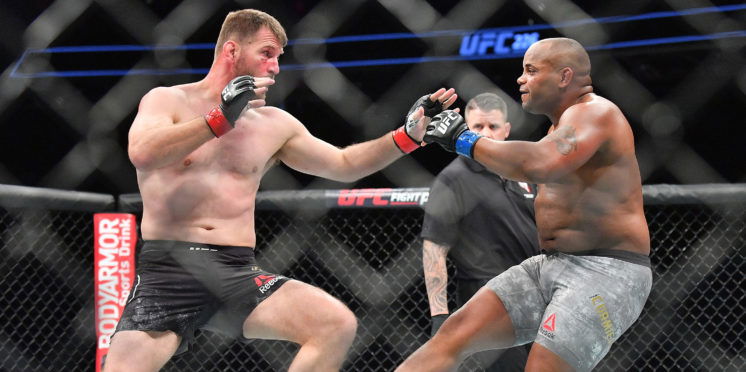 UFC 241: Preview and Predictions
Arguably the most anticipated UFC card of the year is upon us as UFC 241 promises big names and a blockbuster heavyweight championship rematch.
Headlined by the second meeting between Daniel Cormier and Stipe Miocic, the five-rounder will see whether 'D.C' can bring the curtain down on his legendary career in style or whether Miocic can reclaim his heavyweight crown and continue his bid to become the greatest heavyweight of all time.
The Anaheim, California card also boasts the long-awaited return of Nate Diaz as California's own takes on former champion Anthony Pettis at the welterweight limit.
In addition to the two marquee bouts, middleweight freaks of nature Yoel Romero and Paulo Costa will square off, a bantamweight title eliminator between Raphael Assuncao and Cory Sandhagen will take place and a host of potential fight of the night bouts are scheduled on the preliminary cards. 

Daniel Cormier (22-1, 1 NC) vs. Stipe Miocic (18-3)
Any heavyweight fight is contested under the caveat that anyone can be knocked out at any time and that KO threat is the only way I can see Miocic winning.
While Miocic is a well-rounded fighter in his own right, Cormier has some of the best wrestling we've ever seen in MMA and his boxing is sharp technically and quick.
Defensively, Miocic will want to capitalise on Cormier's frailties in the same way the current champion did in their first fight and hope to catch DC on the exit as he instinctively stoops low.
He'll also want to make use of his height and keep this a striking battle but I think Cormier's greater depth of options will see him change gameplan and try and wear Miocic out on the mat.
It should be a fascinating watch but the only distinctive advantage in this fight falls on Cormier's side and I think he'll use his wrestling pedigree to get the win.
Pick: Daniel Cormier
Anthony Pettis (22-8) vs. Nate Diaz (19-11)
This fight essentially boils down to who you think will cause their opponent more problems through their trademark weaknesses. Will it be Pettis' strong kicking game and ability to kick out Diaz's legs or will Diaz's pressure and high-volume be the latest to wear down 'Showtime'?
While Diaz will enter this fight off of a long layoff, I doubt ring-rust will seriously affect Diaz as he looked better than ever on the scales. Add in that he is traditionally a slow starter and any acclimatising to the pace of the fight will be par for the course.
It's a fight that I've flip-flopped on all week and while the threat of Pettis wading into a brawl with Diaz is a real possibility, I think his kicking game is too much of a factor to overlook when Diaz has struggled with leg kicks.
Pick: Anthony Pettis
Yoel Romero (13-3) vs. Paulo Costa (12-0)
Paulo Costa's aggression is the real x-factor in this fight as we've never really seen someone with big power take the fight to Yoel Romero.
While Romero has shown to take a second to explode into action, he's always a threat due to his unorthodox striking and scary speed and that will be something very new for Costa to contend with.
This could be the fight where Romero shows his age but Costa's defence seemingly relies on producing more punishing offence and relying on his chin. I just don't think that's something you can do with Romero.
With a freakish penchant for explosive counter strikes, I think Romero finds an opportunity as Costa attacks and probably finds a finishing blow.
Pick: Yoel Romero
Gabriel Benitez (21-6) vs. Sodiq Yusuff (9-1)
A fight with Gabriel Benitez is an odd bit of matchmaking for Sodiq Yusuff as 'Super' Sodiq defeated a better fighter in Sheymon Moraes in his last outing.
Nevertheless, Yusuff will have to contend with a quick southpaw but one who isn't a natural finisher and doesn't have significant output.
Yusuff meanwhile throws more strikes per minute, is more accurate and has more strings to his bow in his stand-up ability.
Pick: Sodiq Yusuff
Derek Brunson (19-7) vs. Ian Heinisch (13-1)
While Heinisch will enter this bout buoyed by his win over talented grappler Antonio Carlos Junior, I'm not too sure that his durability and strong cardio will be enough to defeat Derek Brunson.
Brunson has shown a tendency to become inactive in certain fights but his losses under the UFC umbrella have only come against top fighters.
Heinisch's scrambling and pace will likely cause problems but Brunson's wrestling and power are amongst the best in the division.
Pick: Derek Brunson

(Last Predictions: 6/6, Total: 87/138, 63% Success Rate)
(2016: 61%, '17: 60%, '18: 58% Success Rate)
---