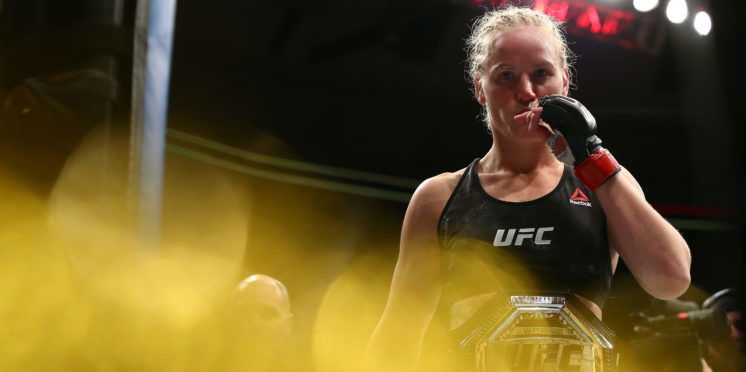 UFC Fight Night 156: Preview and Predictions
The 'Preview and Predictions' series is back after a week hiatus and with it comes a UFC women's flyweight title fight.
Making their promotional debut in Uruguay, UFC Fight Night 156 will be headlined by a title fight between Valentina Shevchenko and one of only two women to defeat her, Liz Carmouche.
The rest of the card has certain bright spots like the co-main event, Volkan Oezdemir vs. Ilir Latifi and Gilbert Burns vs. Alexey Kunchenko but outside of that, there is little in the way of intrigue.

Valentina Shevchenko (17-3) vs. Liz Carmouche (13-6)
Carmouche has remained a physical wrestler throughout her career and that's her only viable path to victory here.
She will hope to grind away at Shevchenko but with the champion holding strong takedown defence and a much more developed striking game, I don't see how she can keep in control for five rounds.
With Shevchenko becoming more and more comfortable with every outing, I think the champions going to be able to pick Carmouche apart on her entries and keep her at range.
Pick: Valentina Shevchenko
Vicente Luque (16-6-1) vs. Mike Perry (13-4)
This has all the makings for a great fight.
Both fighters are more than happy for a brawl in the pocket and that will make it more competitive as a result.
In Luque, you have a pressuring fighter who draws out counter opportunities – particularly with an accurate cross counter. Add in an aggressive appetite for submission attempts and Luque is one of the better finishers in the UFC today.
Perry meanwhile is a wild man. While he has struggled against elusive fighters who fight smart and their minimise risk against a big hitter, when engaged in a firefight Perry is extremely dangerous.
With Luque more of a proponent of covering up and riding the punches, Perry will almost certainly be afforded the chance to thunder in big hooks and elbows.
Nevertheless, I think Luque is that little sharper on the feet and with an advantage on the mat, the Brazilian should get the nod in a fun fight.
Pick: Vicente Luque
Eduardo Garagorri (12-0) vs. Humberto Bandenay (14-6, 1 NC)
Garagorri is making his promotional debut here and while he's an undefeated fighter, his last fight came against a fighter making his professional debut.
While Garagorri has 10 wins inside the distance, it's hard to tell how well that finishing ability will translate on the big stage.
Bandenay also isn't the most accomplished fighter, as showcased in his most recent loss to Austin Arnett, but he's fought at the UFC level and that experience could be a decisive factor.
It's a tough choice to make as neither inspires much confidence beyond the lower rungs of the UFC but with Garagorri having the crowd behind him, I'll cautiously side with him to be urged on to victory.
Pick: Eduardo Garagorri
Volkan Oezdemir (15-4) vs. Ilir Latifi (14-6, 1 NC)
Both men pack big power but this should boil down to a striker vs. grappler battle.
Oezdemir probably should have gotten the nod in his last fight against Dominick Reyes but it did showcase that he can pace himself better across three rounds.
Latifi also suffered defeat in his last outing but his loss was much more clear as 'The Sledgehammer' offered little in any form of output.
If Latifi can get Oezdemir down consistently, he should get the nod but I think Oezdemir's range and power will be enough to win.
Pick: Volkan Oezdemir
Rodolfo Vieira (5-0) vs. Oskar Piechota (11-1-1)

This is a much clearer grappler vs. striking bout as Oskar Piechota will be forced to abandon any plans to get in close against Vieira.
Vieira is a scary grappler and he's a strong boy to boot.
It could be too big a step up against an experienced and well-rounded fighter but I think Vieira will be able to close the distance and force Piechota into his wheelhouse.

Pick: Rodolfo Vieira
Enrique Barzola (15-4-1) vs. Bobby Moffett (14-4)
Moffett has a good pressuring style behind his grappling skills but I'm not sure that's enough to better Barzola.
Barzola has a relentless pace of his own and is the more accomplished striker.
Barzola has also shown a decent level of grappling himself so I think he'll be able to pull enough of the fight into where he shines and get the victory over three rounds.
Pick: Enrique Barzola
(Last Predictions: 5/5, Total: 81/132, 61% Success Rate)
(2016: 61%, '17: 60%, '18: 58% Success Rate)
---