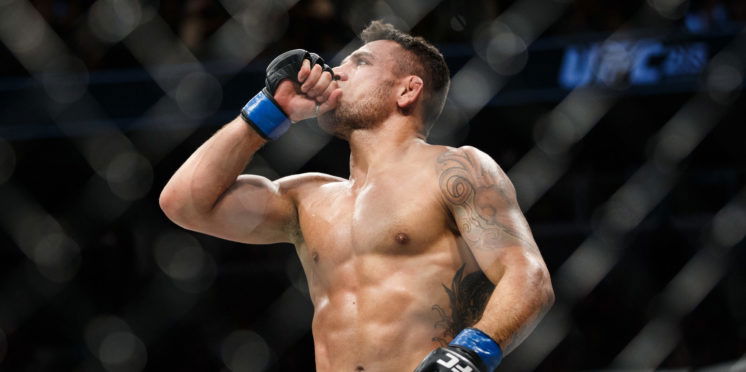 UFC on ESPN 4: Preview and Predictions
The UFC heads to San Antonio this Saturday night with a fight card that boasts a lot of important match-ups.
Headlined by a welterweight contest between top contenders Rafael dos Anjos and Leon Edwards, the main card will is made up of important heavyweight and lightweight bouts.
With the co-main event between Aleksei Oleinik and Walt Harris catching the eye for the heavyweights, the two lightweight bouts both promise to be excellent fights.
Rafael dos Anjos (29-11) vs. Leon Edwards (17-3)

This could easily be five-rounds of a grinding performance by either man as their cardio and technique could cause a lot of stalemates.
Edwards has made a habit of shutting down his opponents at any range with his clinch work perhaps his best facet. Add in an underrated power to his strikes and solid takedowns, and Edwards is a really talented well-rounded fighter.
RDA has time after time shown to be a high paced fighter however and he has a distinct advantage when it comes to experience against elite competition.
Edwards' speed and wrestling are big factors to consider here, as well as RDA's struggles with relenting pressure, but Dos Anjos has shown quality at the highest level and I think this might be too much of a jump for Edwards to handle over five rounds.

Pick: Rafael dos Anjos

Aleksei Oleinik (57-12-1) vs. Walt Harris (12-7, 1 NC)
This is very much a striker vs. grappler match-up and whoever keeps this fight in their wheelhouse should pick up the win.
Oleinik's submission ability is simply phenomenal but he is very durable and packs a wallop in his punches.
Harris meanwhile will enter this bout coming off of probably his most dominant win against Sergei Spivak. With electric speed for a heavyweight, Harris athleticism keeps him in with a shout of knocking out any opponent, however there should be worries for him falling into the clinch.
It's a tough call to pick but I think Harris' hand speed will be the decisive factor.

Pick: Walt Harris

Greg Hardy (4-1) vs. Juan Adams (5-1)

Hardy's power does seem to be his best asset in his short career thus far and unfortunately, that counts for a lot at heavyweight.
While Adams is probably the more well-rounded fighter, he's still not a solid enough fighter defensively.
I'd like to think that Adams' better gas tank will get him over the line against an awful human being, but Adams stands too upright for me to not think he'll get caught by Hardy early on.

Pick: Greg Hardy

James Vick (13-3) vs. Dan Hooker (17-8)

While Vick will likely have the advantage on the mat, I think this fight will be decided by the range in which it is contested on the feet.
Vick has routinely struggled when he is put onto the back foot while Hooker looked lost at times when fighting at Edson Barboza's kicking range.
Admittedly, Barboza is an elite striker at any weight class but Hooker has shown a tendency to struggle to keep the pressure up while starting fights slowly.
Whatever the result, this fight should be an entertaining one but Hooker's increasing tempo matched against Vick's own proclivity to take his foot off the gas makes me think that the Kiwi will figure out Vick's lengthy range and pick up the later rounds.

Pick: Dan Hooker

Alexander Hernandez (10-2) vs. Francisco Trinaldo (23-6)

For such a young fighter, Hernandez has been exclusively in the Octagon with top tier opponents.
Hernandez has shown a decent amount of power in that time all the while holding a solid wrestling and pressure game.
Trinaldo meanwhile is a crafty veteran who is slick on the feet or on the mat.
Hernandez's entries to close the space do give me pause matched up with Trinaldo's countering ability but I think once Hernandez works his wrestling into the fight, he should tire out the older man and work from there.

Pick: Alexander Hernandez

Andrei Arlovski (27-18, 2 NC) vs. Ben Rothwell (36-11)

Arlovski has held up a lot better than people thought he would a few years ago but he's not exactly shining in a run of decision losses.
Rothwell meanwhile didn't look rejuvenated upon his return to the Octagon earlier this year but he should still have enough in terms of quality output to defeat Arlovski.

Pick: Ben Rothwell

(Last Predictions: 3/5, Total: 72/121, 60% Success Rate)
(2016: 61%, '17: 60%, '18: 58% Success Rate)
---