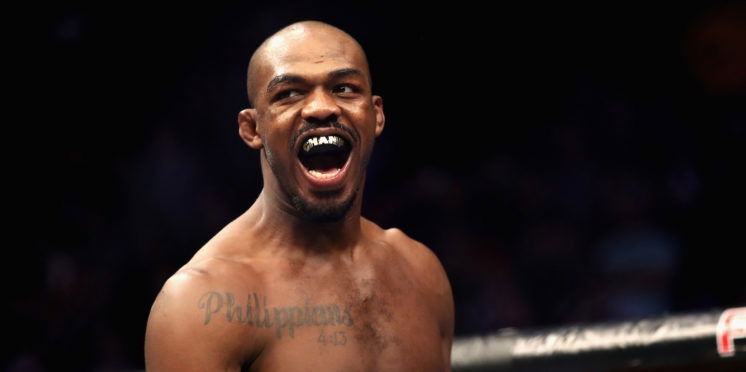 UFC 239: Preview and Predictions
The UFC's marquee event of 'International Fight Week' is upon us as two of the greatest mixed martial artists of all time look to defend their respective UFC championships.
Co-headlined by a light heavyweight title fight between Jon Jones and Thiago Santos and a bantamweight title bout with champion Amanda Nunes defending her belt against Holly Holm, UFC 239 boasts a deep card with intriguing offerings.
While the main card sees two high ranking clashes in the welterweight and light heavyweight divisions, the preliminary card will showcase important match-ups like Claudia Gadelha vs. Randa Markos, Alejandro Perez vs. Song Yadong and a potential retirement bout for Gilbert Melendez against Arnold Allen.

Jon Jones (24-1, 1 NC) vs. Thiago Santos (21-6)

Thiago Santos is probably the most dangerous explosive fighter Jon Jones has fought since Vitor Belfort and those fights are always a cautious affair.
Santos has put together an excellent run since moving up to light heavyweight and has promptly finished all three of his 205 lbs opponents inside the distance via TKO. With a devastating kicking game, Santos' power is a real concern for however he faces and if the fight remains at kickboxing range, the Brazilian always has the potential to end the fight.
The problem with siding with Santos in this fight, however, is who he is facing off against. For all of Jones' physical talents, perhaps 'Bones" biggest strength is his intelligence inside of the Octagon.
It's rare to see Jones not take the path of least resistance and with Santos struggling in the past with fighting off of the back foot, I'd expect Jones to be in control.
Whether it be holding the dominant position in the clinch or on the mat, I think this is purely Jones' fight to lose and I'd favour the gulf in class on the ground to be the decisive factor in this fight.

Pick: Jon Jones

Amanda Nunes (17-4) vs. Holly Holm (12-4)

While Holm doesn't have the best recent record, 'The Preacher's Daughter' has gone 2-4 in her last six, this fight should be a close contest due to their stylistic match-up.
Holm is probably the more comfortable going into the later rounds, has elusive footwork to get in and out of range and also has the potential to take this fight to the mat.
While she isn't the most damaging fighter, Nunes' struggles have come against similar strikers like Valentina Shevchenko and Holm's camp will be buoyed by the potential to take this fight into deep waters.
Nunes however, has fight changing power and is accurate with her strikes. Her explosiveness, her boxing fundamentals for MMA and her finishing ability are simply unparalleled in women's MMA.
For all of Holm's ability to put together slick combinations, Nunes' power is a lot for anyone to handle and I think the Brazilian's leg kicks and accuracy with her hands will cause problems for Holm if this remains a striking battle. 

Pick: Amanda Nunes

Jorge Masvidal (33-13) vs. Ben Askren (19-0, 1 NC)

Jorge Masvidal is one of the most fun fighters to watch as he's more than happy to fight wherever the fight takes him and he does it with a great amount of technical ability.
Askren meanwhile isn't the most fan-friendly in the cage but he has a simply ridiculous chin that allows him to wade forward and secure takedowns.
This bout will most likely boil down to whoever can keep the fight in their wheelhouse and while Masvidal will have his best interests in keeping this fight on the feet, you wouldn't be surprised to see Masvidal be content and lack the urgency to stave off takedown after takedown.
It's a tough pick but Masvidal's history with being passive makes me side with Askren keeping his unbeaten run going.

Pick: Ben Askren

Jan Blachowicz (23-8) vs. Luke Rockhold (16-4)

Blachowicz has improved leaps and bounds over the years and he certainly has the ability to capitalise on the gaps in Rockhold's game.
With a question of durability hovering over Rockhold and a porous striking defence, Blachowicz will look to hit Rockhold hard and make him feel the difference in power between light heavyweight and middleweight.
With Rockhold's move up in weight class however, I'd expect Rockhold's chin to improve without the draining effects of weight cutting.
Add in Rockhold's incredible ground game, possibly the most underrated in all of MMA, and I think Rockhold won't have to worry about getting caught as much and can impose his more technical skill set on Blachowicz wherever the fight goes.

Pick: Luke Rockhold

Diego Sanchez (29-11) vs. Michael Chiesa (14-4)

Sanchez's recent resurgence has been a nice feel-good story in MMA but a fight against Michael Chiesa might be a step too far.
While Chiesa won't have his usual distinct grappling advantage against someone like Diego Sanchez, he is still a decent striker who can hurt his opponents.
With the damage Sanchez has taken over the years, I'm not too sure he can eat as many shots as he used to, especially against someone as talented as Chiesa.

Pick: Michael Chiesa

(Last Predictions: 6/6, Total: 66/111, 59% Success Rate)
(2016: 61%, '17: 60%, '18: 58% Success Rate)
---