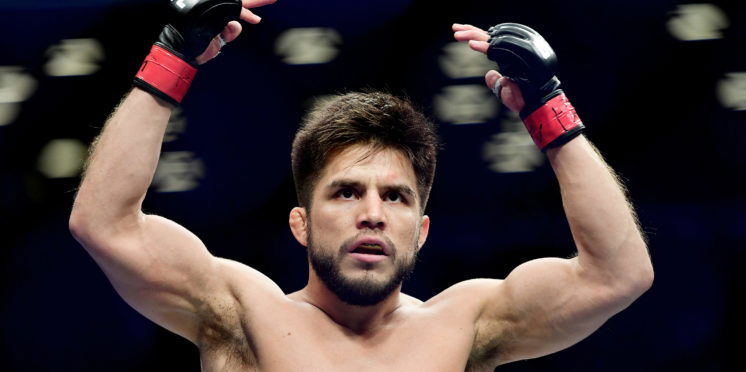 UFC 238: Preview and Predictions
Moving swiftly on from an awful set of predictions last week, the UFC returns this Saturday night with one of the most stacked cards of the year in UFC 238.
Co-headlined by two title fights, both of the flyweight champions will be in action as women's champion Valentina Shevchenko looks to make her first title defence against a resurgent Jessica Eye while Henry Cejudo will attempt to become the latest 'double champion' as he takes on Marlon Moraes for the vacant bantamweight championship.
UFC 238 will also boast the return of Tony Ferguson as he takes on the high-flying Donald 'Cowboy' Cerrone, Petr Yan will look to continue his ascent through the bantamweight division against Jimmie Rivera while the preliminary card headliner should decide the next strawweight title challenger as Tatiana Suarez takes on Nina Ansaroff.

Add in extremely interesting bouts like Katlyn Chookagian vs. Joanne Calderwood, Ricardo Lamas vs. Calvin Kattar and Aljamain Sterling vs. Pedro Munhoz and this weekends Chicago event has all the makings to be the event of the year.

Henry Cejudo (14-2) vs. Marlon Moraes (22-5-1)

Cejudo vs. Moraes is a phenomenal fight that looks to pit two true elite fighters at their best.
With back-to-back wins over Demetrious Johnson and TJ Dillashaw, Henry Cejudo has developed into a phenomenal fighter who has built upon his incredible wrestling base to become a more well-rounded and threatening striker.
With the adoption of a bladed karate stance, the former Olympic gold medalist has seen his offence become better on the counter and the front foot. Drawing people into check hooks or blitzes of punches that can evolve into trips, Cejudo is capable of being a problem in all facets on MMA.
One downside of Cejudo's bladed stance, however, is that he is more susceptible to leg kicks, one of Moraes' greatest strengths.
Possessing devastating power and variety in his kicks, Moraes has demolished three of the top contenders in the bantamweight division in just shy of five minutes of fighting time. Add in what you would presume to be Moraes' power and size advantage, and the advantage should be the Brazilian's if both fighters are in kickboxing range.
Ultimately, I think this fight boils down to whether Moraes can stop the takedowns of Henry Cejudo long enough to get the better of the striking exchanges.
With murmurings of a Cejudo knee injury, I think Moraes will be able to build off of his debilitating leg kicks and edge out a close contest.

Pick: Marlon Moraes

Valentina Shevchenko (16-3) vs. Jessica Eye (14-6, 1 NC)

Despite a recent change in fortunes for Jessica Eye, I don't know how she wins this fight based off of what we've seen of her.
She doesn't have the volume needed to offset Shevchenko's low output, she isn't as technically crisp as Shevchenko and isn't a strong takedown artist.
Outside of a hail mary KO blow or submission, the champion should retain her title in fairly convincing fashion.

Pick: Valentina Shevchenko

Tony Ferguson (24-3) vs. Donald Cerrone (36-11, 1 NC)

Stylistically, Tony Ferguson should be the favourite here but there are a lot of factors that swing the scales back towards Cerrone.
With a tendency to get hit early, Cerrone's power and deep arsenal of strikes could mark an early end for Ferguson and there are questions surrounding 'El Cucuy's' mental condition.
Using the presumption that Ferguson will be the Ferguson that we know and love come fight time, however, he simply has an unrelenting pace that has proven to be Cerrone's downfall.
With better movement, combinations, range management and striking arsenal than 'Cowboy's' last opponent in Al Iaquinta, I think he has too many strengths where Cerrone has weaknesses.
Pick: Tony Ferguson

Jimmie Rivera (22-3) vs. Petr Yan (12-1)

Jimmie Rivera put on his worst showing yet in his last fight and if he were to do the same null offence against Petr Yan, it could spell disaster.
While Rivera has a powerful counter-striking style that could deter Yan, Yan's activity is overwhelming due to his accuracy so he'll have to be at his best for success against the Russian.
If we see a return to form for Rivera, I think this will be a close fight that could go either way but Yan's striking rhythm and momentum building through the rounds makes me side with the fighter in better form.

Pick: Petr Yan

Tai Tuivasa (10-1) vs. Blagoy Ivanov (17-2, 1 NC)

Despite this pitting two of the faster heavyweights on the UFC roster against one another, this could be a bad fight to watch.
Neither Tuivasa or Ivanov have great outputs or exemplary characteristics so it could evolve into a sloppy affair.

With that being said, Tuivasa has the more powerful hands, will be harder to shepherd across the Octagon and is the better athlete.
Due to Ivanov's durability, I see this going three rounds but Tuivasa to just sneak it due to more damaging blows.

Pick: Tai Tuivasa

(Last Predictions: 1/5, Total: 56/95, 59% Success Rate)
(2016: 61%, '17: 60%, '18: 58% Success Rate)
---