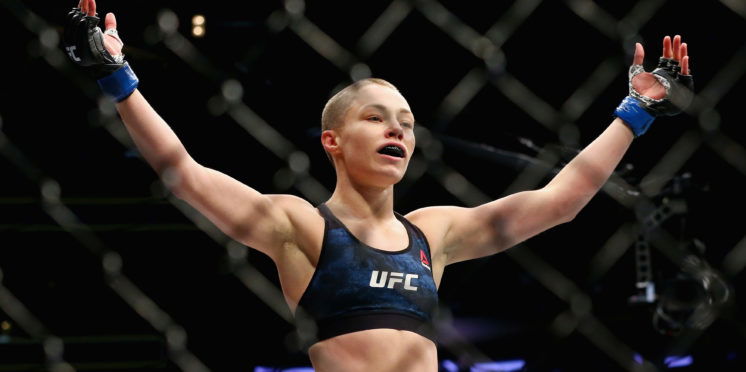 UFC 237: Preview and Predictions
The UFC's annual Brazilian PPV card is upon us as UFC 237 emanates from Rio de Janeiro this Saturday night.
Headlined by a fascinating strawweight title fight which promises to be a clash of striking styles, the main card of UFC 237 is also boosted by two of the greatest Brazilian mixed martial artists of all-time competing against fresh faces in their respective divisions. 

Rose Namajunas (8-3) vs. Jessica Andrade (19-6)
Jessica Andrade is the biggest hitter at women's strawweight and supplemented by an excellent gas tank, she provides a tough opponent for pretty much everyone at the weight class.
Operating permanently in forward motion, Andrade's pressure allows her to get into range and pepper away with combinations that include some strong bodywork.
Namajunas will most likely have to replicate the performance of Joana Jedrzejczyk if she is to emerge victorious here by using more evasive footwork and keeping the fight at her longer range.
Where this fight will be decided is how Namajunas handles that prospect as she has struggled at times fighting off of the back foot against the likes of Karolina Kowalkiewicz.
No matter the result, I think this will be an excellent fight and perhaps one of the best of the year. In terms of picking a winner, I think it will be dicey at times for Namajunas, perhaps more so later on, but Namajunas' own underrated power and more diverse arsenal make me ever so slightly edge towards the champion retaining.
Pick: Rose Namajunas
Jared Cannonier (11-4) vs. Anderson Silva (34-9, 1 NC)
Anderson Silva's last fight against Israel Adesanya showed he still has some left in the gas tank as far as being competitive, but the Adesanya fight is a completely different proposition than Jared Cannonier.
While Adesanya was more than content at sitting in Silva's striking range and besting him at his own game, I doubt Cannonier will want to operate in Silva's wheelhouse and will instead look to get in close akin to Derek Brunson's approach against 'The Spider'.
If Cannonier keeps tight to Silva, he should probably win but I think Silva's showing against Adesanya has shown that his chin can hold up against decent power and his accuracy will prove too much for a fighter I'm not entirely sold on.
Pick: Anderson Silva
Jose Aldo (28-4) vs. Alexander Volkanovski (19-1)
I wish this was a five-round fight but Aldo has looked impervious in his last two three-rounders.
Displaying his punishing bodywork, a return to his kicking game and arguably the greatest takedown defence of all-time, Aldo has rolled back the years after back-to-back defeats to Max Holloway.
Volkanovski meanwhile has steadily progressed through the rankings at featherweight with his wrestle-boxing style and added his name to the elite bracket of fighters who defeated Chad Mendes in his last outing.
The big question looming over this bout is Aldo's condition however. After reports that Aldo was hospitalised with a knee infection a little over a month ago, you wonder how much time he has had to prepare for a really tough fight at somewhere near 100%.
I'd predict this fight to pan out as a condensed version of Aldo-Mendes II but Aldo's recent form makes me tentatively side with Aldo.
Pick: Jose Aldo
Thiago Alves (23-13) vs. Laureano Staropoli (8-1)
Staropoli has a pure appetite for a brawl and will no doubt go on to be fans favourite as his UFC career goes on.
Now in the twilight of his career, Alves has slowed down from the vicious leg kicker he once was but he has shown that he can fight to a decent level against the likes of Max Griffin – albeit he received a generous split decision in that fight.
It could be a case of Alves using his experience and nous to play the matador to Staropoli's bull rushes but I think Staropoli will be relentless in pursuing Alves and early pressure will be key.
Pick: Laureano Staropoli
Irene Aldana (9-4) vs. Bethe Correia (10-3-1)
Aldana vs. Correia has been bumped up to the main card following the collapse of Trinaldo vs. Ferreira yesterday.
While Correia is eager for a brawl, she doesn't possess many more tools than a decent boxing game.
Aldana meanwhile has shown a lot more depth to her skillset and with her reach and well versed striking game, I think this is Aldana's fight to lose.
Pick: Irene Aldana
(Last Predictions: 4/6, Total: 50/79, 63% Success Rate)
(2016: 61%, '17: 60%, '18: 58% Success Rate)
---