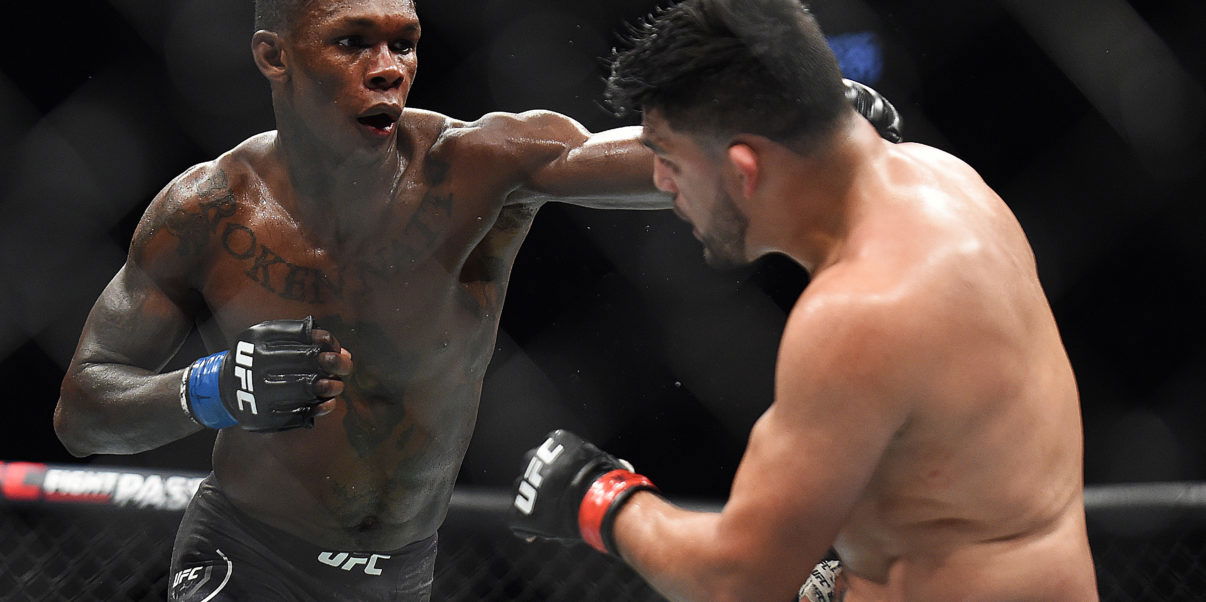 Kelvin Gastelum vs Israel Adesanya: Post Fight breakdown
On Saturday night, Kelvin Gastelum and Israel Adesanya put on a show for the fans at the State Farm Arena in Atlanta, Georgia stunning those in attendance with a five-round war for the interim middleweight belt.
Both fighters had risen through the ranks to earn a shot at the UFC gold, but only one was successful. Here's my full breakdown for how Adesanya followed his fellow Nigerian-born Kamaru Usman in becoming a UFC champion.
Coming into this fight, there was a clear physical advantage for Adesanya as 'The Last Stylebender' stands at 6"4′, holding an 8.5" reach advantage over Kelvin Gastelum.
Making use of his height and reach are a main staple of Adesanya's game plans: staying at his range, allowing his creative strikes to land and swiftly exit. His constant movement, feints and ability to change stances means opponents have difficulty reading and establishing patterns.
In Adesanya's previous fights, opponents tend to get impatient and start to charge down the space moving towards him. This is when he times knees and elbows off the forward movements, as he did to both Derek Brunson and Anderson Silva, as well as establishing the range by straight punches as they moved towards his range.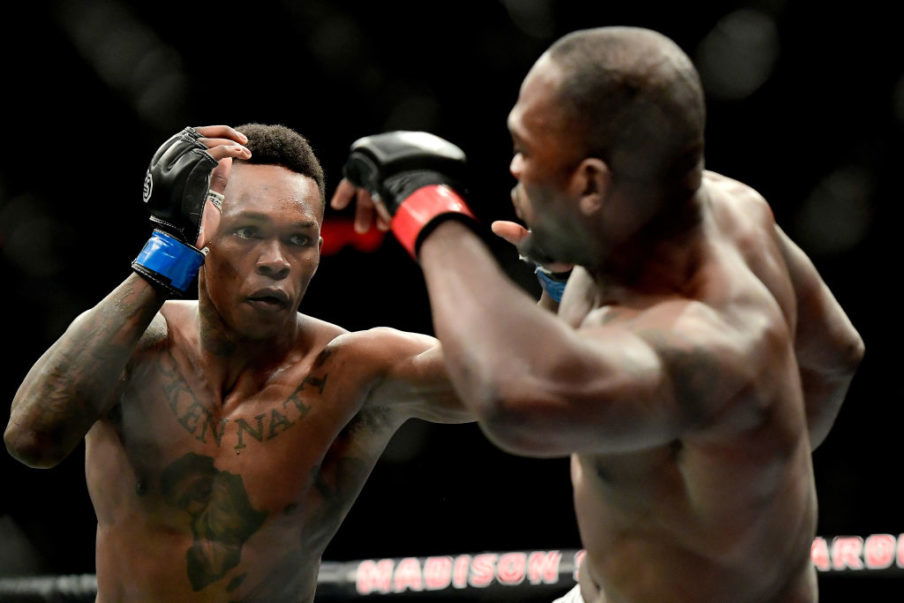 If Gastelum was to be successful then he would need to establish the inside attack quickly and close distance without any hesitation. Alongside this, he needs to be able to slip the New Zealander's punches and follow up with hooks of his own, all while avoiding damage and keeping the pressure as Adesanya moves backwards.
This is exactly what Gastelum managed to do for the early stages of the fight, as some would claim that he is undersized physically at middleweight, he is always used to closing distance. In every single fight that he has had at this weight class, he has had the height and reach disadvantage.
So, he should be used to fighting the bigger man – and it showed.
For the first round, this was the story, for every strike Adesanya threw, Gastelum threw back a jab-straight. In a fight with two great strikers, it was the fundamentals that were effective. Assuring 'Izzy' couldn't operate in the no mans land outside of range, goading him to come into distance allowed him to cause damage.
Gastelum was very successful with his trademark slip and rip combinations – the same technique used to finish Michael Bisping in 2017. You could tell Adesanya was taken by surprise by the snap and power of Gastelum's punches, and as a result, he had the better of the early exchanges.
The first round began like this, dictated by 'The Last Stylebender' keeping out of range and firing leg and body kicks. Gastelum upped the pace and let fly on a couple of left hands that just landed short.
The next brief period was patient attacks from both men, but seemingly out of nowhere, a Gastelum trademark counter right-hand punch came from slipping under Adesanya's jab, nearly sending him to the canvas. Adesanya was not outwardly rocked by this punch – but he was respectful of the follow-up punches, enough so to escape and reset the engagement.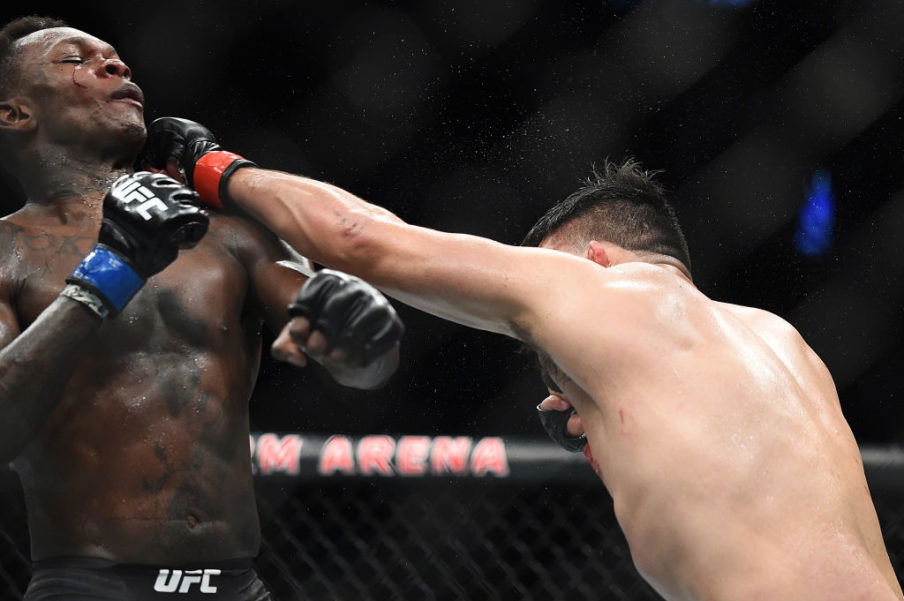 Gastelum felt much more confident after landing the big strike. Stepping inside the range to see how Adesanya would react, and more importantly, force him to create counter opportunities with his strikes.
With two minutes left in the round, Gastelum hit him again with a looping left hand. The action began to trickle out, with Gastelum winning the close-range engagements but failing to land the knockout punches he throws. As the infamous Joe Rogan would say, first blood goes to Gastelum.
The story of this round was that the game plan that Adesanya came with had to be partially thrown away and that he learned the hard way that he must respect the power of Gastelum.
The second round began entirely on Adesanya's pace, landing three unanswered body kicks, which caused Gastelum to slow down. Gastelum still continued with the same counter lefts over the top, while Adesanya began to land more cleanly, and at a higher rate – factoring in body punches which he had never used before.
With three minutes to go, it still seemed like Adesanya could get hit as he was narrowly avoiding fight-ending punches.
He got caught with a straight punch that snapped his head straight back – but followed straight back with a knee. Adesanya was taking the pace to Gastelum and was getting hit as a result.
As Gastelum stepped into distance, he fell short with another overhand left and slightly misplaced his footing – creating a counter opportunity for Adesanya to land a straight squarely on Gastelum's chin.
The Mexican-American's chin flew backwards with his body quickly falling the same way. Gastelum quickly recovered on the ground however as Adesanya jumped on top trying to secure a Kimura grip but gave up after it seemed lost.
Adesanya felt much more comfortable finding his range and freedom of movement and began lighting Gastelum up with lead right hands. A change from Adesanya being countered, to Gastelum being the first to initiate, seemed to change the fortune of this round as Adesanya began finding counters.
This translated into another fantastic strike for Adesanya, as Gastelum stepped in to land his combo, he let a spinning elbow off as he advanced. This knocked Gastelum down again, but he quickly recovered and regain composure and went back on the attack again.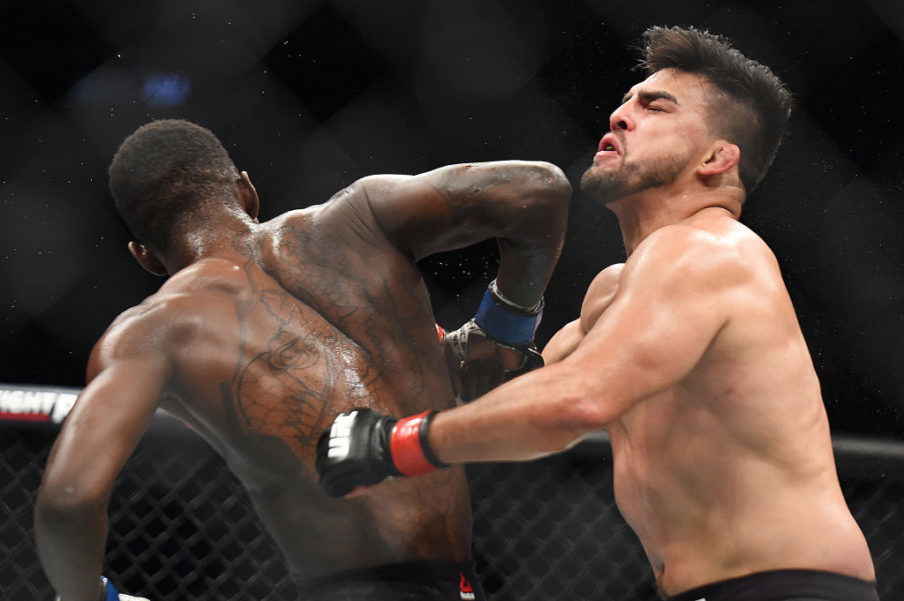 Gastelum, clearly shocked, fired for a double leg take-down but it failed, and the rest of the round faded out.
The 27-year old, knowing he had dropped last round, began the third light on his feet staying further back trying to look for opportunities to close distance. Adesanya, on the other hand, seemed to be much more patient looking to land the body kick as soon as it opened, noticing how low Gastelum's hands are he mixed in a couple of blocked head kicks to keep him guessing.
With two minutes to go, Gastelum loops a hopeful left-hand which Adesanya counters with a clean body kick. Throughout the inside exchanges, it seemed that Adesanya was getting the best of Gastelum, always landing the final telling strike.
It was Adesanya leading the striking exchanges and making Gastelum miss.
Then, with one minute left, Gastelum landed the first take-down of the fight but laboured to keep Adesanya on the floor as he escaped quickly. That was the first take-down that Gastelum had landed since November 2015 as per Daniel Cormier on the UFC broadcast – somewhat a surprising stat and a surprise that wrestling had not played more of a major part in the fight.
Gastelum however, started the fourth round charging his opponent down, walking straight towards Adesanya but the elusive horizontal movement escaped Gastelum.
Both fighters began their round increasing the output but it was Adesanya who landed the most telling strikes.
This is when the fight began to heat up to boiling point. The exchanges lasted longer and both fighters were landing thudding strikes.
With a minute left on the clock, Gastelum landed what was his best strike. A left head kick that was disguised by a right jab and a faked left straight. The feint made 'Izzy' react, thus leaving his head wide open.
An unexpected strike due to its rarity in Gastelum's arsenal, Adesanya was clearly left reeling and began to wobble on unsteady legs.
Gastelum quickly followed that up with a straight and it looked like Adesanya was out of it, he couldn't stand up with the former welterweight.
Then, in a puzzling decision and one that may well haunt Gastelum for the rest of his career, he shot an unmasked, obvious take-down attempt allowing Adesanya to compose himself until the end of the round.
Heading into the fifth and final round, the vast majority had it at two rounds a piece.
With a minute on his stool with his trusted cornerman and repeating the mantra of 'ayabiekun' – the heart of a lion – Adesanya found an extra gear.
The start of the fifth round began just as before, Gastelum charging Adesanya down, Adesanya countering as he moved forwards.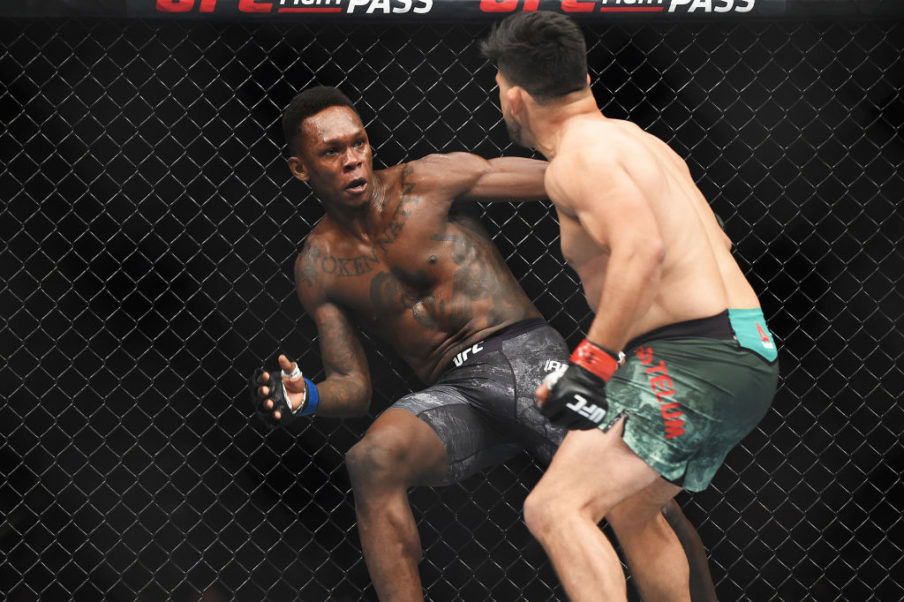 Gastelum again would shoot a takedown attempt but Adesanya sneaked in a standing guillotine, much reminiscent of Jon Jones when he submitted Lyoto Machida back in 2011.
As Adesanya gave up position, however, a scramble followed and another submission attempt was forged as what looked to be a tight triangle choke was locked in.
With the fight looking set for an uncharacteristic submission win for the former kickboxing phenom, Gastelum slipped out and they began to trade on their feet yet again.
As the momentum looked to shift back in Adesanya's favour, the confidence began to ooze out as Gastelum faced a barrage on the feet. Landing quick and accurate blows, Adesanya landed a straight right over the shoulder of Gastelum that left him stunned.
With a minute and a half left of the fight, Gastelum hits a slow and laboured left body kick. Adesanya counters however with a jab-straight combo snapping Gastelum's head back again.
All of Adesanya's quality work comes to fruition soon after as Adesanya lands an unanswered three-piece combo dropping Gastelum to the floor. Gastelum quickly recovers once again and scrambles, somehow coming out of the ground phase with a takedown attempt against the cage.
The last 30 seconds of the fight was pure domination. Adesanya poured it on his opponent and knocked him down again and again with 10 seconds to go in the fight.
A truly decisive 10-8 round after being stunned in the round previously. Incredible heart and mentality.
Adesanya won this fight, by staying patient with his attack, knowing that being the aggressor was unsuccessful and so waited for Gastelum to make mistakes and pounce on them. Gastelum struggled to get inside his perfect striking range, resulting in him chasing the scorecards and rushing his attacks. Adesanya noticed these mistakes and capitalised.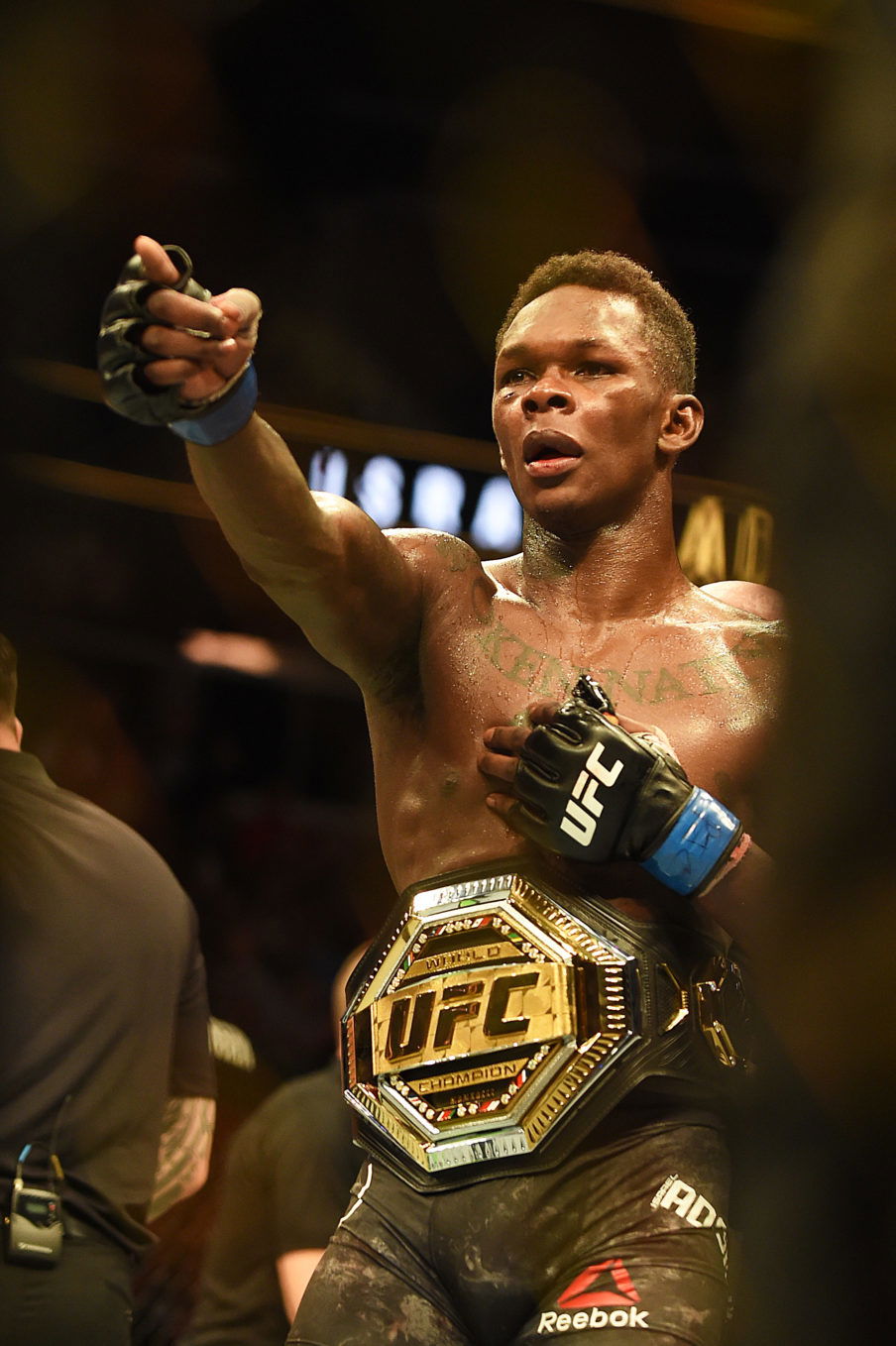 This fight could be one of the best fights in UFC history and is surely a front-runner for the fight of the year.
---